KIM JUNG ON. THE SUBJECT OF WEDNESDAY'S WH DISCUSSION.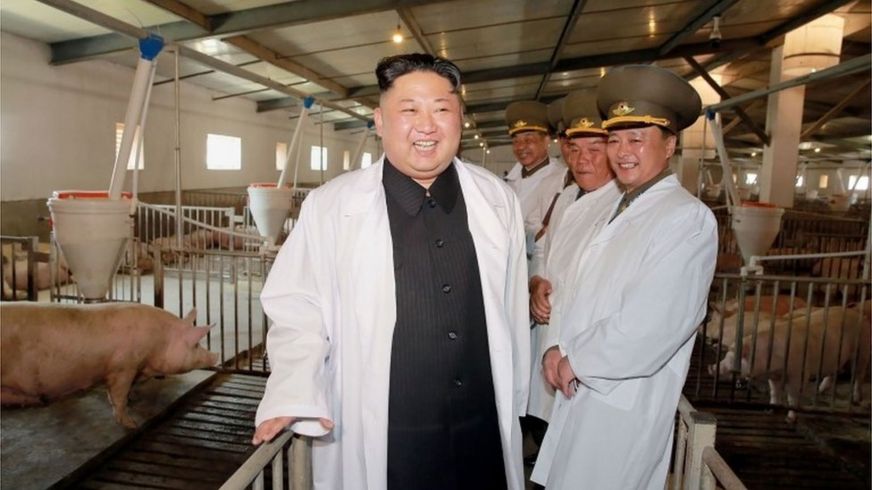 It's ironic that Trump supporters, the alt right, and White Nationalists are the leading voices against military action.
Neocons, who are in reality anything but conservative, press forward for more wars, in both Syria and Korea. And after that, Russia and Iran.
I might be tempted to say that the Jews are behind this, but that would be a cliche. Old fashioned white conservatives seem to like the idea of war with Asians and Muslims. It's probably a racial thing with them, although they'd never admit it.
Weeks of speculation that the US is about to attack North Korea are again accelerating, with the White House announcing that they intend to play host to the entire Senate on Wednesday for an official briefing on the situation, with virtually the entire cabinet.

Such a briefing for the full Senate is extremely unusual, especially in the White House, which means this must be a very important meeting, which is once again adding fuel to the idea that the US is going to do something big, potentially a military attack.

This comes amid a new round of speculation that North Korea might be planning to carry out another nuclear test, with a holiday coming up this week and a round of intramural volleyball at the test facility having concluded, meaning they're no longer too busy to do the test.

The USS Carl Vinson and its carrier strike group are also expected to arrive at the Korean Peninsula in the next few days, which now not only comes amid speculation about a test, but also the Senate meeting. This could point to this week being the time that the Trump Administration intends to "solve" North Korea, as they've long threatened.

Doing so, of course, comes with a huge price, as while the US has downplayed North Korea's ability to retaliate with nuclear weapons, they have a substantial conventional weapons program developed for decades specifically to respond to just such an incident. This would quickly do massive damage to South Korea, and inflict large numbers of casualties on US forces in the region.
The BBC adds:
The US is pursuing a multi-pronged strategy to make its point on North Korea, the BBC's Gary O'Donoghue in Washington says.

First it wants the UN to tighten sanctions even further, and to ensure those in place are properly enforced.

Secondly, it is attempting to put fresh pressure on China to rein in its communist neighbour. The third aspect is the sending of an aircraft carrier to the Korean peninsula – making clear military action is an option.

North Korean rhetoric
North Korean state media said on Sunday the country's forces were "combat-ready to sink" the Carl Vinson.

The ruling Workers' Party newspaper Rodong Sinmun called the carrier a "gross animal".

North Korea has promised to press ahead with missile tests despite Mr Trump's warnings and experts say it may be preparing for another nuclear test, in defiance of UN resolutions.

However, a North Korean ballistic missile test on 16 April failed within seconds of launch, US experts said.

Washington is concerned that Pyongyang may develop the ability to place a nuclear bomb on a missile capable of reaching the US.

Beijing is worried about the possibility of all-out conflict on the peninsula, which could lead to the collapse of the North Korean regime under its mercurial leader Kim Jong-un.

China fears this could cause a sizeable refugee problem and lead to an American presence up to the Chinese border.
JOSEPH DUNFORD, CHAIRMAN, JOINT CHIEFS OF STAFF, WILL BE ONE OF THOSE BRIEFING THE SENATE.