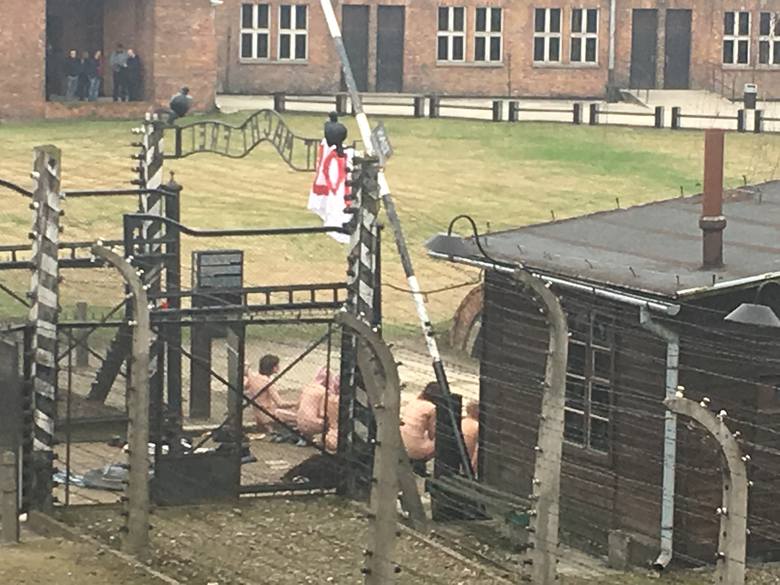 Leftists stage naked protests in Christian churches so why not in the Auschwitz memorial to six million dead Jews?
Well, for one thing the Jews don't like it.
The odious twist on this protest is the killing of a sheep. Where he hell is PETA on this one? It's Auschwitz. It's about killing Jews, not innocent sheep.
At least 11 people were arrested at Auschwitz, the former Nazi death camp, on Friday after they slaughtered a sheep beneath the entry gate, removed their clothing and chained themselves together.

Local police said the men and women, ages 20 to 27, unfurled a banner reading "love" in English as they stripped naked, according to Deutsche Press Agentur. Some kind of firecracker was also launched from the nearby parking lot, according to a spokesman for the Auschwitz site, which is now a state museum.

Officials in the southern Polish city of Oswiecim didn't immediately comment on a motive for the bizarre action. But the Polish newspaper Gazeta Krakowska reported that the individuals were protesting the continuing conflict in eastern Ukraine.

Police moved in as the protesters sat chained beneath the entry gate marked with its infamous slogan, "Arbeit Macht Frei" ("Work sets you free"). An estimated 1.1 million inmates, the vast majority of them Jewish prisoners, died at the extermination and labor camp complex built by Nazi Germany. Russians, Poles and Romani were among the many other victims.

Visits to the site, some 30 miles from Krakow, were suspended while police and guards at the Auschwitz-Birkenau Memorial and Museum dealt with the demonstrators. Police described them as one German national, six Poles and four Belarusians, the BBC reported.

A museum statement criticized the decision to protest there, declaring that using the symbol of Auschwitz to draw attention "is outrageous and unacceptable. It is disrespectful to the memory of all the victims of the German Nazi Auschwitz concentration and extermination camp."
Don't lots of people go to Auschwitz and make the Nazi salute? That's a fair way to protest the Holohoax.