President Donald Trump has made some good moves lately. You can tell they're good because the leftist crowd is in a rage, talking impeachment, imprisonment, and Trump's mental health.
He's crazy alright–crazy like a fox.
The excerpt below is from a long piece by Israel Shamir titled "Vladimir Ilyich Trump?". It's the best analysis of Trump you're likely to read for a long time.
Excerpt from Unz.com
God bless Donald Trump for sacking James Comey! Just a few days before this decisive step, Justin Raimondo of Antiwar.com called James Comey "the most powerful man in America". Comey was pushing the US into an unnecessary war with unwilling Russia. Answering a question by Lindsey Graham, the notorious warmonger, he said that Russians are "the greatest threat of any nation on earth, given their intention and their capability." This is really not an FBI agenda! He claimed the right to decide the foreign policy of the US, and even what is (MSM) and what is not (Wikileaks) legitimate media. The guy became too big for his boots, and it is good that he's gotten the boot.

By sacking Comey, Trump has made a first step to recovering his lost ground. Previously, we saw him retreating. He sacked Bannon, he bombed Syria, he promoted his silly daughter and her weird husband to almost-presidential status. The results were sad. The president has been treated as a legless (not just lame) duck. Comey's behaviour has been especially insulting. If the foreign policy is decided by the FBI and the NY Times, who needs a president, anyway?

I would applaud if Trump were to send killing drones, Obama-style, to deal with John McCain and Lindsey Graham, too. It would make a terrific show: over a beautiful chocolate cake, watching drones flying all the way to these two bastards. But probably Trump is not made of sufficiently stern stuff. He should invent some less spectacular way to get rid of the traitors.

His next step – inviting Mr Sergey Lavrov to the White House – was also good and right, particularly in the context of Comey's "Russia is a threat" pronouncement. Some wise heads suggest that he chose the wrong timing and exposed himself to attacks. Bollocks! He would be attacked at any time, sooner or later. By doing what he did when he did it, Trump proved that he can. Despite the incredible demonization of Russia, despite the silly claim that he is on Putin's beck and call, he met with the Russian minister. This was a manly act, something to be proud of.

The warmongers responded with the ridiculous accusation of "leaking strategic secrets to Lavrov". Ridiculous but meaningful: the idea is to build a conditioned reflex in politicians and statesmen, like Dr Pavlov did for dogs. His dogs began salivating while hearing the bell usually associated with feeding, or they ran away at the sound associated with trashing. A conditioned politician will cross the street to the opposite pavement if a Russian diplomat is sighted, and thus the danger of peace will be removed.

Until now, the clearest cases of conditioning were produced by the Israel Lobby. Jews are wonderfully good at conditioning. So many politicians and journalists have been conditioned into swearing their compliance with Jewish dogma. At the first sound of displeasure, they crawl of all fours and declare their love for the Jews and/or Israel. The late Joe Sobran, a witty Washington journalist, compared them to cows that graze on a field surrounded with low-voltage electric wire. If they try to get close, they get a small but unpleasant shock. For vast majority, this is enough to keep them inside.

And when a politician is conditioned, he can be led wherever his shepherds want. Indeed, the first man to blow whistle on Trump "passing secrets" to Lavrov had been Alan Dershowitz, the torture-loving Zionist, who had conditioned many politicians to love Israel or else.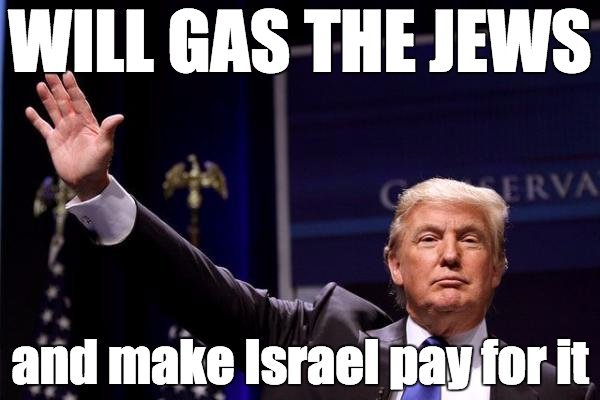 For this reason I prefer politicians who proved they weren't scared or conditioned by the Jews. Such is the wonderful Cynthia McKinney – she lost her position on the Capitol Hill, but she did not surrender. This I would call the first test for a politician. If the Jews can subdue you, they will. I'll add for your comfort: it is not necessary to fight the Jews: just do not give them a single inch, and then they will do what you want. It is practically the same idea as in walking a large dog. Let him have his way once, and he will pull you for miles and miles; keep him on tight leash, and he will obey.

I saw this quality in President Trump, too. He rejected the Jewish call to apologise for the six-pointed star on Clinton's image, he rejected their insistence to mention the Holocaust, and even when he did, he did not mention Jews, to their great annoyance. Then he gave in for a while, and bombed Syria and made some pro-Israel noises, and he sent his Ivanka to do an even more pro-Jewish routine, and he appeared defeated. But then he had met with Lavrov. Let us hope this time Trump will keep the leash in his strong hands.