THOSE WHITE LADIES LOOK PISSED.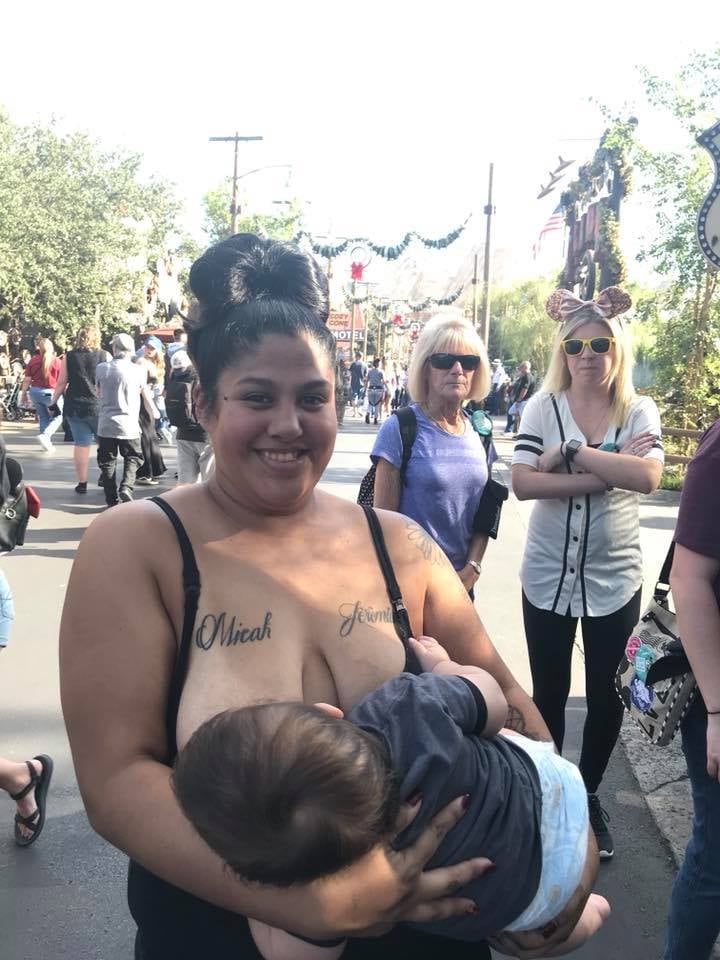 This fat f*ck pays $1,049 for a season pass to Disneyland. I guess that entitles her to show off her tatted droopers to one and all.
Go back to Mexico, fattie.
Brittni Medina has some choice words those offended by her breastfeeding publicly.

The mother of two, a frequent visitor at Disneyland, shared a viral Facebook post after a November trip to the California theme park during which she claims she was shamed for publicly breastfeeding her 10 month old.

"I was standing in a very long line to get our picture taken my son got hungry and I wasn't going to wait in another line again. So I took off my first top and nursed," she wrote in the post, shared to a group called Breastfeeding Mama Talk.

"These women were making snarky comments so I moved from my spot to catch a picture with these characters. Not for attention for me but attention to the fact NO WOMEN SHOULD BE SHAMED FOR FEEDING THEIR BABY UNCOVERED."

Under California law, women are permitted to breastfeed their children with or without a cover in public and private.

Medina's post drew thousands of comments.

While many group members supported her, others argued that she should have been more discreet while visiting Disneyland.

Medina responded, taking the time to explain why she felt there was nothing wrong with breastfeeding her son in full view of other park visitors.

"Yes not everyone agrees. For one I don't need your approval! Disney policy and the law fully support me," she wrote.

"Boobs are not sexual! If you can't inform your kids a baby is eating that's not my issue. Am I normally this exposed when I feed my son? No! But not all moments as a mother are glamorous! In this moment he is a big boy and is pulling on my nursing shirt!"
Boobs are not sexual? LMFAO!
California law allows public breastfeeding as an accommodation to the teaming hordes of brown filth washing up from Mexico who have taken over that ridiculous state.
Medina is another example of the arrogant Mexican who sh*ts all over American norms. Wanna bet how much she collects in welfare every year???!!!