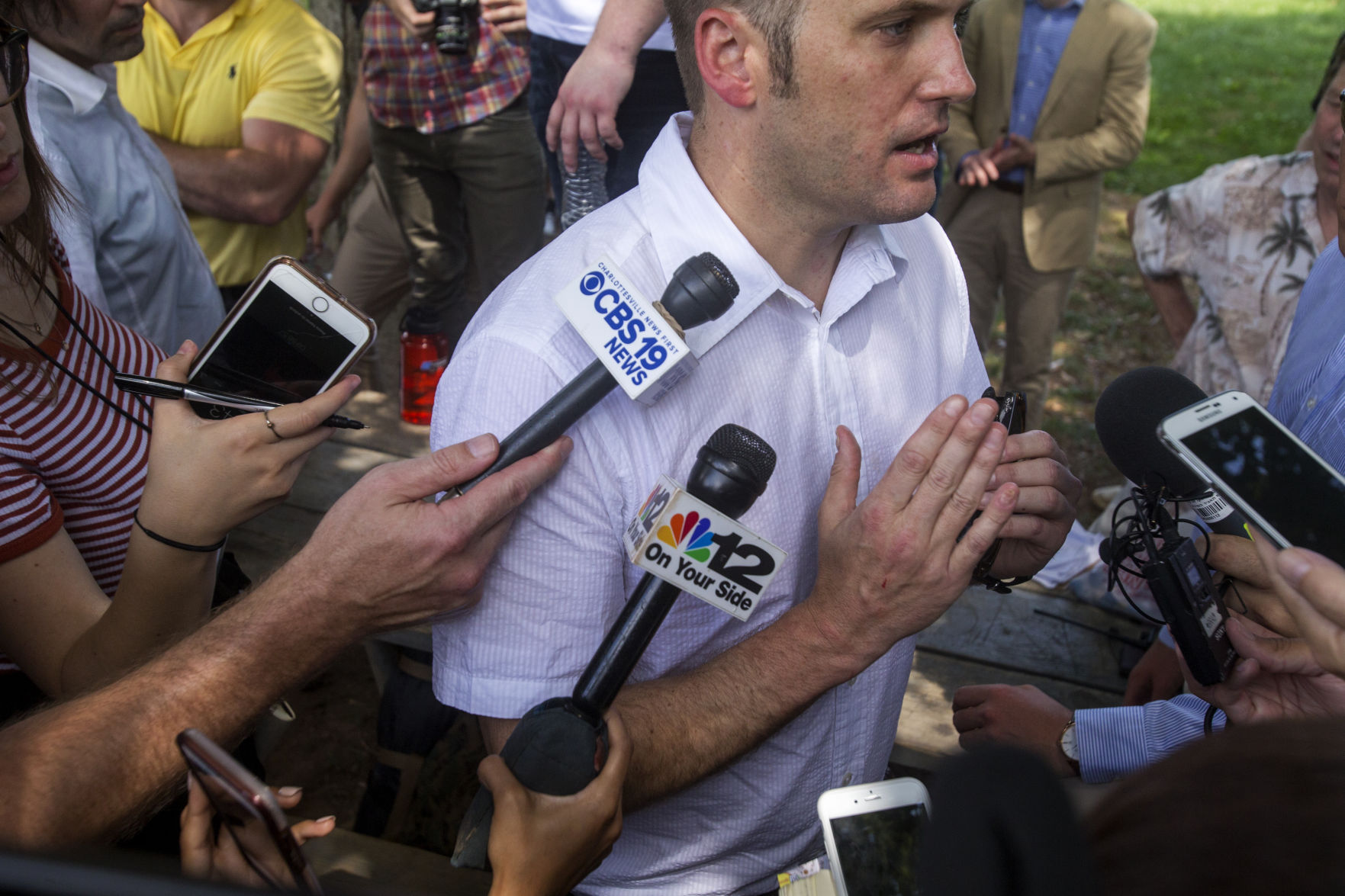 Unannounced, a small group of white patriots reclaimed the streets of Charlottesville, Virginia as they have every right to do.
The march went off without any trouble because so-called white supremacists are not troublemakers.
A group of white nationalists, including prominent alt-right leader Richard Spencer, held a torch-lit rally Saturday in Charlottesville, CBS affiliate WCAV reports.

The marchers chanted "you will not replace us" and "we will be back" at Emancipation Park, according to WCAV. The rally only lasted about 20 minutes before they dispersed.

Charlottesville mayor Mike Signer tweeted Saturday night that the city is looking into legal options.

Another despicable visit by neo-Nazi cowards. You're not welcome here! Go home! Meantime we're looking at all our legal options. Stay tuned.

— Mike Signer (@MikeSigner) October 8, 2017

Meanwhile, three people were arrested following a protest during a bicentennial celebration at the University of Virginia on Friday.

The star-studded show featured performances by Leslie Odom Jr., the star of Broadway's "Hamilton" and the Goo Goo Dolls.

The Daily Progress reports that as journalist Katie Couric, a university alumna, was introducing the next act, three activists climbed in front of a screen. They unfurled a banner that read, "200 years of white supremacy."

The three people arrested were students, according to WCAV.

The university has faced criticism from some students over its response to this summer's white nationalist rallies in the city. Critics have also called on the school to do more to acknowledge racist parts of its past.

The incidents come almost two months after a white nationalist rally at the same location in Charlottesville that left one woman dead and at least 19 others injured. A torch-lit rally was held the night before.
A reminder that corrupt (((Mayor Mike Signer))) is the one who ordered the police to stand down so that the Antifa could have easy pickings in beating up the white free speech advocates back in August when the stuff hit the fan.
Richmond.com adds additional details.
White nationalists, including "alt-right" leader Richard Spencer, assembled once again at the foot of Charlottesville's Robert E. Lee statue in Emancipation Park, armed with torches in what Spencer dubbed "Charlottesville 3.0."

Spencer, Unite the Right rally organizer Jason Kessler, and members of white supremacist and neo-Nazi groups first gathered at the Lee statue on May 13. On Aug. 11, the day before the rally, another torch-bearing march concluded at the University of Virginia Rotunda. Spencer and Kessler are both graduates of U.Va., which celebrated its bicentennial on Friday.

At about 8 p.m. Saturday, about three dozen people chanted "we will be back," according to NBC29. A reporter for the TV station said police maintained a presence at the park, which is closed to the public starting at 11 p.m.

"While we prefer protesters get permits like any other event," city spokeswoman Miriam Dicker said in an email, "such assemblies are protected by the First Amendment and we do not interfere unless we perceive a legal or safety issue."

In a video on Twitter, Spencer called the rally "Charlottesville 3.0" and deemed it a "great success" that should be repeated by others.
—
Local residents also took action upon learning about the rally, congregating at U.Va.'s Rotunda, where the Aug. 11 rally was held, as well as at the Islamic Society of Central Virginia and Congregation Beth Israel to check on the safety of the sites.

Gov. Terry McAuliffe said the state is "monitoring this situation as we continue to oppose these racists and their message of hate" in a tweet, but he did not elaborate.

Statues of Lee and Thomas "Stonewall" Jackson are currently concealed by black tarps.