SCOUT SCHULTZ. FAGGOT LEADER. SHOT DEAD BY CAMPUS POLICE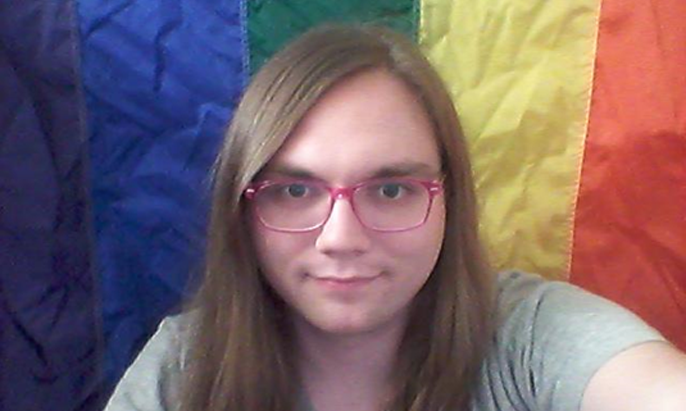 Fox News reports that fag Scout Schultz (Jewish?) refused to drop a knife over the weekend when confronted by police.
ATLANTA – Police have given the all-clear after violent protest broke out at Georgia Tech.

Viewer video from the protest showed smoke and students yelling. Another video shows a police car in flames.

The protests erupted after supporters of Scout Schultz, who was killed by campus police over the weekend, gathered to mourn the Georgia Tech student's death.

Channel 2's Justin Wilfon said multiple agencies remained at the scene late Monday night after things appeared to calm down.

Georgia Tech confirmed to Wilfon that two Georgia Tech police officers had minor injuries from the protests. One of those officers was taken to Grady Memorial Hospital. The officers are expected to be OK.

Police arrested three people involved in the protests. They have been charged with inciting a riot and battery of an officer.

"They sent us to seek shelter, the police department," witness Ammar Hawa told Wilfon.

Hawa shot video of the Georgia Tech police cruiser as it burned. Wilfon found the burned-out vehicle on the side of the street after it was distinguished.
The violence erupted two nights after Schultz was shot and killed by a Georgia Tech police officer.

A witness told Wilfon he saw protesters clashing with police, and that at one point they responded with at least one smoke bomb.

"The police department was fighting with them actually. I saw some police officers put them in the ground," Hawa said.

Later, Wilfon saw a Georgia Tech officer being loaded onto an ambulance with an apparent head injury.

Just an hour earlier across campus, students held a peaceful vigil to remember Schultz.

"Scout you will be missed and you will never be forgotten," one student said about Schultz.

Among the mourners, Schultz's father, Bill, who hopes Scout's work as a leader in the campus pride group will live on.

"I had no idea how many students looked up to Scout as a leader and it's obvious Scout leaves a huge hole here on this campus," Bill Schultz told Wilfon following the vigil.
One less sodomite is no great loss to society. There is a lesson to be learned, though. Don't pull a knife on cops unless you want to be dead. Scout, like all crazy sodomites, probably committed suicide by cop.
Schultz, a fourth-year computer engineering major and the president of the Georgia Tech Pride Alliance, preferred the pronouns "they" and "them" rather than "him" or "her" and identified as bisexual and non-binary–according to a Pride Alliance profile online, reports USA Today.

Scout allegedly was armed with a knife and refused to put the weapon down when officers urged them multiple times to do so. Videos taken by witnesses showed Schultz, who appeared to be barefoot, holding an object in their hand, WSB-TV reported. The student then was seen yelling, "shoot me" to the officers.

"Drop the knife! Drop the knife!" the officers were heard shouting back.

"Nobody wants to hurt you … Drop the knife," an officer said again, ordering him to put the weapon down.

Another video showed Schultz walking forward before an officer fired his gun at Schultz. Georgia Bureau of Investigation spokeswoman Nelly Miles said the officer shot the student after Schultz "continued to advance on the officers with the knife."