Whether you care about this issue or not, if the Clintons are made to look even sleezier than they already look, then this is a win for the alt-right and a loss for the left.
THE LEAD STORY: The Clinton Foundation reportedly will not return as much as $250,000 in donations from disgraced Hollywood mogul Harvey Weinstein following multiple accusations of sexual harassment and rape … The foundation said donations, ranging from $100,000 to $250,000, have already been spent on projects, The Daily Mail reported. The move to keep the money was expected following tweets from the foundation's spokesman Craig Minassian. "Suggesting @ClintonFdn return funds from our 330,000+ donors ignores the fact that donations have been used to help people across the world," Minassian tweeted.
The calls to return Weinstein's money were prompted after multiple actresses accused the Hollywood executive of sexual assault and rape, forcing numerous politicians and organization to grapple with the dilemma. When asked about Weinstein's donations last week, Hillary Clinton said "there's no one to give it back to" and that she would give any Weinstein contributions to charity. Former first daughter Chelsea Clinton avoided answering questions about Weinstein's donations outside a Clinton Global Initiative University event at Northeastern University over the weekend.
This story is trending on Twitter, which is ready to rip the Clintons a third ***hole. (They already have two)
The libtard Tweets comparing Trump to Harvey Weinstein are really lame and ineffective. I've left those out because the comparison isn't truthful.
The Daily Mail goes beyond Fox in offering additional details about the Clinton sleeze.
Hillary Clinton faced criticism during the election for accepting millions in donations from foreign governments while she was serving as secretary of state, including Qatar, Algeria and Oman.

Critics said the donations created a conflict of interest and were a potential violation of an ethics agreement Clinton signed with the Obama administration that placed restrictions on the foundation's foreign government funding.

In 2006, the Clinton Foundation also accepted $25,000 from billionaire and convicted sex offender Jeffrey Epstein.

Epstein pleaded guilty to soliciting sex acts from a minor in 2008, after an extensive FBI investigation that looked into multiple allegations involving Epstein and underage girls.
I wonder if the Foundation paid the two weeks rent on this vacation home the Clintons rented for $100,000.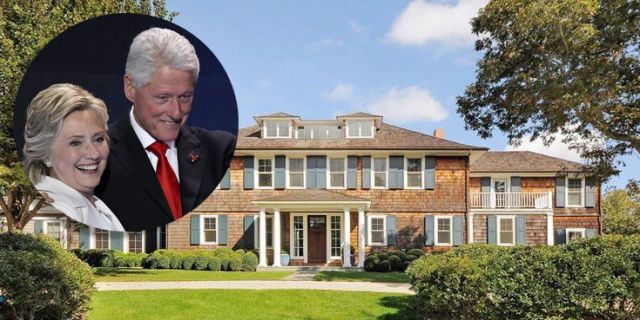 They say that charity begins at home. For the Clintons and their numerous vacation rentals, that's true.