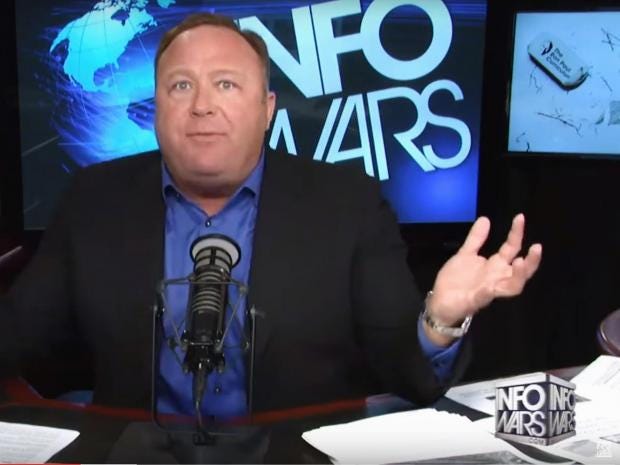 If you do nothing else with this post, watch the minute and a half video that has taken on a great importance as Alex Jones' ex-wife tries to gain custody of their three children.
It will be interesting to see if Kelly Jones calls out her ex-husband as a Zionist shill. The vibe I'm getting in this story is that she thinks he's for real, believing everything he says.
At a recent pretrial hearing, attorney Randall Wilhite told state District Judge Orlinda Naranjo that using his client Alex Jones' on-air Infowars persona to evaluate Alex Jones as a father would be like judging Jack Nicholson in a custody dispute based on his performance as the Joker in "Batman."

"He's playing a character," Wilhite said of Jones. "He is a performance artist."

But in emotional testimony at the hearing, Kelly Jones, who is seeking to gain sole or joint custody of her three children with Alex Jones, portrayed the volcanic public figure as the real Alex Jones.

"He's not a stable person," she said of the man with whom her 14-year-old son and 9- and 12-year-old daughters have lived since her 2015 divorce. "He says he wants to break Alec Baldwin's neck. He wants J-Lo to get raped.

"I'm concerned that he is engaged in felonious behavior, threatening a member of Congress," she said, referring to his recent comments about California Democrat Adam Schiff. "He broadcasts from home. The children are there, watching him broadcast."
Beginning Monday, a jury will be selected at the Travis County Courthouse that in the next two weeks will be asked to sort out whether there is a difference between the public and private Alex Jones, and whether, when it comes to his fitness as a parent, it matters.
Keep reading until the end and you will learn that Alex has remarried and his new wife is ready to have a baby. Which is kind of disappointing because I thought he had a thing for the "female bodied" human, the lovely Lee Ann Macadoo.
LEE ANN MACADOO. SHE'S WHY GUYS WATCH.