SISTERS KIMBERLY LESKO AND MELODY ROBB.

ALLEGED MURDERERS MIRAS KELLY, KYLEE LANKFORD.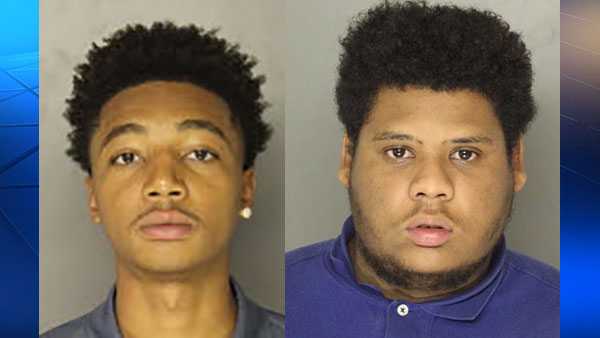 Two sisters were killed and a man critically injured in a triple shooting in McKeesport early Friday morning.

Melodie Robb, 52, of McKeesport, and Kimberly Lesko, 55, of Versailles, died in Ms. Robb's home in the 400 block of Gross Street when someone opened fire around 3:30 a.m. Friday. A third victim, who has not been identified, survived and was hospitalized in critical condition.

Ms. Robb's husband was also in the home during the shooting but was upstairs and was not injured, said Ms. Lesko's son, 27-year-old Jeromie Anderson, of Versailles.

"By the time he loaded his gun and got downstairs everybody was gone," Mr. Anderson said.

His mother lived in Versailles and was spending the night at her sister's home in McKeesport after receiving treatment at a nearby hospital for a deep cut, he said. She didn't have a vehicle, so Ms. Robb picked her up from the hospital.

Ms. Lesko called Mr. Anderson's brother around 11 p.m. Thursday and told him she'd decided to stay at her sister's home in order to get some rest, Mr. Anderson said.

"And then this happened," he said.

Police said two of the victims were found in the living room and another in a bedroom. Neighbors reported hearing at least four shots.

Mr. Anderson has no idea who would have wanted to kill his mother.

"She was always there for us," he said. "She worked hard her whole life, worked hard and raised us basically by ourselves because our dad had a drinking problem. He's clean now, has been for 15 years. But she took us to baseball practices, helped with our homework, worked two jobs."

He grew up in the Gross Street home where the shooting happened, he said. When his mother moved out of the house, she sold the home to her sister, who has lived there for years.

Mr. Anderson said the house was "pretty beat up," and said Ms. Robb didn't have much money.

"She lives day to day," he said. "They didn't have the money to fix the house."

Mr. Anderson said the family is accepting donations to pay for their funerals.
The initial mystery has been solved with the naming of two Negros, one of whom is still on the loose.
McKEESPORT, Pa. —
One suspect has turned himself in and another is still wanted in the investigation of last week's robbery and home invasion that left two sisters dead in McKeesport.

Allegheny County police describe Kylee Lankford, 19, as "armed and dangerous." He is 5 feet 9 inches tall and about 150 pounds.

Another suspect, Miras Kelly II, also 19, turned himself in Thursday and was taken to the Allegheny County Jail, where he was expected to be arraigned overnight. Calls to his defense attorney, Bill Difenderfer, were not returned.

Both face homicide charges in the fatal shootings of Melodie Robb, 52, and Kimberly Lesko, 55, who were found dead Sept. 1 in a home on Gross Street.
Hopefully, suspect Lankford will resist arrest and pay the penalty for his resistance.