ANISSA WEIER. STABBED ANOTHER 12 YEAR OLD. BLAMED SLENDER MAN.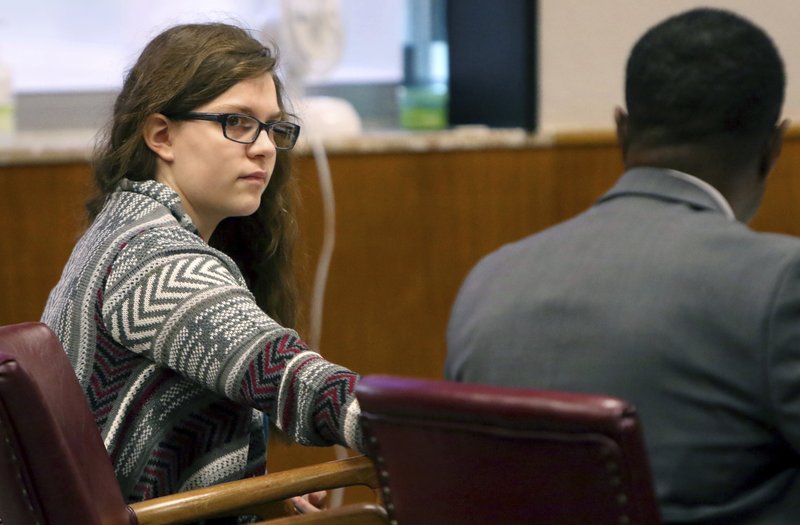 Children should be shielded from the occult.
Before getting to the jury's verdict in the Anissa Weier stabbing trial, consider the character of Slender man, as explained on Wikipedia.
The Slender Man (also known as Slenderman) is a fictional supernatural character that originated as a creepypasta Internet meme created by Something Awful forums user Eric Knudsen (also known as "Victor Surge") in 2009.[1] It is depicted as resembling a thin, unnaturally tall man with a blank and usually featureless face, wearing a black suit.

Stories of the Slender Man commonly feature him stalking, abducting or traumatizing people, particularly children.[2] The Slender Man is not confined to a single narrative, but appears in many disparate works of fiction, typically composed online.[3][4] Fiction relating to the Slender Man encompasses many media, including literature, art and video series such as Marble Hornets. Outside of online fiction, the Slender Man has had impact on popular culture, having been referenced in the video game Minecraft and generated video games of his own, such as Slender: The Eight Pages and Slender: The Arrival.

Beginning in 2014, a minor moral panic occurred over the Slender Man after readers of his fiction were connected to several violent acts, particularly a near-fatal stabbing of a 12-year-old girl in Waukesha, Wisconsin.
Excerpt from the Associated Press
A jury has found that a Wisconsin girl who admitted to participating in the 2014 stabbing of a classmate to please horror character Slender Man was mentally ill during the attack.

Jurors reached the verdict late Friday in the trial of Anissa Weier. She pleaded guilty in August to being a party to attempted second-degree intentional homicide but claimed she wasn't responsible for her actions because she was mentally ill. The jury's job was to decide whether she was.

The decision means Weier will be sent to a mental hospital rather than prison.

Weier told investigators she and co-defendant Morgan Geyser believed they had to sacrifice Payton Leutner to protect themselves and their families from Slender Man. Prosecutors argued she knew what she was doing was wrong.

All three girls were 12.
The jury heard all the evidence and has delivered its verdict. Whether Anissa can ever function normally is now left in the hands of the headshrinkers.