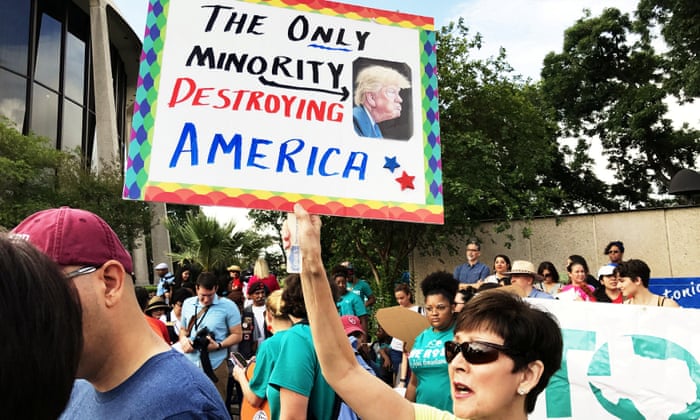 If as Ann Barnhardt says, all politicians are psychopaths, California's politicians represent a doubling down in their evil insanity.
As California's population is now two-thirds nonwhite, the state is going to sink into third world status over the long term as the props that have kept its head above water are kicked out from under it.
The rest of America should make sure that our tax dollars aren't used for the race replacement of whites.  In other words, no more federal subsidies for California.
California has adopted the most expansive "sanctuary state" law in the US with the goal of obstructing Donald Trump's deportation agenda by prohibiting police in the country's most populous state from cooperating with federal immigration authorities.

The landmark bill, signed into law on Thursday, restricts police from questioning people about their citizenship status and detaining foreign-born residents on immigration violations. The law, which also prohibits police from transferring certain inmates to immigration authorities, could lead to a major legal showdown between the White House and California and is the latest example of the liberal Golden State creating roadblocks to Trump policies.

The legislation is more far-reaching than an existing sanctuary state policy in Oregon and could help shield immigrants from aggressive deportation efforts in a state home to more than two million undocumented people, nearly a quarter of all unauthorized immigrants living in the US.

The California Values Act builds on the sanctuary city policies that Trump aggressively targeted during his 2016 campaign and which exist in hundreds of municipalities. Studies have challenged Trump's claims that sanctuary jurisdictions attract crime; some research suggests cities with sanctuary policies have significantly lower crime rates than comparable municipalities that allow local police to enforce immigration laws.

Some liberal cities, such as San Francisco, have sued the Trump administration over his threats to withhold federal public safety grant money as a punishment. Those cities have argued that when police stay out of immigration enforcement, undocumented people are more likely to report crimes and work with police.

Even before California governor Jerry Brown signed the new law, the bill was the subject of widespread attacks by the Trump administration and conservatives across the country. US attorney general Jeff Sessions recently called the bill "unconscionable" and said it "risks the safety of good law enforcement officers and the safety of the neighborhoods that need their protection the most".

In California, a state controlled by Democrats, the proposal has faced significant pushback from some conservative sheriffs. Brown, a Democrat, recently negotiated revisions with sponsoring senator Kevin de León that loosened restrictions on police, giving them discretion to hold certain people for federal authorities if they've been convicted of serious or violent felonies.

Brown said: "These are uncertain times for undocumented Californians and their families, and this bill strikes a balance that will protect public safety, while bringing a measure of comfort to those families who are now living in fear every day."
Who are these "families who are now living in fear every day?" They live in the reprobate minds of Jerry Brown and his fellow liberals.
And don't you love the word "undocumented" when the right word would be "illegal."