Pornographer Larry Flynt resides in a wheelchair because he was shot in 1978.
The assassination attempt on Flynt was perpetrated by a white man who strongly objected to Flynt publishing pictures of Negro males having sex with white women.
As a consequence of the bullet he took, Flynt has been in a wheelchair since. His penis is inflatable since the lower half of his body doesn't work.
That seems like justice for a hedonistic pornographer, albeit cruel justice. However, from the standpoint of society, it would have been better if Flynt had died in the street, his brain splattered across the concrete.
Hustler founder Larry Flynt is running a full-page ad in Sunday's Washington Post offering a $10 million reward for information leading to the impeachment of President Trump, Fox Business reports.

Anchor Liz Claman tweeted a photo of the ad, which reads: "Larry Flynt and Hustler magazine announce a cash offer of up to $10 million for information leading to the impeachment and removal from office of Donald J. Trump."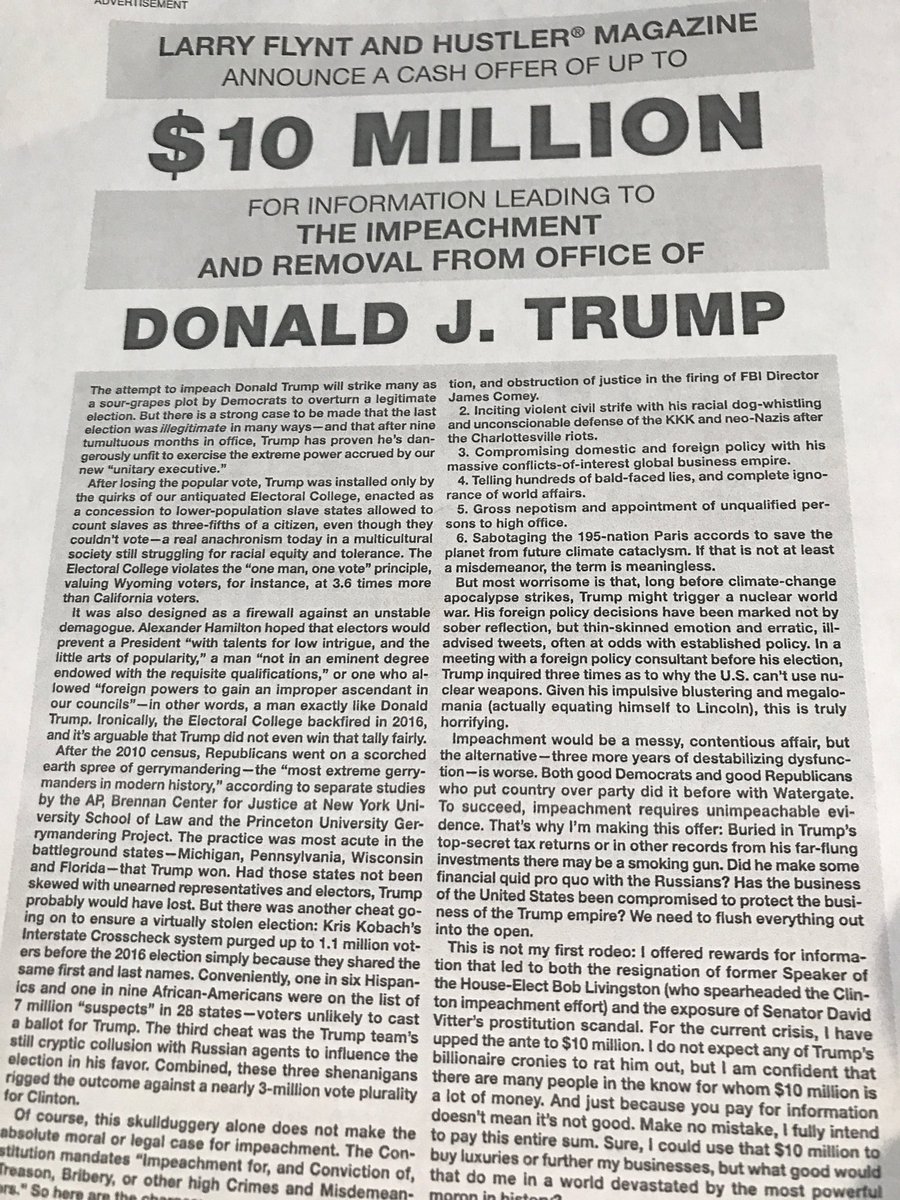 In the ad, Flynt airs several grievances about Trump's actions as president, including his firing of FBI director James Comey and his "gross nepotism and appointment of unqualified persons to high office."

"Impeachment would be a messy, contentious affair, but the alternative – three more years of destabilizing dysfunction – is worse," the ad reads. "Both good Democrats and good Republicans who put country over party did it before with Watergate. To succeed, impeachment requires unimpeachable evidence. That's why I am making this offer."

The porn producer notes in the ad that this "is not my first rodeo," citing past rewards for information on Republicans like former Rep. Bob Livingston in 1999, who resigned from Congress after admitting to an extramarital affair, and Sen. David Vitter, who weathered a prostitution scandal in 2007.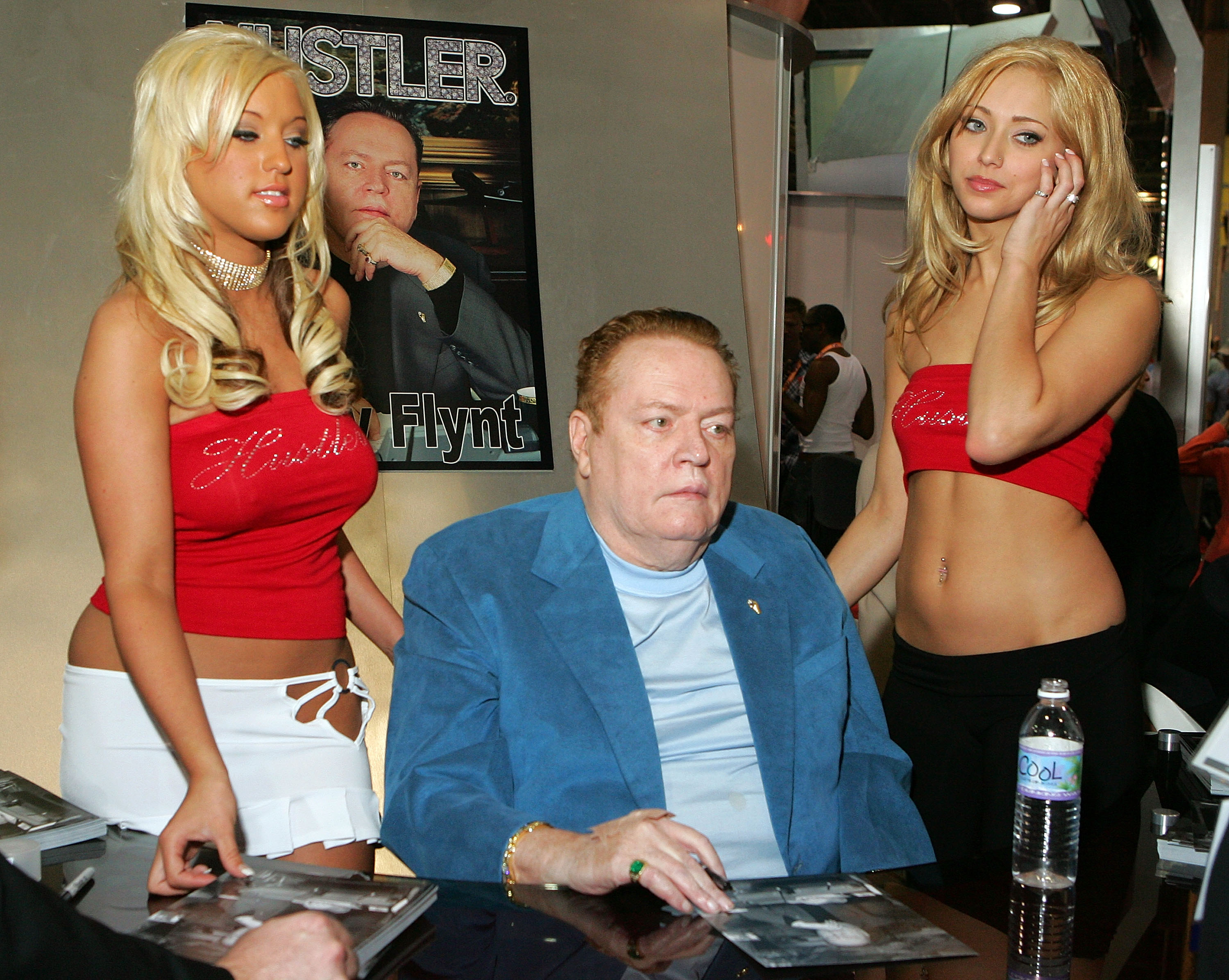 "Sure I could use that $10 million to buy luxuries or further my businesses," Flynt writes, "but what good would that do me in a world devastated by the most powerful moron in history?"
Flynt offered a $1,000,000 reward for information on presidential candidate Mitt Romney in 2012. He's also put out other rewards, as stated above.
Wikipedia reports on Flynt's white identitarian shooter. Excerpt:
Joseph Paul Franklin (born James Clayton Vaughn, Jr.; April 13, 1950 – November 20, 2013) was an American serial killer who gained notoriety for numerous murders in the late 1970s and early 1980s. His killing spree was the subject of a fictional novel entitled Hunter by White supremacist William L. Pierce, who said of Franklin that "he saw his duty as a white man and did what a responsible son of his race must do."[1][2]

He was convicted of several murders, and received six life sentences, as well as the death sentence. He confessed to the attempted murders of two prominent men: the magazine publisher Larry Flynt in 1978 and Vernon Jordan, Jr., the civil rights activist, in 1980. Both survived their injuries, but Flynt was left permanently paralyzed from the waist down. Franklin was not convicted in either of those cases.

Because Franklin repeatedly changed his accounts of some crimes, and was not charged in some cases in which he was suspected, officials cannot determine the full extent of his crimes. His claims of racial motivation were offset by a defense expert witness who testified in 1997 that Franklin was a paranoid schizophrenic who was not fit to stand trial.

Franklin was on death row for 15 years awaiting execution in the state of Missouri for the 1977 murder of Gerald Gordon.[3][4] He was executed by lethal injection on November 20, 2013.[5]
It's interesting that Piece viewed Franklin as a hero. The problem is that his life doesn't have a happy ending. But neither will ours if things don't turn around soon.