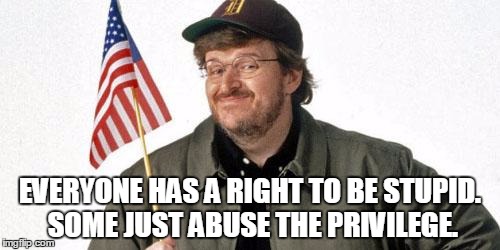 Climate change, formerly called global warming, is primarily a political concept. It's purpose is to allow (((the power elites))) greater control over earth's population via a "do-gooder" concept of government. In other words the public is led to believe that it must give up it's wealth and its freedom or else life on earth will be extinguished.
At this point in the life cycle of filmmaker Michael Moore, it should be clear to any alert person that Moore is a shill for the globalist New World Order Deep State, while affecting an image of the common man.
His act has grown wearisome. He's past his expiration date. If I were him, I'd be worried that my masters were about to pull the plug on me.
Filmmaker Michael Moore lashed out at President Donald Trump's easing of Obama administration energy regulations – asserting it will trigger the "extinction of human life."

Moore's dramatic declaration came in a tweet storm following Trump's order Tuesday rolling back regulations to curb carbon emissions.
PRESIDENT TRUMP SIGNING ROLL BACK REGULATIONS SURROUNDED BY COAL MINERS.

Trump has called global warming a "hoax" invented by the Chinese, and has repeatedly criticized the power-plant rule as an attack on American workers and the U.S. coal industry.

"Historians in the near future will mark today, March 28, 2017, as the day the extinction of human life on earth began," Moore tweeted, adding the Environmental Protection Agency has been prevented from focusing on "climate change."

Moore, who predicted Trump would win the White House, is now focused on resistance to his agenda.