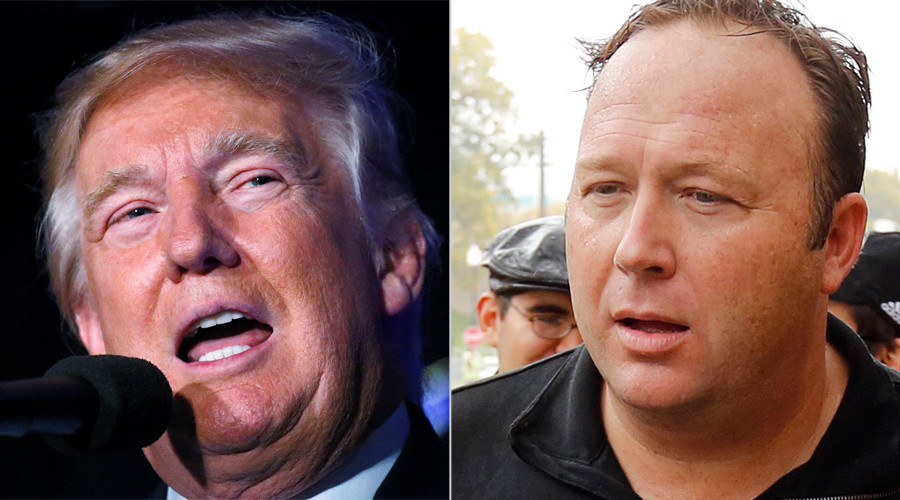 What Alex Jones does, he does well. Most of us here know that he avoids certain topics. You may also remember his debate with David Duke, posted here last year I recall, which did not go well for Mr. Jones.
If I were the president, I would scan Infowars for news, along with other sites, and watch Paul Joseph Watson videos, too.
That's about all there is to this Boston Globe story, other than subtle smears against Jones and President Trump. For instance, the story writer seems to think that I'll have less respect for Jones because he's called for an investigation into #pizzagate. Actually, that makes me have more respect for him.
Way back on Friday, President Donald Trump declared that several news organizations — ABC, CBS, CNN, NBC, The New York Times — were "the enemy of the American people." You know who's not the enemy, in his book?

Alex Jones.

Jones, in case you aren't aware, is the conspiracy-theorizing, flame-throwing nationalistic radio and internet star who's best known for suggesting that Sept. 11 was an inside job, that the Sandy Hook school shooting was "completely fake" and that the phony Clinton child-sex trafficking scandal known as Pizzagate warranted serious investigation (which one Facebook fan took upon himself to do, armed with an AR-15).

Jones, 43, has been around for a while. Like every media outfit in the Trump era, his platforms have gotten record traffic and, he told me last week, seen increases in revenue, with ads for water purification systems and for supplements to enhance "brain force" and virility.

But he is apparently taking on a new role as occasional information source and validator for the president of the United States, with whom, Jones says, he sometimes speaks on the phone.

Millions of listeners and viewers tune in to Jones on his websites (Infowars chief among them), on Facebook and through old-fashioned radio, and their loyalty partly explains how Trump maintains a hard-core faithful who don't believe a word they read about him in a newspaper like this one.
The press would like to do a two-fer: remove Trump from office and remove Infowars from the Internet (and Breitbart too).
Meanwhile, Trump's Tweets criticizing the press have made them desperate to find any tiny little opening to use to demonize Trump as a wacko conspiracy theorist. Trump called out their lies with this one on Monday, for example: