CANDIDATE TRUMP PICTURED WITH CAMPAIGN MANAGER PAUL MANAFORT.

On Monday night I posted this item on the shocking revelation that the FBI was wiretapping the Trump campaign, probably due to an effort by Obama to get dirt on Trump.
Now, early Tuesday morning in the U.S., Tweets with the Trump Vindicated label are trending.
This image is in one of the Tweets. Nice.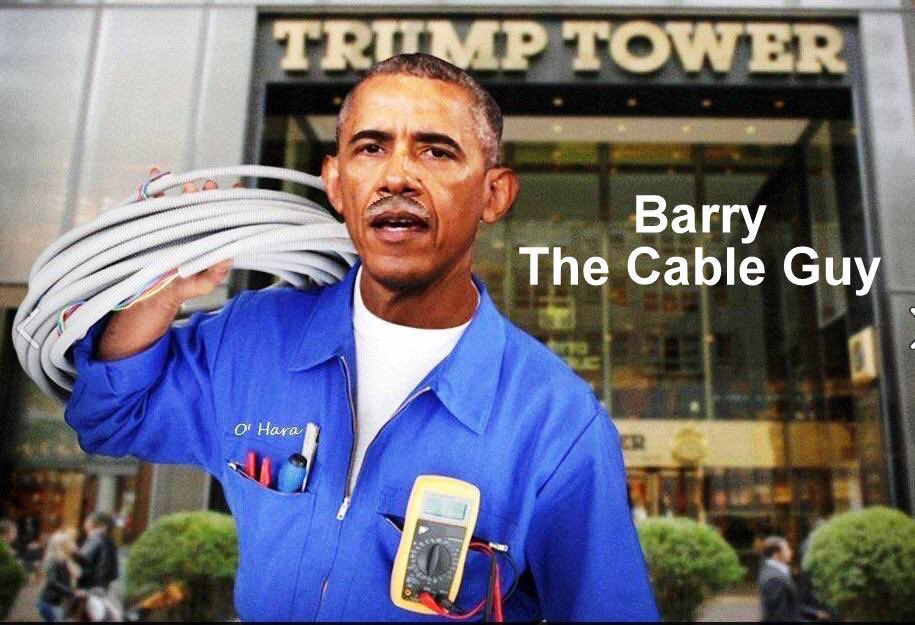 Link to Trump Vindicated on Twitter
When is AG Jeff Sessions going to get to the bottom of this mess by naming a Special Counsel to investigate the Obama/Clinton campaign?
The evidence just keeps spilling out that Obama and his administration were engaged in significant illegal espionage against the Republican challenger. It's about time that heads rolled and Democrats don prison orange.
Excerpt from Breitbart
U.S. investigators wiretapped President Trump's campaign chairman Paul Manafort, according to a report by CNN that vindicates the president's earlier claims, which were mocked as a conspiracy theory.

President Trump had tweeted on March 4: "Terrible! Just found out that Obama had my "wires tapped" in Trump Tower just before the victory. Nothing found. This is McCarthyism!"
Breitbart News editor Joel Pollak had reported the day before Trump's tweet that the Obama administration "sought, and eventually obtained, authorization to eavesdrop on the Trump campaign: continued monitoring the Trump team even when no evidence of wrongdoing was found."

Trump's claim, and Breitbart News's report, were mocked as a conspiracy theory, and other news outlets reported that there was no basis to the claims.

CNN itself at the time called the idea that Trump was wiretapped "incendiary."

But a report Monday evening said U.S. investigators obtained a surveillance warrant on Manafort from a secret court and had monitored him before and after the election, including a "period when Manafort was known to talk to President Donald Trump."

The report said the secret court that handles the Foreign Intelligence Surveillance Act had authorized a surveillance warrant against Manafort for an investigation that began in 2014, looking into his firm, the Podesta Group, and another firm's lobbying work for Ukraine's pro-Russian former ruling party.

"The surveillance was discontinued at some point last year for lack of evidence," a source told CNN.

However, the FBI then restarted the surveillance after obtaining a new FISA warrant that extended early into this year. The report notably does not say when the new warrant was obtained. Manafort joined the Trump campaign as its chairman in May 2016.