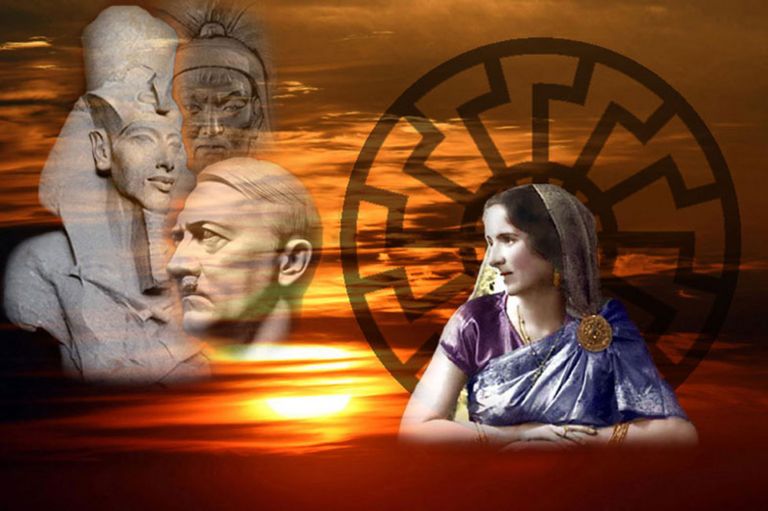 The BBC surprisingly presents some "dangerous" ideas in a reasonably straightforward manner:
1. Race is real.
2. Aryans are the superior race.
3. The earth is in a dark period of history, but will be restored when the Aryan race retakes control.
These are purported to be the key ideas of Nazi mystic Savitri Devi. The BBC did leave one point out, however.
4. The Jews are the root cause of the earth's misery.
Blessed with supernatural knowledge, Savitri Devi apparently believed that the Fourth Reich will rise from the ashes of the Third Reich.
Devi is buried next to American Nazi Party leader George Lincoln Rockwell. Was it he who said, "Next time, the world."
If the ideas of an animal rights "Nazi" woman who combined Hitler's ideas with the spirit of Hinduism interest you, then read on:
Savitri Devi, a mystical admirer of Hitler and a cat-loving devotee of the Aryan myth, seemed destined to fade into obscurity after her death 25 years ago. But thanks to the rise of the extreme right, her name and her image now crop up online more and more, writes Maria Margaronis.

In 2012, browsing the website of Greece's Golden Dawn party for an article I was writing, I stumbled on a picture of a woman in a blue silk sari gazing at a bust of Hitler against a blazing sunset sky.

What was this apparently Hindu woman doing on the site of an openly racist party devoted to expelling all foreigners from Greece? I filed her as a curiosity at the back of my mind, until the rising tide of extreme-right politics in Europe and America threw up the name "Savitri Devi" once again.

It isn't hard these days to find discussions of Savitri Devi's books on neo-Nazi web forums, especially The Lightning and the Sun, which expounds the theory that Hitler was an avatar – an incarnation – of the Hindu god Vishnu, and Gold in the Furnace, which urges true believers to trust that National Socialism will rise again. The American extreme-right website Counter-Currents hosts an extensive online archive of her life and work.

Her views are reaching a wider public, too, thanks to American alt-right leaders such as Richard Spencer and Steve Bannon, former Trump chief strategist and chair of Breitbart News, who have taken up her account of history as a cyclical battle between good and evil — a theory she shared with other 20th Century mystical fascists.