MUH ANGRY JEWESS, CHRISTINE FAIR. SHE MUST HATE EVERYONE WHO DISAGREES WITH HER JEW SPEW.

Richard Spencer's video response to his gym ban is well worth watching. I agree with the way Spencer responded to the ugly, filthy creature who harassed him. But if you disagree and think stronger action is best, go ahead and opine in the comments.
Published on May 22, 2017

Richard Spencer describes his encounter with Social Justice Warrior, neocon war-monger, and drone-strike advocate Chrsitine Fair at sport&health in Alexandria, Virginia.
An opinion piece published yesterday at NOLA blew up that website with angry comments by anti-racists who probably have little idea of what Richard Spencer advocates.
Here's part of it:
The Georgetown University professor who got white nationalist Richard Spencer booted from his gym last last week is not shy about going after people she disagrees with, and not all of them are as socially unsympathetic as the man who created the term "alt-right."

C. Christine Fair, an associate professor at the Center for Peace and Security Studies at Georgetown vented her anger on social media back in 2016 when she went after a former friend, Asra Nomani, a "lifelong liberal" who wrote an op-ed in the Washington Post about her decision, as a Muslim immigrant, to vote for Donald Trump.

That conservative Daily Caller said that led Fair to go "on a 31-day screed against Nomani spanning across Twitter and Facebook."

"I've written you off as a human being," Fair wrote in one message, according to The Washington Post. "Your vote helped normalize Nazis in D.C. What don't you understand, you clueless dolt?" Later adding: "YOU publicly voted for a sex assailant." She went on to say that Nomani "pimped herself out to all media outlets because she was a 'Muslim woman who voted for Trump.'"

Nomani replied that she "condemns all hate" and called Fair's attacks against her "unfortunate," the report said. After another series of exchanges, Nomani told Fair to "take a deep breath & step away from the keyboard."

Fair then called her former friend a "fame-mongering clown show" and a "fraud."

In a complaint to Georgetown, Nomani said that Fair had used profanity and called her names in English and in her native language of Urdu.

In her op-ed, Nomani seemed to puncture key ideas of Fair's stereotypes of Trump supporters:

"This is my confession — and explanation: I — a 51-year-old, a Muslim, an immigrant woman "of color" — am one of those silent voters for Donald Trump," Nomani wrote. "And I'm not a 'bigot,' 'racist,' 'chauvinist' or 'white supremacist,' as Trump voters are being called, nor part of some 'whitelash.'"

Nomani, who was born in India and is a former Wall Street Journal reporter and a co-founder of the Muslim Reform Movement, is certainly not an extreme right winger.

Fair is being widely lauded for going after Spencer, who is president of the white-nationalist National Policy Institute. He has denied being a Nazi, but was seen on video shouting "Hail Trump!" as crowd members replied with Nazi salutes.

Nomani is the author of two books: "Standing Alone in Mecca: An American Woman's Struggle for the Soul of Islam" and "Tantrika: Traveling the Road of Divine Love."
ASRA NOMANI. ANOTHER VICTIM OF CHRISTINE FAIR.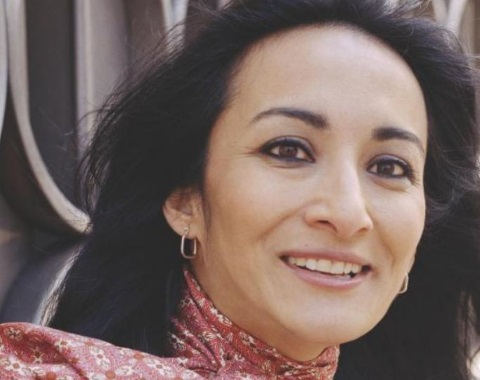 Spencer's website, altright.com offers a deeper look into the wasted life of the madwoman of the gym. Like too many Jews, she devotes her life to making other people miserable.