Accused Texas school shooter Dimitrio Pagourtzis made sure that the pin showed up nicely in his photo posting seen above.
That pin is a bisexual pride pin. See below.
Assuming that nobody but queers wear bi pride pins, the press is going to bury the fact of his sexual orientation. But we know, as sex realists, how f*cked up the minds of queers are.
The press is trying to sell the narrative that Dimetrios is a Nazi white supremacist because of an Iron Cross pin that he attached to a coat or jacket. See below. However, he also pinned his jacket with a Communist symbol too, as well as a Japanese symbol and a Satanic symbol.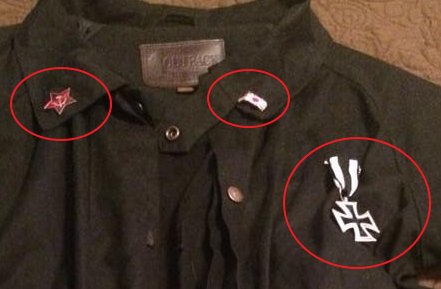 Ten people have been killed and the same number wounded after a gunman opened fire at a high school in Texas.

The suspect, 17-year-old Dimitrios Pagourtzis, has been charged with capital murder, Galveston County Sheriff Henry Trochesset said.