JAMES FIELDS. ACCIDENTALLY PLOWED INTO THE BACK OF ANOTHER VEHICLE. HE COULD HAVE EASILY BEEN KILLED HIMSELF.

The United Satanic States of America (the USSA) is beyond the rule of law. The whole country, or at least half of it, is on witch hunt, determined to destroy the lives of as many white men as possible.
The nation is in the grip of mass hysteria.
James Fields, as you know, was the driver of the Dodge Challenger that rear ended a car in Charlottesville, Virginia, in August, following the chaos that broke out when free speech advocates were attacked by Antifa.
At worst Fields should be charged with involuntary manslaughter. Instead, the geeky "Nazi" is being charged with first degree murder.
Field's victim was an ugly race mixing pig of a social justice warrior, who contributed mightily to the genocide of her people.
As far as I'm concerned Fields could be described as a hero if he had deliberately ran her over. But he didn't kill her deliberately. Footage clearly shows him trying to escape death at the hands of weaponized Antifa members who swarmed his car.
An Ohio driver accused of plowing into a crowd protesting a white nationalist rally in Charlottesville, Virginia, killing one woman, is facing an upgraded murder charge.
It's utterly ridiculous to think that Fields had murder on his mind at any point in his life. The evidence will show that he wanted to take a stand for traditional America. You know, God, country, apple pie, and so forth. You can tell from the pictures that he wasn't looking for trouble.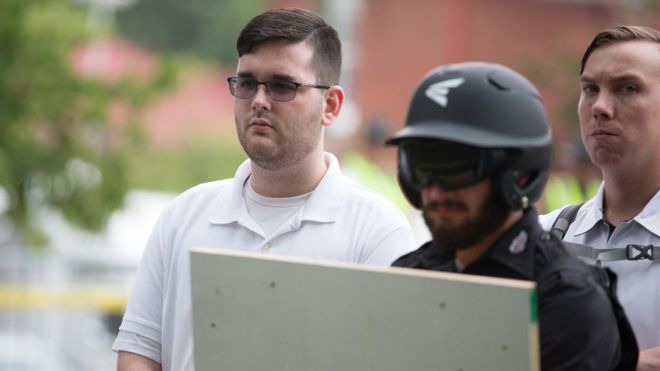 He has a woman lawyer who will hopefully represent him well because he's going to need it.