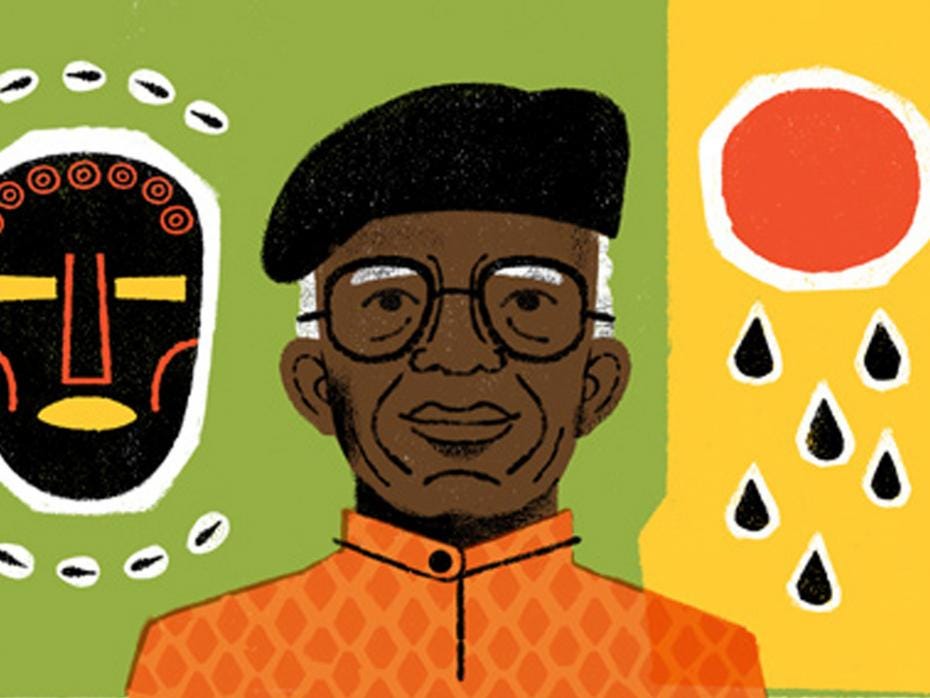 Google's politically correct agenda has reared it's ugly head again today, with a Doodle that celebrates a nonwhite individual.
The hidden agenda is to make careless or time pressed people think that darkies have achieved the same level of accomplishment as whites have.
It's not so.
None of us are likely to read the writings of the African featured here. None of us would want to, except out of curiousity. When I say that, I don't mean to denigrate his writings, which surely offer insights into the mind of the African that would be of value to all of us.
The reality is that when the white man came to Africa, the African was living at his primitive level, which the (((Google))) folks would have us skip over in favor of the idea that Africans are brilliant achievers.
The late Nigerian author Chinua Achebe has been honoured in a Google Doodle, underscoring his status as a towering figure of 20th century literature.

By creating a doodle marking what would have been Achebe's 87th birthday, the tech giant is celebrating a writer many consider to be father of modern African literature.

Writing amid a post-colonial movement that saw African nations cast off decades of foreign rule and seek political sovereignty, Mr Achebe lent a voice to a generation of Africans who refused to be defined solely through the lenses of European thought.

Part of that work involved telling distinctly African stories from the perspective of African characters, helping to forge a literature that — like newly created countries — was independent from Europe.

Mr Achebe did so across dozens of novels and books of poetry and essays, leading many to refer to him as "the father of modern African literature". He died in March of 2013 at the age of 82, having collected accolades that included the Man Booker International Prize.

His oeuvre stood in deliberate opposition to works of European literature that cast Africa as a setting and its people as bit players in the central affairs of Western characters. He denounced novelist Joseph Conrad as a "bloody racist" and called Mr Conrad's novel "Heart of Darkness", in which a European explorer plunges into a threatening and unfathomable Africa, as "a totally deplorable book".

In contrast to European works that allowed Africans only minor or one-dimensional roles, Mr Achebe wrote novels that showed Nigerians as complex characters endowed with agency.

His best-known work, "Things Fall Apart," remains a staple of school curricula. It tells the story of Okonkwo, the proud leader of his village.

The novel depicts the complex customs of the Igbo people, one of multiple ethnic groups in Nigeria with a distinct culture and language. The book portrays how Okonkwo's world is upended by the appearance of Christian missionaries, and its closing paragraph — written from the perspective of a recently arrived colonial leader — functions as a haunting allusion to how European observers reduce and dismiss complex African cultures:

"He had already chosen the title of the book, after much thought: The Pacification of the Primitive Tribes of the Lower Niger."