OBSERVE THE ABOLISH ICE T-SHIRT.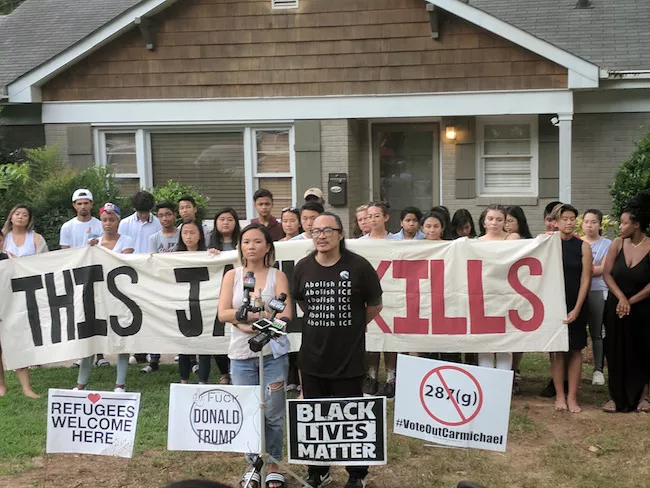 Enemies of the founding stock of America, that would be white people, turn out to support a couple of gooks and their yard signs, which include one that says, "Fuck Donald Trump."
The gook needs to be taught a lesson in good manners. The police won't do it, claiming the sign is protected by the First Amendment.
A white male tried to reason with the slant, but got grief for his efforts.
There's a video of the encounter on Twitter that I've embedded at the bottom of this post.
Any reasonable member of the founding stock might find himself hating gooks after watching the encounter.
Tin Nguyen and his partner, Cat Bao Le, say they will continue to confront white supremacists and hatred after an unknown white man banged on their door, yelled racial slurs, threatened to call police, and argued with them about a sign in their yard that says "F— Donald Trump."

The man told Nguyen and Le, "I'm gonna get you, n—–."

Nguyen is a 38-year-old lawyer in Charlotte who defends people in immigration cases and whose mother and father were refugees from Vietnam in the late 1970s. Le, 37, is also Vietnamese-American and is executive director of the Southeast Asian Coalition, a youth and advocacy organization in Charlotte.
Both are disgusting PARASITES. Advocacy organization my a**!