BOO HOO! A WHITE MAN CALLED HER A NIGGER. SHE CRIED.

The Negroid will often order fast food and then later complain that items were missing, while demanding a refund.
Any fast food operator can confirm this. We've seen blacks over and over try to pull this and other scams in videos, news reports, and Internet comments.
It's hard to blame a man losing his temper when he has to put up with sh*t like this day after day after day.
Fast good giant Dairy Queen, famed for its soft serve ice cream, has closed one of its stores and ended its relationship with the owner after police said he "proudly admitted" using a racial slur to a customer.

Deianeira Ford said the DQ outlet in Zion, Illinois, had mixed up her order at the drive-through window. When owner Jim Crichton refused to correct the order, she asked for refund. He refused to give one, and he then started yelling racist epithets at her.

"It was really just upsetting especially with having my children in the car," Ms Ford told the Associated Press. "I mean, no one deserves to be treated like that."

Ms Ford said that at that point, she telephoned for the police. Reports said that when police arrived at the store, around 50 miles from Chicago, they found her "visibly upset and crying." When the officer went inside, he said Mr Crichton was "angry and was pacing continually back and forth 180 degrees around me."
Who calls the police when somebody calls you a name?
Who?
Well, you know who. We've seen this before time and time again too.
THE NICE WHITE POLICEMAN GAVE HER A HUG.

The Washington Post said the officer wrote in his report "Crichton boastfully told me he would be happy to go to jail over the issue," and "proudly admitted" to using the racist slur.

Mr Crichton also told the officer he was "fed up with black people" and continued to freely use the slur in the conversation, the paper said.
So, the police threaten you with jail for saying a word?
The incident prompted protesters to gather outside the Dairy Queen last Saturday. Ms Ford said she has a lawyer and is considering legal action.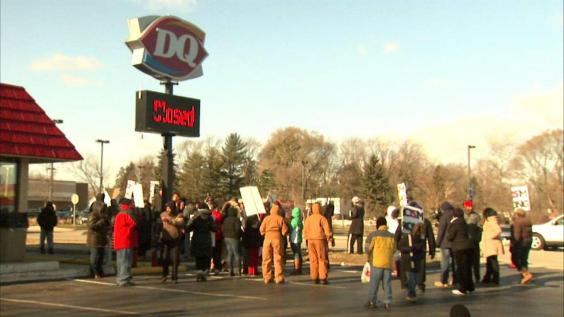 WEAK-MINDED WOMEN SJWS POSING WITH THE NEGROLOCAUST VICTIM.

Meanwhile, Mr Crichton apologised in a statement provided by American Dairy Queen Corporation and said he would undergo sensitivity training.

"My actions were inexcusable and unacceptable," he said. "I can only ask for forgiveness and try to make it up to all involved."

Dairy Queen in a statement called Mr Crichton's statements "reprehensible" and said his behaviour did not represent the restaurant's values.

"I'm disgusted and discouraged by the comments made by this business owner," Police Chief Stephen Dumyahn said. "I reached out to Miss Ford to tell her that this does not represent the diverse community of Zion."
So, the bottom line on this story is that the cops, including the Chief of Police condemn a man for losing his temper over TNB (Typical Nagger Behavior) and the owner grovels. Then he loses his business. Now, the Nagger is going to sue him.
Sad!
In a free country, the business owner would have freedom of association, free to serve whomever he wished or not.