RICK GATES, LEFT, SHOWN WITH PAUL MANAFORT.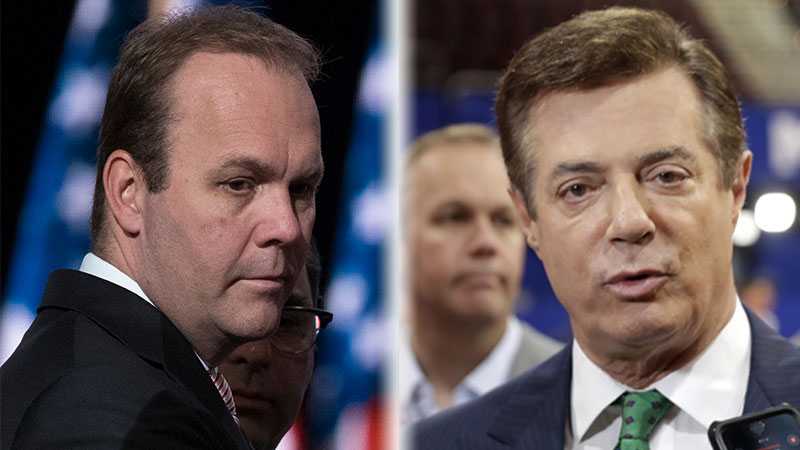 There are at least three possibilities when it comes to today's monster story involving Paul Manafort and business associate Rick Gates turning themselves in to the FBI following an unsealing of a grand jury indictment that could put them in prison for the rest of their lives:
1. Somebody's guilty of money laundering, a crime normally investigated by the IRS. Since the money laundering allegations in this case took place during the Obama years in the White House, one is forced to ask why there were no prior investigations of the money flows at the center of this case.
2. Special Counsel Robert Mueller is showing off, giving the public something for the $100 million this investigation is probably going to cost. Manafort and Gates will be found not guilty.
3. The purpose of the Manafort and Gates indictments is to get the two men to turn state's evidence in order to charge higher ups with crimes. Presumably the target would be Donald Trump, but there's a least some possibility that Hillary Clinton and the Clinton Foundation are on Mueller's radar screen, if he's an honest man.
Here's a short article that tells you what you need to know about this morning's drama.
Former Trump campaign chairman Paul Manafort and his associate Rick Gates pleaded not guilty on Monday after being indicted on 12 counts by a federal grand jury as part of the special counsel investigation into Russian meddling and potential collusion with Trump campaign officials in the 2016 presidential election.

Manafort and Gates pleaded not guilty to all charges. A judge set bond at $10 million for Manafort, and $5 million for Gates. Both sides agreed to home detention.

The special counsel's office told Fox News that the counts include conspiracy against the United States, conspiracy to launder money, unregistered agent of a foreign principal, false and misleading Foreign Agent Registration (FARA) statements, false statements and seven counts of failure to file reports of foreign banks and financial accounts.

Manafort and Gates appeared before Magistrate Judge Deborah Robinson on Monday for their initial appearance and arraignment.

Kevin Downing, an attorney for Manafort, said outside a federal courthouse in Washington Monday that there is "no evidence" his client or the Trump campaign colluded with the Russian government, claiming Manafort was "seeking to further democracy and to help the Ukraine come closer to the United States and the EU."

The attorney added the charges related to Manafort's offshore money transfers are "ridiculous."

Glenn Selig, Gates' spokesman, said in a statement Monday that Gates "welcomes the opportunity to confront these charges in court."

"He is not going to comment further until he has had a chance to review the lengthy indictment with his legal team," Selig said. "He would appreciate you respecting his and his family's privacy as they weather this unexpected and hasty proceeding designed to accommodate perhaps political and press considerations rather than his right to have counsel of his choice by his side during the most troubling and challenging day for him and his loved ones."

Selig added: "This fight is just beginning."

According to the indictment, reviewed by Fox News, between at least 2006 and 2015, Manafort and Gates acted as unregistered agents of the Government of Ukraine, the Party of Regions, a Ukrainian political party whose leader Victor Yanukovych was president from 2010 to 2014, and the Opposition Bloc. Manafort and Gates generated tens of millions of dollars in income as a result of their work in Ukraine.

The indictment says that Manafort and Gates laundered the money through scores of the United States and foreign corporations, partnerships and bank accounts in order to hide Ukraine payments from U.S. authorities.

More than $75 million flowed through offshore accounts. Manafort, alone, laundered more than $18 million which was used by the former Trump campaign chairman to buy property, goods, and services in the U.S. Manafort concealed that income from the U.S. Treasury and the Department of Justice.
Whatever the guilt or innocence of Manafort, there's nothing related to the charge of the Special Counsel to investigate Russian influence on the American election.
Mueller should have turned any evidence that he encountered over to the IRS for investigation. But then, Mueller's face wouldn't be all over the news today.