ROGER GOODELL, LEFT, AND JERRY JONES.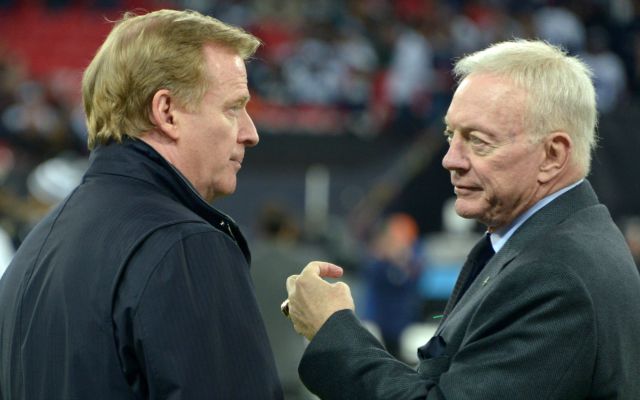 The Arkansas country boy owner of America's Team has been critical of NFL Commissioner Roger Goodell, believing Goodell badly mishandled the Colin Kaepernick situation. Jones reportedly wants Goodell out of the Commissioner's position.
Now, although not likely, it's Jones who may be kicked out of football.
The more conflict in the NFL, the better the prospects for draining the cultural swamp. Black athletes need to be taught a lesson for their disrespect for the flag and National Anthem.
The drama surrounding Jerry Jones and Roger Goodell is getting more and more heated by the day, with new reports about Jones' battle with the contractual situation surrounding the commissioner continuing to simmer. CBS Sports NFL Insider Jason La Canfora reported on Sunday that owners are starting to turn on the Cowboys owner because of how he's attempted to wield his power in ownership circles.

And there might even be a "nuclear" option on the table too, as Mike Florio of Pro Football Talk reported on Sunday night that some owners have begun digging into the CBA to consider the possibility of making Jones forfeit his ownership of the Cowboys.

To be very clear, this is a seriously long shot and an unlikely outcome. Just like Goodell, Jones has helped his fellow owners make piles and piles of money.

But there is a bylaw the owners could use in this case. According to Florio's report, "multiple owners have already been discussing the possibility" of using Article VIII in the NFL's constitution and bylaws.

From Florio:
Specifically, Section 8.13 authorizes the commissioner to determine that an owner "has been or is guilty of conduct detrimental to the welfare of the League or professional football." If the commissioner believes the available sanction (a $500,000 fine) is "not adequate or sufficient," the commissioner may refer the issue to the NFL's Executive Committee, which has the power to compel "[c]ancellation or forfeiture of the franchise in the League of any member club involved or implicated," with a directive to sell the team.

It's basically kicking Jones out of the club. But it's not as simple as telling Jones he has to sell. There would be lawsuits and lawsuits and more lawsuits, with the two sides battling for years (if not decades).

It's probably not going to happen. But it is reportedly at least is being discussed in ownership circles.

Apparently, the decision by Jones to back Papa John's owner John Schnatter was "the primary affront" to the other owners — Florio reports there are owners who believe "Jones instigated Papa John's CEO John Schnatter to disparage the NFL, blaming league leadership for ratings declines and, in turn, a reduction in Papa John's revenues."
As Andrew Anglin wryly noted, Papa John's is the official pizza of the Alt-Right.