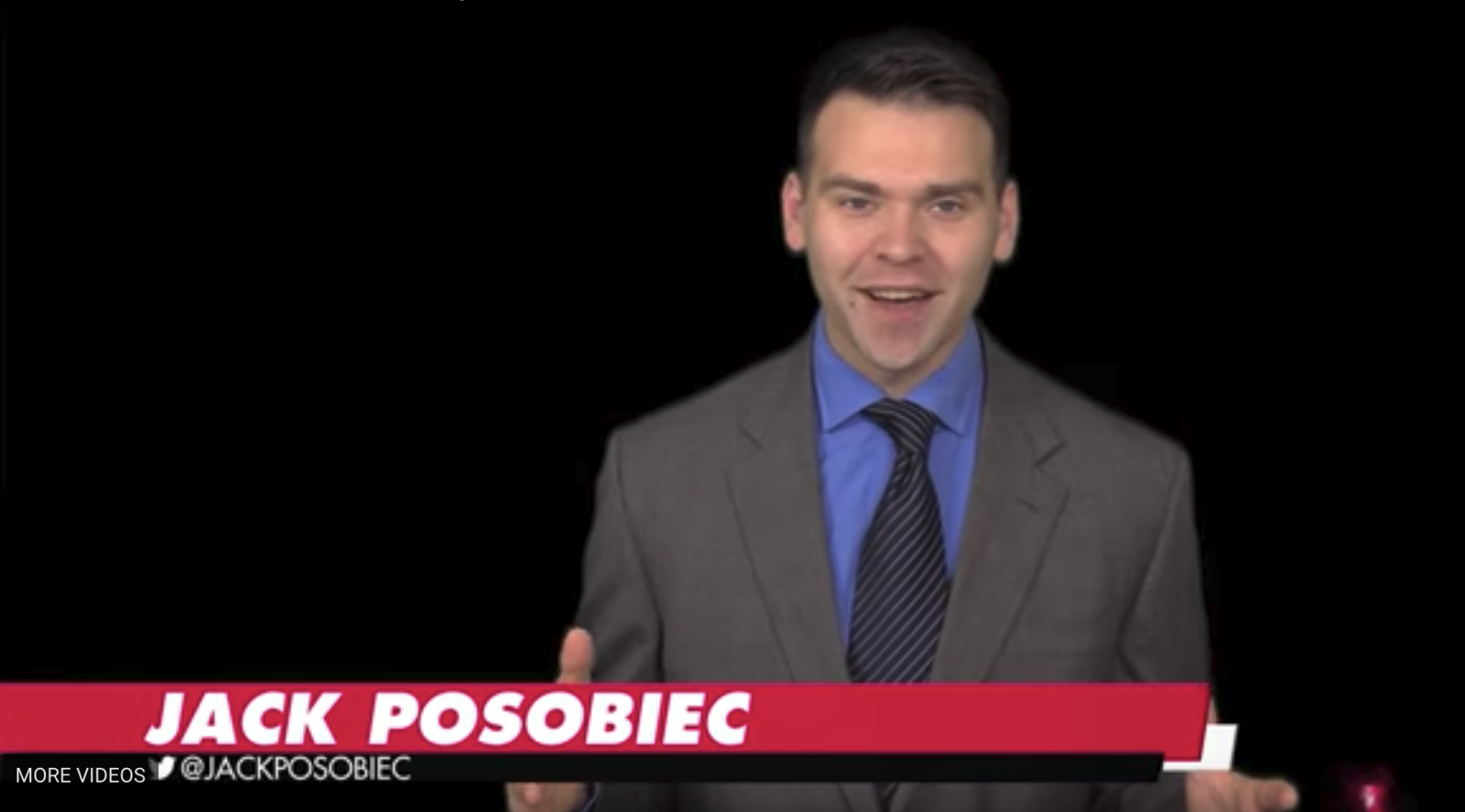 Newsweek's report on alt-light newsman Jack Pesobiac is little more than a smear job on him. Even though Pesobiac (and Cernovich) aren't alt-right, they often get close to the truth and thus from the left's perspective must be banned.
In a bizarre defense of Alabama Republican Senate candidate Roy Moore, who was accused of sexual activity with a 14-year-old girl, a right-wing conspiracy theorist and media star told his followers to stalk the victim at her workplace on Friday.

Jack Posobiec, a Trump supporter with a large online following, posted a recent Facebook photo of Leigh Corfman, the woman who told The Washington Post that the then-32-year-old Moore tried to bed her in 1979, and told his Twitter followers to target Corfman at her last known place of employment.

He later deleted the tweet.

The controversial Posobiec rose to prominence by pushing the so-called Pizzagate conspiracy, based around the lie that a Democratic pedophilia ring had been established in the basement of a Washington, D.C.-area pizzeria. That story is believed to be the impetus for a North Carolina man firing off an AR-15 rifle in that pizzeria in late 2016.

Posobiec was more recently accused of pushing the completely false conspiracy that antifa plotted the murder of Christians, which he denied to Newsweek.

The backlash to his post about Corfman was instantaneous, with many on Twitter accusing him of abusing the alleged victim by "doxxing," or releasing private information in the attempt to intimidate someone or urge a stranger to cause that person harm.

It's Going Down, a leftist website that monitors the far-right, described Posobiec as being "alt-lite" and "known for mainstreaming and seizing on conspiracy theories."

Posobiec, a Moore defender, deleted the post and told Newsweek that he was actually responding to an article he read on Heavy.com about Corfman. The Heavy article pixelated Corfman's face to hide her identity, however, and Posobiec used a clear and recent picture of the woman's face. Newsweek asked Posobiec why he thought it would be interesting for people to know about Corfman's workplace; responding through direct message, he said, "Because alt-left accounts are mass reporting me [on Twitter] led by Vic Berger."

Berger, an avant-garde political satirist known for creating comedic, dreamlike video edits out of the public appearances of conservative figures like Donald Trump, has nothing to do with Moore's accuser. He has frequently criticized Posobiec and other figures on the far right, however, for pushing dangerous conspiracies.

"Posobiec is a coward who frequently weaponizes his Twitter followers [for harassing his political opponents]. He almost got innocent people killed when he encouraged his followers to 'investigate' Comet Ping Pong Pizza," Berger told Newsweek, referencing the pie shop from the Pizzagate conspiracy. "His social media accounts should be deleted immediately before someone gets killed."

Berger also argued that Posobiec deleted the tweet because he was afraid Twitter would "do the right thing" and suspend his account. Posobiec denied this allegation.

"While reading the Heavy article I saw the reported information," Posobiec wrote on Twitter in the aftermath of the backlash he received. "It was a public Facebook post. Now I realize it wasn't a good idea to post it myself and took it down out of respect for the accuser."

Posobiec's deleted tweet constitutes a change from merely defending Moore, as other far-right conspiracists have done since the allegations about him broke, to focusing on the lives of his four accusers from the Washington Post story.

Alex Jones and Mike Cernovich, two figures who have been instrumental in pushing false conspiracy theories about antifa and antifa-led violence, both appeared to defend Moore yesterday, even as many Republicans tried to distance themselves from the allegations.
It looks like the moral panic has produced a sad result whereby if you'e accused of sexual harassment, your friends will throw you away very quickly. Political correctness sets in before the evidence:
Accusation = truth.
To the left, innocence is not an option.