Most of you will disagree with me, but I don't mind there being standards for accepting and rejecting ads.
It's doesn't appear that the D.C. Metro is anti-religious or anti-Christian. Their policy forbids ads that might create controversy on buses and trains. That's not a bad idea since you have a large nonwhite population in the D.C. area who don't need to be encouraged to get into fights over this or that political or religious view.
The Metro in the nation's capital violated the free speech of the city's Catholic Church by blocking a pro-religion Christmas-season ad on buses, a new lawsuit charged Tuesday.

The Archdiocese of Washington sued after the church's advertisement to encourage spirituality this holiday season was rejected by the Washington Metropolitan Area Transit Authority (WMATA) on the grounds that it promoted religion.

The ad did not feature any religious wording, but it included silhouetted shepherds against a starry background, graphically recalling the story of Christ's birth. Wording on the ad encouraged riders to "Find the Perfect Gift" through religion.

[The ad] "conveys a simple message of hope, and an invitation to participate in the Christmas season," the archdiocese said in a statement, adding that the transit system's guidelines against religious or controversial speech violate the First Amendment.

A spokesperson for the archdiocese added that the WMATA Metro ad was specifically tailored to avoid raising any red flags.

"Our other ads have a very similar image but contain a quotation from the Book of Luke. This is the simple one, just for Metro," Chieko Noguchi, the director of media relations, told Newsweek.

The URL on the ad, FindThePerfectGift.org, leads interested people to information about Catholic traditions.

"Jesus is the perfect gift," the website says. "Find the perfect gift of God's love this Christmas."

The ad would have been accepted before 2015, when the transit system changed its policy to prohibit "issue-oriented advertising, including political, religious and advocacy advertising," WMATA spokesperson Sherri Ly told Newsweek.

Metro's guidelines also prohibit "advertisements intended to influence members of the public regarding an issue on which there are varying opinions."

As a result, the D.C. transit agency has rejected ads from anti-wildlife trafficking organizations, Birthright Israel, abortion pills, PETA promoting veganism, Milo Yiannopoulos's book, and anti-prostitution groups.

The American Civil Liberties Union says the Metro's guidelines are "misguided and impossible to administer fairly" and sued to overturn them after the system took down ads for Yiannopoulos's book Dangerous after the Metro reported complaints from riders.

"It's an indefensible policy to say that as soon as someone complains about an advertisement, we're going to take it down," said the ACLU's D.C. legal director Arthur Spitzer told WTOP in August. "Almost everybody rides the bus or the subway or sees the bus go by. And it's a way to get your message to people who might not otherwise see it, and that's a very valuable thing to our society."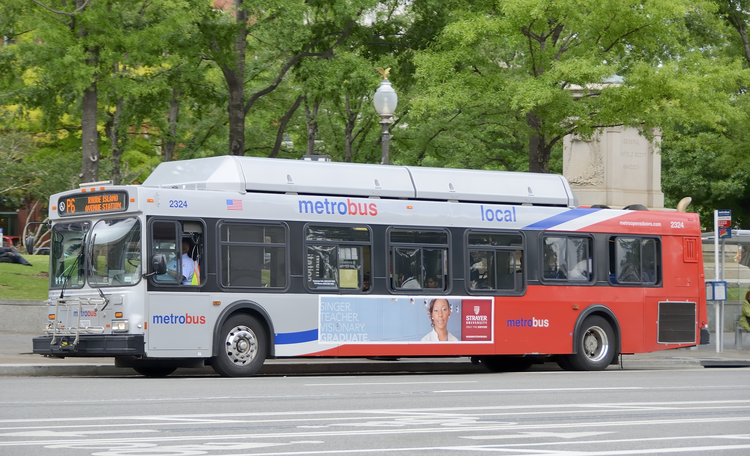 As long as Satanists, Communists, abortionists, and pornographers are blocked from advertising, I don't mind this ad block so much. The ACLU is against ad blocks, so there must be something good about them, which makes me want to be for them.
Ideally, in some future white Christian homeland, Christian themed ads would be allowed, while the Satanists and others would just have to go suck on a lemon in some other country.