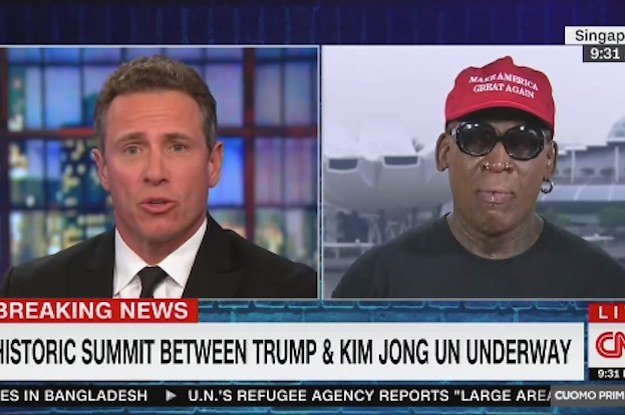 Like many other race realists, what black people have to say is generally not important to me. However, Dennis Rodman's words about the Trump-Kim Singapore summit are important for one reason.
Rodman's red MAGA cap that he wore for a CNN interview Monday night say to blacks, "It's OK to support Donald Trump." His words, not as direct as that, still back up the idea that blacks should be supporting Trump.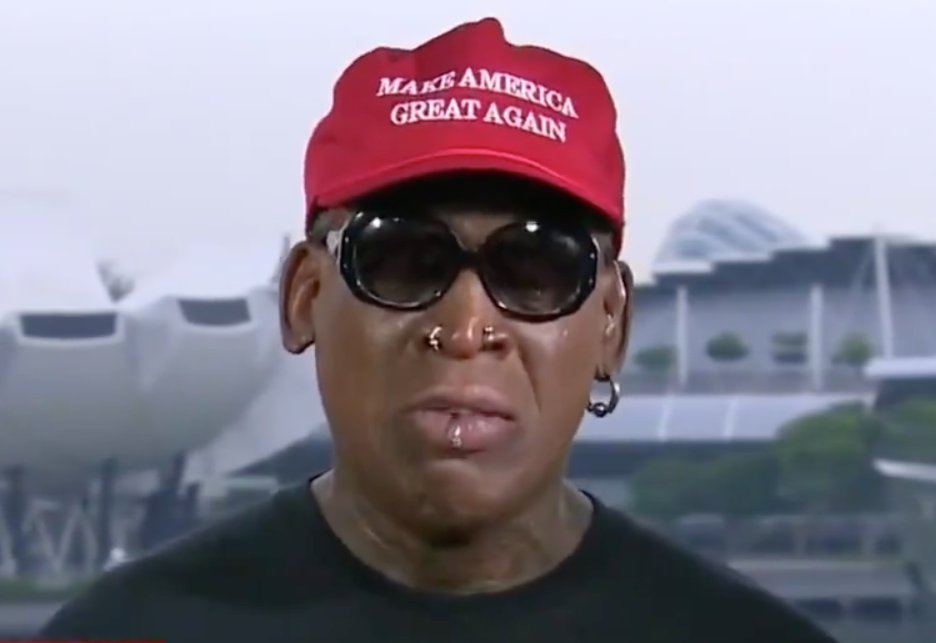 If Trump can swing 20 percent of the black vote his way, Republican majority governance would help slow down the soft white genocide that's leading the U.S. to become majority nonwhite.
The left is mocking Rodman for the same reason they began mocking Kanye. They know that Dennis is an influential voice among blacks. He's stepped off the plantation to support Trump and they don't approve.
The alt-right ought to avoid criticizing Dennis at a minimum, and should think about the advantages to the white majority for speaking nice about the former basketball star.
Kim Jong-un and Donald Trump had barely exchanged pleasantries outside the Capella hotel when their mutual friend Dennis Rodman appeared on TV to provide a characteristically bizarre sideshow to the main event in Singapore.
Short video of emotional Dennis:
Full interview below.
In a rambling interview with CNN's Chris Cuomo from Singapore, a highly emotional Rodman claimed credit for predicting that today's summit – which seemed unlikely just months ago – would happen.

Wearing a Make America Great Again baseball cap and a T-shirt bearing the name of his sponsor Potcoin, Rodman sobbed as he described his feelings about the summit and recalled the abuse he had received over his controversial visits to Pyongyang to meet Kim. "I said to everybody, the door will open," he said.

"It's amazing, it's amazing, it's amazing. When I said those things, when I went back home, I got so many death threats … and I believed in North Korea, and I couldn't even go home, I couldn't even go home, I had to hide out for 30 days, I couldn't even go home.

"But I kept my head high, brother, I knew things were going to change … I knew it, I was the only one. I never had no one to hear me, I had no one to see me. But I took all those bullets, I took all at that … but I'm still standing. Today is a great day for everybody, Singapore, Tokyo, China, everybody … it's a great day. I'm here to see it. I'm so happy."

The former NBA star is one of the few westerners to have met Kim, with whom he struck up an unlikely friendship over their shared love of basketball.

Describing his meetings with Kim, Rodman said: "He's more like a big kid, even though he's small. He wants to come to America. He wants to enjoy his life." Rodman said he had tried to pass on what he heard from Kim to Barack Obama but was "brushed off".

Rodman said he had earned Kim's trust after making good on a promise to take a team of ex-NBA players to North Korea in 2014.

"I gave him something for his birthday … I said: I'm going to bring a professional basketball team to you," Rodman said. "He said: Can you do that. I said: Yes I can. Even though I couldn't do it, I knew if I fail now there is going to be a problem. But I got Potcoin here helped me out, my sponsor, fetch those guys and it happened. And Kim Jong-un came to me and said: 'Dennis – you know what this is the first time someone has ever kept their word to me and my country'."

Rodman said he believed Trump "will understand that the people of North Korea have a heart, have a soul, charisma and love each other".
Watch the interview:
Leftist Twitter: