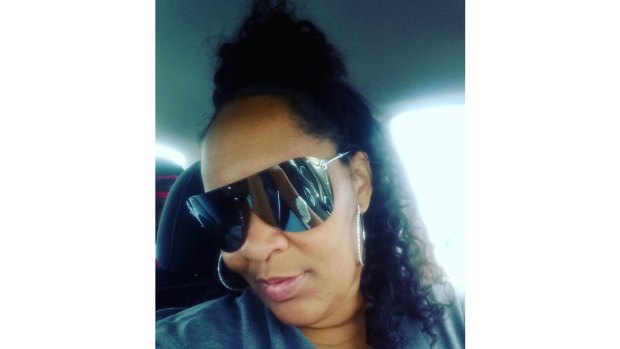 There's some confusion in the media about the spelling of the first name of a negress shoplifter shot dead by police in New Jersey.
It really doesn't matter if it's LaShanda or LaSahanda. Nobody cares.
What matters is that no police officers were seriously hurt in the performance of their duties and the taxpayers will be spared the expense of a trial and imprisonment of La-Whatever.
What authorities say started off as a routine shoplifting call for Deptford Township police officers Saturday afternoon ended with one of three suspects fatally shot and an investigation by the county prosecutor's office underway.
LaSahanda Anderson, 36, was speeding toward police in a Nissan Armanda when an officer shot and killed the Philadelphia resident in the parking lot of a Marshalls store, according to the Gloucester County Prosecutor's Office.

Another woman Chanel Barnes, was arrested at the scene, while a third suspect, Roaul Gadson, fled the scene on foot. Officials said Gadson, of Philadelphia, is still at large.

Anderson was pronounced dead at the scene. In a statement Sunday, the prosecutor's office said investigators are now probing her shooting and the chain of events that led to it.

According to the prosecutor's office, officers first responded to the Marshalls store at 1800 Clements Bridge Road around 3:40 p.m. after receiving a report of shoplifting in progress.

On their way to the store, officers learned one of the suspects was wanted in connection with a prior homicide.

Officers encountered Anderson, Barnes and Gadson when they arrived. The prosecutor's office said Gadson, who had a substantial amount of stolen merchandise, was actively resisting store loss prevention employees.

When officers approached, authorities said, Gadson took off running, while Anderson and Barnes got into the rented Nissan and began speeding toward the cops.

After the car's open drivers-side door clipped a police captain, another officer fired three shots at the car, two of them striking Anderson, according to investigators.

"The speeding vehicle veered, narrowly missing the officer, continued across the parking lot, and down onto the access road exiting the parking lot where it subsequently came to rest," said prosecutor's office spokesperson Bernie Weisenfield.

Barnes was arrested on a charge of shoplifting, and lodged in the Salem County Correctional Facility pending a detention hearing.

The officer who shot Anderson, identified by the prosecutor's office as a sergeant with 17 years at the department, was taken to a local hospital and treated for minor injuries before being released.

Authorities said he will be placed on routine administrative leave pending the investigation of the shooting.

The officer clipped by the car door was not injured.

Police are still searching for Gadson, who is wanted on second-degree robbery and assault charges.
And so the life of a thief is cut short because a genius thought she could outrun a police bullet.
In negro heaven, there'll be plenty of places to rob and shoplift from and not a police officer in sight.