Wow! Drunk at 5 in the morning. That's a bit unusual.
Garbage truck driver Anthony Castaldo must have a bad drinking problem to be hitting the sauce that early in the morning.
He's one lucky guy, though. He didn't kill or injure anyone.
Still, a big garbage truck can do a lot of damage in a brief moment.
A garbage truck driver who walked away from a wild crash that wrecked nine cars on a quiet Brooklyn street walked out of court Sunday after posting $5,000 bail.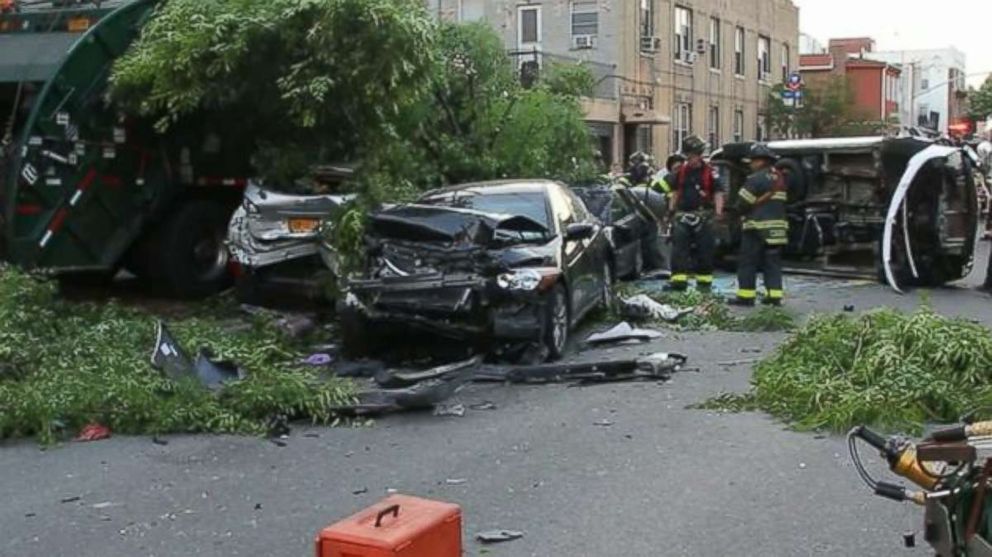 "I'm sorry. I was driving and I fell asleep," Anthony Castaldo, 40, told cops after he crashed his truck on 60th St. between 19th and 20th Aves. in Borough Park early Saturday, according to the criminal complaint.
Castaldo was driving the Viking Sanitation truck while under the influence of alcohol or drugs, Brooklyn prosecutors allege. He's also charged with reckless driving, reckless endangement and leaving the scene of an accident.
Video of the crash shows the 2017 Mack garbage truck — which weighs 32 tons — plowing into nine cars as it zoomed up onto a sidewalk just feet from an apartment building at 5:20 a.m.

Castaldo got out of the truck, and is seen on the video climbing over a stoop the truck just missed. Then he walks away.
He didn't go far. Police said that when they arrived, Castaldo was standing next to the truck and its engine was still running.
His speech was slurred, he walked with an "unsteady gait," and he had an odor of alcohol on his breath, the criminal complaint says.
Watch the moment of impact in this short video: