DIANTE "BUTCHIE" YARBER." SWISS CHEESE.

The murder of "Butchie" by racist cops is drawing national attention. Let the riots begin.
The truth is that Butchie did what we expect of gentlemen of color when they're stopped by police–disobey and try to get away. Their "community" is doing what we expect it to do–protesting the murder of Butchie by cops.
Two relevant videos are embedded at the bottom of this post. While his "fambly" may say he dindu nuffins, the truth is that he did do sumtins.
Screams and a flurry of shots — pop after pop after pop — can be heard in the shaky video.
It was recorded in a Barstow, California, Walmart parking lot on April 5 as police shot and killed Diante "Butchie" Yarber, 26 — a black man and a father of three, the Guardian reports. An attorney for Yarber's family said Yarber was caught in a hail of 30 bullets, describing the scene as "an amount force that would have been deemed excessive in a war zone."

Barstow police were called to the parking lot around 10 a.m. on reports of a "suspicious" black Mustang, the San Bernardino County Sheriff's Office said in a news release. Officers tried to stop the Mustang, hoping to question the driver, Yarber, in connection with a recently stolen vehicle, the Sheriff's Office said.

But the Mustang suddenly reversed, striking a patrol car, and then drove toward officers and hit another patrol car, the Sheriff's Office said.
Let's stop here and note that the "unarmed" Negro driver had a weapon–a 4,000 pound vehicle. He used it to ram a police car and then went after a second police car and got that one too.
Only blacks and social justice warriors touched in the head could believe that the shooting of Yarber was for no reason.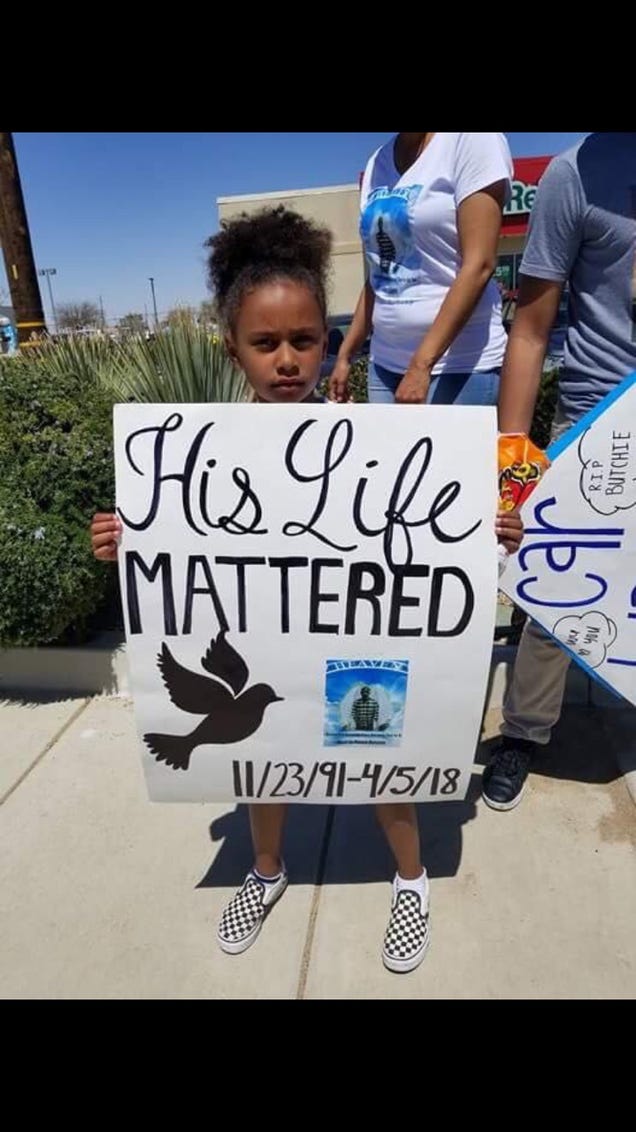 That's when police said they opened fire on the vehicle, killing the driver and leaving a female passenger with gunshot injuries that required her to be hospitalized. Two other passengers got out of the Mustang as the incident unfolded, police said, one suffering minor injuries.

Yarber was pronounced dead at the scene, the Sheriff's Office said. Authorities described the incident in the news release as an assault with a deadly weapon on a police officer and an officer-involved shooting, listing "Barstow police officers" as the victim.

Lee Merritt, an attorney representing Yarber's family, told the Guardian that Yarber was unarmed and posed no threat.

"They saw a car full of black people sitting in front of a Walmart, and they decided that was suspicious," Merritt told the newspaper. "They just began pouring bullets … It's irresponsible. It's dangerous. It's mind-boggling, the use of force."

Merritt wrote on Facebook on Tuesday that Yarber was "profiled, stalked and murdered" by police. He also shared photos of Yarber and video from the scene, describing a version of events different from what police recounted.

"While waiting for one of his passengers to return from shopping at Walmart, Diante and his passengers were labeled 'suspicious' and targeted for harassment by (police)," Merritt wrote. "When officers, lacking reasonable suspicion for stopping Yarber in the first place, attempted to box his vehicle in, Yarber maneuvered his car around the police vehicles."
Merritt said police then fired more than 30 rifle rounds into the driver's side door and through the windshield. He said Yarber was struck about two dozen times, while the female passenger was hit in the stomach and leg.
Well, we can see what the agitation is about–a settlement from the city. Will the fambly take $3 million or demand $100,000,000 for the life of the worthless coon!
The Negro citizens of Barstow are making a big deal of the fact that the front bumper of the Mustang wasn't bashed in. The video shows him driving in reverse. I'll bet that the stupid bastard used the rear of the car as his weapon.
In any case, it doesn't matter. The moron was trying to get away rather than obey a simple order to let the police check out the vehicle.
How many dead sambos are there, killed by police because they refused to obey simple commands and turned violent! TNB.