The SPLC published an article yesterday that attempts to smear white nationalists by associating the alt-right with "Nazis" who advocate terrorism.
The central focus of the rambling article is a man who in fact does call himself a Nazi. James Mason is the Nazi who befriended Charles Manson. Mason promotes Manson as the model for the dissident right.
In my opinion, if you seek to create a mass movement that will win back what we've lost, then Charles Manson is a poor choice.
Nazi James Mason is interviewed (38 minutes):
As far as I can determine, the only one of the websites mentioned in the SPLC piece that is still up is siegeculture.com. The others have apparently been banned.
The SPLC is a Jewish outfit that can't be trusted. However, the mix of truth and distortion in the following offers insights into the Atomwaffen Division (AWD) and James Mason.
Excerpt from the SPLC
Behind such references stands James Mason, who produced SIEGE as a newsletter from 1980 until the summer of 1986. Mason's presence in the organized neo-Nazi movement in this country stretches back to the mid-1960s, when he was just 14 years old.

For AWD members, it's not about "Helter Skelter" or the gory details of the Manson Family murders alone. It's about racial terrorism, The Family and its murders – and their broader cultural impact. Here Mason serves as a philosophical totem and provides a template for action.
To miss the significance of Mason's influence in the dark, sensational luster of Manson is to lose a vital recognition; SIEGE and AWD are obsessed with a racial revolution, not a cultural one like Manson's.

AWD has only recently begun associating itself so synonymously with Mason and SIEGE, and that's a dangerous development. Mason and his writings preach the praxis of leaderless, cell-structured terrorism and white revolution. Furthermore, there is a plethora of terrorists and fringe texts beyond Mason's that motivate and inspire the group. Many of these texts are valued in other sectors of the far-right. Importantly, Mason "achieved" much within neo-Nazism before he was out of his 20s: This is important for young men who, sometimes literally, are gathering around Mason and steeping themselves in his revolutionary philosophy and polemics.

They, too, hope to "achieve," but understanding what that means is equally challenging and vital.
—
Mason's association with Manson, and his interpretation of Manson's ideas, developed after Mason spent years in the organized neo-Nazi movement. During that time, he gravitated toward increasingly radical, terroristic-minded figureheads and efforts.

Mason wrote in SIEGE that his correspondence with the imprisoned Manson could be construed as cheap, mere shock value. But as the 560-pages of Mason's text suggest, Manson is not the skeleton key for understanding AtomWaffen. Mason's own neo-Nazi influences and beliefs in chorus with the Universal Order philosophy offer a more accurate portrait.

Mason began reconfiguring his own sustained belief in the need for neo-Nazi terror cells willing to strike at American culture under the control of Jewish influences, which he dubs "the System." Mason had already been moving toward that conclusion on his own for the better part of 15 years.

During that time, Mason began networking. As an adolescent he idolized George Lincoln Rockwell, the leader of the American Nazi Party (ANP), which he first tried to join at just 14. Through Rockwell, Mason also met William Pierce — the eventual founder of the National Alliance, author of The Turner Diaries and this country's most influential neo-Nazi to date. Pierce also helped shepherd young Mason into the ANP. After Rockwell was murdered by a former Nazi Party member in August 1967, Pierce and Mason joined its successor, the National Socialist White People's Party (NSWPP).
—
What I believe we have here is the usual SPLC strategy of taking outliers and using them to smear the right, while frightening leftists into giving the SPLC more money.
This image appears in the SPLC piece: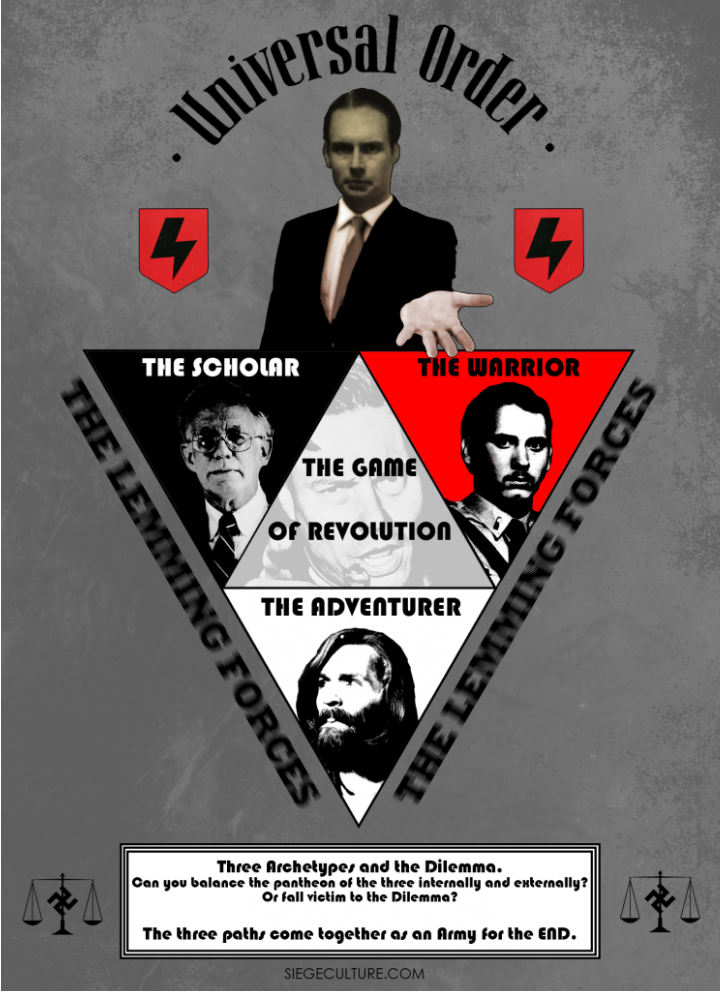 Who knew that Charles Manson was a revolutionary to be admired?
We can be Manson wannabees or we can avoid unsavory associations and achieve ultimate victory.
I'm for winning.