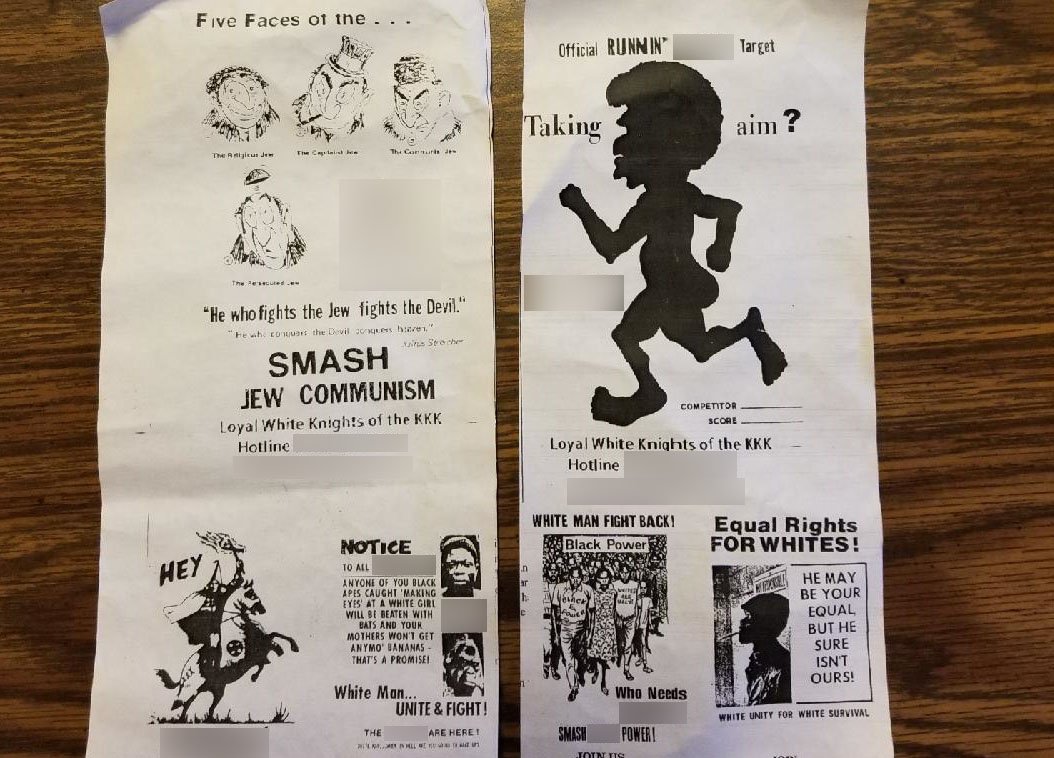 What percentage of the Ku Klux Klan membership would you say are FBI infiltrators and informants?
The crude messages found in the flyer above do nothing much to interest white people in saving their own lives and culture. There may be a few white men who mistakenly believe that such messages are going to accomplish something positive, but when you match the messages above against the sophisticated Jewish propaganda machine that operates in schools, churches, and the entertainment industry, it's not going to be effective.
That's not to say that the images aren't fun. They are. But they should be shared only among those awake to the dangers posed by diversity.
Multiple neighborhoods in Jacksonville, Florida were littered with KKK recruiting fliers that make specific threats against black men who they catch "'making eyes' at a white girl."

As Jacksonville's First Coast News reports, the city has seen Klan fliers before, but these differ from the norm with their "specific threats."

"Notice to all (N-word): Any of you black apes caught 'making eyes' at a white girl will be beaten with bats and your mothers won't get anymo' bananas-That's a promise," the fliers read.

Along with threats against black people, the flier also contained multiple anti-Semitic references, including the phrase "smash Jew communism" and comparisons between Jewish people and Satan.

The "making eyes" threat is reminiscent of the purported reason for the lynching of Emmett Till, a 14-year-old boy that two white men murdered in 1955 for allegedly whistling at one of the men's wives. Carolyn Bryant Donham, the woman who claimed Till hit on her, has since admitted that she lied about the interaction that led to his infamous lynching.
Notice that hard left Rawstory brings up Emmett Till out of the blue, while totally ignorning the role that Jews play in Communist MASS MURDER. Rawstory offers a good example of propagandizing for the enslavement of white Americans by the globalists. I don't know. Does George Soros give them money?
In my opinion, this meme is superior to the crude material that the so-called KKK (FBI?) pushed out.
And this: