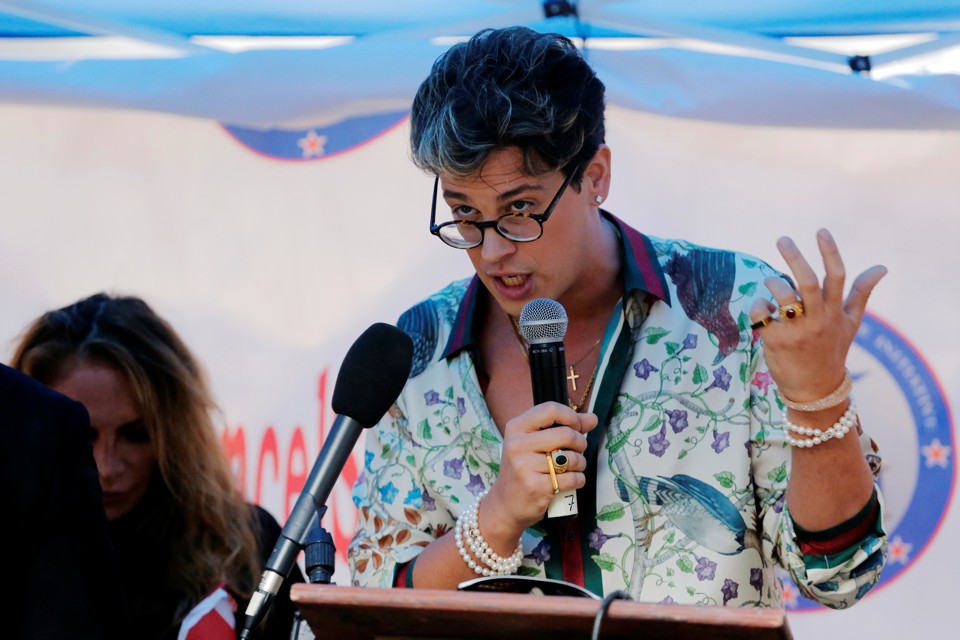 MILO, the celebrity homosexual conservative, claimed that he was going to challenge leftist orthodoxy by bringing a slate of conservative speakers to the UC Berkeley campus next week, including Steve Bannon and Ann Coulter.
It's not happening. Did MILO lie? Some people believe the notorious butt banger fibbed in order to push himself back into prominence after his fall from grace earlier this year.
It looks like his name is muddied again.
Good. We don't need him. He knows how to effectively dispute feminist garbage and a few other things, but we don't need him.
Excerpt from The Atlantic
At first, conservative agitator Milo Yiannopoulos's Free Speech Week in Berkeley, California, seemed like it might be a major event. Four straight days of provocative events on campus featuring right-wing luminaries, culminating with appearances by conservative writer Ann Coulter and former Trump White House chief strategist Steve Bannon, and all in the heart of one of the most symbolically resonant places Yiannopoulos could have chosen: the campus of University of California, Berkeley, a campus with a longstanding image as a hotbed of left-wing activism where protests shut down an event of his last year.

But things didn't go according to plan.

Speakers whose names appeared on initial schedules have either pulled out or said they were never planning to go; the campus publication Yiannopoulos is working with, The Berkeley Patriot, never reserved indoor school venues and appeared to pull out Friday afternoon; and Yiannopoulos announced on his Instagram a planned march through campus on Sunday in protest of Berkeley's supposed clamp-down on free speech. "It's time to reclaim free speech at UC Berkeley and send shockwaves through the American education system to every other college under liberal tyranny," Yiannopoulos wrote in his post. The event would have been an important step in reviving Yiannopoulos's wounded image on the right after a clip of him appearing to defend pedophilia caused him to be barred from CPAC and lose his job as a Breitbart editor in February. Earlier this week, Yiannopoulos told me in a text message that "We will fight until the last man is ejected from the last step on Sproul Plaza."
There seem to be a lot of Jewish conservatives involved in Free Speech Week, including MILO.
Hmmm.
Some version of that may turn out to be true, but as of right now the original plans for Free Speech Week have fallen apart.

Some critics have suspected Yiannopoulos of never intending to hold the event in the first place, though Mike Cernovich, the right-wing activist and Twitter personality who was scheduled to speak on September 27, said he doesn't believe this is the case.

"I believe Milo sincerely wanted Free Speech Week to happen because he approached me months ago to be involved," Cernovich said. "I had a family visit planned, and he expressed some disappointment. This wouldn't have made sense if he hadn't expected the week to go as planned. Thus I don't buy into the theory that he never wanted Free Speech Week to happen."

But Gateway Pundit's Lucian Wintrich, who announced in a blog post earlier this week that he was pulling out of the event due to uncertainty about its future, accused Yiannopoulos on Thursday night of "unethical behavior" in a Periscope video. Wintrich said that Yiannopoulos and his company knew the event wouldn't go forward as planned.

"Internally they knew it wasn't happening [as of] Wednesday," Wintrich said. "I saw no reason to string people along pretending that something was going to happen that wasn't going to happen." ("This would be the first I'd heard of it, if true," Yianopoulos said in a text message. "We have gone through dozens of different iterations of proposals. For getting through the next few weeks. So I don't know if someone shared a DISCUSSION. But the current plan is not that, and it isn't true we're cancelling or knew we'd be cancelling on Weds—I wouldn't be flying people in today if that were the case.")

Some of the names on the list had never been confirmed.

Coulter told me on Wednesday that she had not received a contract from her speakers bureau, "I'm sure because of the obstacles Berkeley is throwing out."

Bannon is also not going. He is attending a conservative forum in St. Louis on Sunday and is going, according to a source familiar with his plans, to Alabama for the Republican Senate primary there. Bannon is backing hard-right conservative judge Roy Moore in this race against Trump-endorsed Senator Luther Strange in the contest to fill Attorney General Jeff Sessions's old seat.

Blackwater founder Erik Prince, who had also been on a schedule, told me he had never planned to go to Berkeley.

"A typo," he said in a text message. "I'm in Africa and was never planning to attend."

One person who had been scheduled to appear who spoke on condition of anonymity said that the speakers had been confused and kept in the dark.

"People didn't know how to get tickets, their travel wasn't being booked, they heard Coulter pulled out and Bannon was never confirmed, and they kept getting the run around," this person said. Vanity Fair reported that Yiannopoulos's company had told speakers it would only give them 48 hours' notice of their travel bookings, which the company presented as a way to prevent "sabotage," but which could also be construed as a way to avoid booking people's travel for an event that was not likely to happen.

Yiannopoulos said that waiting until 48 hours beforehand was "perfectly reasonable. We've already spent $100k. CEO is spending what he has to, when he has to. There's nothing remarkable about that."

"It was tough to wait," said Lisa de Pasquale, a conservative commentator and former CPAC organizer who is slated to appear. But De Pasquale said she is still planning to go to Berkeley and as far as she knows will still speak on Sunday. She's planning to fly back that night. So is Mike Cernovich, according to a person familiar with his plans; Cernovich had been scheduled to speak on the 27th.

De Pasquale has worked in the past for a speakers bureau, and said "I'm probably a little more forgiving than the average person on the outside because I know what's going on as far as the moving parts of the campus and the students."

"I'm hoping it still goes on," she said. "I'm certainly planning to give my speech."

Yiannopoulos announced on his Instagram on Thursday that he would give more information about Free Speech Week in an "eve of battle" press conference on Saturday. According to a source who had been scheduled to speak at Free Speech Week, Yiannopoulos is expected to announce that he has been told he can only hold outdoor events at Berkeley, and nothing indoors. According to another source with inside knowledge of Yiannopoulos's plans, he will also claim that the school won't let The Berkeley Patriot host the event for political reasons, though Yiannopoulos disputed this, saying "I know that Berkeley has asked for a police investigation. I doubt they have *instructed* Patriots that the event can't go ahead. Would be very stupid—clear 1st Amd violation. Doesn't sound likely.") Berkeley spokesman Dan Mogulof said there is no investigation and the charge is "utter nonsense."