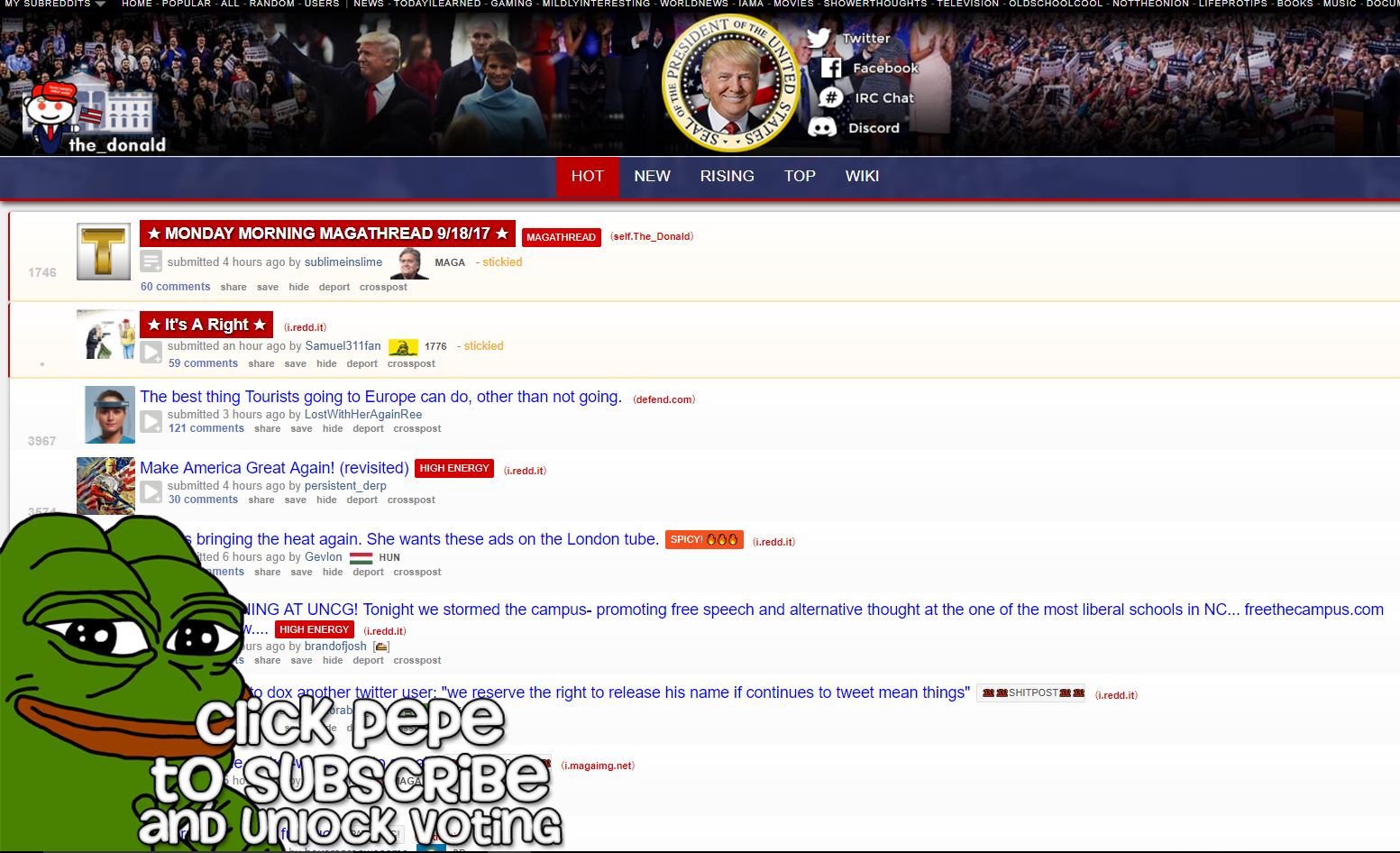 I'm putting the dipshit creator of Pepe the Frog on notice that on this site all uses of Pepe are legal and proper, based on the fair use doctrine found in copyright law.
I also promise to sue WordPress, dipshit Matt Furie, and anyone else who tries to bully me into silence. I pledge to spend up to $150,000 in attorney's fees in order to defend my use of Pepe, which is not for profit, on this site.
Excerpt from motherboard.vice
Pepe the Frog creator Matt Furie has made good on his threat to "aggressively enforce his intellectual property."

The artist's lawyers have taken legal action against the alt-right. They have served cease and desist orders to several alt-right personalities and websites including Richard Spencer, Mike Cernovich, and the r/the_Donald subreddit. In addition, they have issued Digital Millennium Copyright Act takedown requests to Reddit and Amazon, notifying them that use of Pepe by the alt-right on their platforms is copyright infringement. The message is to the alt-right is clear—stop using Pepe the Frog or prepare for legal consequences.
Furie originally created Pepe as a non-political character for his Boy's Club comic, but Pepe later became an internet meme and during the 2016 US presidential election the alt-right movement appropriated the frog in various grotesque and hateful memes.

At the end of August, Furie's lawyers reached a settlement with Eric Hauser—the former assistant principal in Texas who appropriated Pepe's image for use in an Islamophobic children's book. Furie's lawyers forced Hauser to stop selling the book and made him donate his profits to the Council on American-Islamic Relations.

When Hauser agreed to settle out of court, I spoke with Furie's lawyers who told me they would use the Hauser settlement as a springboard to go after anyone else who profited from or misused Pepe. It appears they've made good on that promise.

Wilmer Cutler Pickering Hale and Dorr LLP continues to represent Furie pro-bono, and recently told me that it has taken the first steps to prying Pepe loose from the hands of the alt-right.

"[Furie] was very serious when he said that we wanted to make clear that Pepe was not the property of the alt-right and couldn't be used by the alt-right," Louis Tompros, one of Furie's intellectual property lawyers, told me. "But actions speak louder than words and we wanted to make sure we were backing up that statement against entities that were misappropriating the Pepe character and image. That's what we've been doing over the past few weeks."

To that end, Tompros and his team have taken the first steps towards dismantling the alt-right's stranglehold on Pepe. They've served a cease and desist letter to Richard Spencer's Altright.com, noting the specific places where Spencer and his team have used Pepe in violation of Furie's copyright. Pepe is all over Spencer's site and is the mascot for his podcast, Alt-Right Politics.

"We've asked them to take them down," Tompros said. "That hasn't happened yet, but they're very much on notice. We plan to take action if they don't."

Tompros and team have also gone after alt-right figure Baked Alaska, serving cease and desist letters to him and DMCA notices to Amazon, Twitter and his other online social media spaces. According to the lawyers, they also got Amazon to stop selling his book, Meme Magic: Secrets Revealed, which used Pepe on its cover. Meme Magic is currently not available on Amazon.com, but a used copy was for sale on Amazon.co.uk at the time of publishing.

"Google Play has stopped selling his Build the Wall: The Game for the same reason. It actually advertised special guest appearance from Pepe and had him popping up if you achieved certain things in the game," Tompros said. Previously, Apple had refused to publish the game until it removed Pepe the Frog. Apple has a blanket ban against Pepe the frog that it has enforced against multiple app creators.

"Mike Cernovich had a number of different uses of Pepe but most notably had this video he was publicising through his Facebook and YouTube that was a 3D version of Pepe dancing with Hillary Clinton reading aloud sections of her new book," Tompros said. "That's an unauthorized use of Pepe and we've notified him."

Tompros told me that large entities such as Amazon and Google have been the most compliant so far. Stamping out the multiple vendors peddling Pepe mech on Amazon will be difficult, but the team has already succeeded in removing several shirts from the market, including the one worn by Morris May when he pepper sprayed a transgender activist in early September.

Amazon, Reddit, Twitter, Google, YouTube, Mike Cernovich, Baked Alaska, and Richard Spencer did not immediately respond to request for comment.

DMCA takedowns have become a popular way for media companies to strike back against social media influencers they don't like for a variety of reasons, including reasons that go beyond mere copyright infringement. Earlier this month, video game developer Campo Santo served a DMCA notice to popular YouTuber Pewdiepie in response to the latter's use of racial slur during his show.

Furie's lawyers have sent DMCAs to Reddit, and have also used the site's internal formal reporting procedures to reign in the popular r/The_Donald subreddit. The online community is one of the the alt-right's most popular gathering places and makes liberal use of Pepe the Frog. A giant Pepe the Frog dominates a quarter of the screen for Redditors who haven't subscribed to the subreddit. You have to click him—and thereby subscribe to r/The_Donald—to make him go away.

As of this reporting, the giant Pepe remains, but Tombros told me that they'd only contacted Reddit Friday. "My suspicion is that Reddit will take that down," he said.