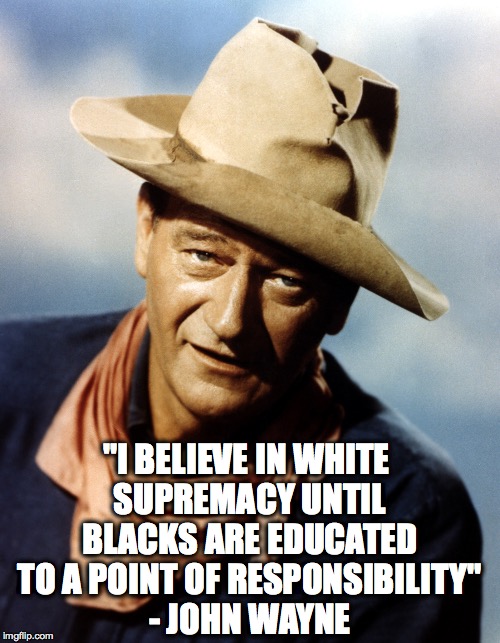 When a polling firm comes calling, there's always the question of whether a large number of people will lie to the pollsters and thus provide inaccurate results.
You have to suspect that people are somewhat reluctant to express pro-white views to a stranger.
The good news is that the biases mean that the real number of White Nationalists is higher than the poll results show.
A new poll in the wake of the violence in Charlottesville, Virginia, finds that while Americans widely say they oppose racism and white nationalism, many still appear to hold far-right, white supremacist views.

The Ipsos poll, for Thomson Reuters and the University of Virginia Center for Politics, was conducted online from Aug. 21 to Sept. 5 ― in the weeks following the deadly white supremacist rally in Charlottesville. It sampled around 5,360 American adults, asking questions about race that respondents could agree or disagree with to varying degrees.

"While there is relatively little national endorsement of neo-Nazis and white supremacists," according to the release describing the poll's findings, "there are troubling levels of support for certain racially-charged ideas and attitudes frequently expressed by extremist groups."

While the vast majority of Americans polled expressed support for racial equality when asked in so many words ― 70 percent strongly agreed that "all races are equal," and 89 percent agreed that all races should be treated equally ― people's responses got murkier when it came to expressing their viewpoints on particular issues related to race and extremism.

For instance, while only 8 percent of respondents said they supported white nationalism as a group or movement, a far larger percentage said they supported viewpoints widely held by white supremacist groups: 31 percent of Americans polled strongly or somewhat agreed that "America must protect and preserve its White European heritage," and 39 percent agreed that "white people are currently under attack in this country."

"The poll results do show both an American public that overwhelmingly rejects racist affiliations and movements but at the same time is more tolerant of racially insensitive positions," Kyle Kondik, communications director at the University of Virginia Center for Politics, told HuffPost.

"The results may be what you might expect from a country that is arguably defined by racial conflict," he added. "And one that can vote for an African-American for president who ran on unity less than a decade ago, and then turn around and vote for a vehemently anti-immigrant candidate who exploited white grievances just last year."

The poll addressed several hot-button issues surrounding racial justice in America ― and in many cases, the majority of respondents seemed to agree with more conservative viewpoints.

When it comes to the debate about removing Confederate monuments, for instance, most Americans polled (57 percent) said they think the statues should remain in public spaces, and less than one-third (26 percent) said they think they should be removed.

Touching on recent heated debates surrounding free speech versus hate speech, the poll found a majority of Americans (59 percent) agreed with the statement that "'political correctness' threatens our liberty as Americans to speak our minds," a view often touted by conservative leaders ― including President Donald Trump.

Even support for interracial marriage ― 50 years after the landmark Supreme Court decision Loving v. Virginia ― isn't as widespread as one might think: Around 1 in 6 Americans, or 16 percent, strongly or somewhat agreed that "marriage should only be allowed between people of the same race," while 65 percent of Americans disagreed.

As NAACP Legal Defense Fund staffer Janai Nelson told HuffPost last month: "Calling out extremists, white supremacists, neo-Nazis is an important but very low bar for where we should be as a society at this stage in our democracy."

"What we should be [having] is a much more nuanced and deepened understanding of how those 'isms' manifest in policy, in systems, in a cloak of oppression that still lives with us," Nelson said.

Check out UVA's summary of the poll's findings here, or view the results directly here.
Links are live at HuffPo.
In case you were wondering, the John Wayne quote above is true, as reported by Snopes.
John Wayne had much of interest to say about nonwhites. Click on the "continue reading" button to see more.
While many memes and macros of this nature often possess either incorrect or inaccurate attributions, this quote is completely real. It first appeared in an interview with Playboymagazine that was published in May 1971:
Wayne was responding to a question about Angela Davis, a counter-culture activist, communist, and professor in San Francisco:
Playboy: Angela Davis [a Communist professor in the San Francisco Bay Area] claims that those who would revoke her teaching credentials on ideological grounds are actually discriminating against her because she's black. Do you think that's true?
Wayne: With a lot of blacks, there's quite a bit of resentment along with their dissent, and possibly rightfully so. But we can't all of a sudden get down on our knees and turn everything over to the leadership of the blacks. I believe in white supremacy until the blacks are educated to a point of responsibility. I don't believe in giving authority and positions of leadership and judgment to irresponsible people.
Wayne elaborated on his views about ethnicity and racism, saying that he believed that black people had the right to attend college as long as they passed the requisite tests, and that he did not believe that the black community was disadvantaged.
When asked about his own hiring practices, Wayne said that while he did not discriminate against black actors or crew members, he didn't seek them out either:
PLAYBOY: But isn't it true that we're never likely to rectify the inequities in our educational system until some sort of remedial education is given to disadvantaged minority groups?
WAYNE: What good would it do to register anybody in a class of higher algebra or calculus if they haven't learned to count? There has to be a standard. I don't feel guilty about the fact that five or 10 generations ago these people were slaves. Now, I'm not condoning slavery. It's just a fact of life, like the kid who gets infantile paralysis and has to wear braces so he can't play football with the rest of us. I will say this, though: I think any black who can compete with a white today can get a better break than a white man. I wish they'd tell me where in the world they have it better than right here in America.
PLAYBOY: Many militant blacks would argue that they have it better almost anywhere else. Even in Hollywood, they feel that the color barrier is still up for many kinds of jobs. Do you limit the number of blacks you use in your pictures?
WAYNE: Oh, Christ no. I've directed two pictures and I gave the blacks their proper position. I had a black slave in The Alamo, and I had a correct number of blacks in The Green Berets. If it's supposed to be a black character, naturally I use a black actor. But I don't go so far as hunting for positions for them. I think the Hollywood studios are carrying their tokenism a little too far. There's no doubt that 10 percent of the population is black, or colored, or whatever they want to call themselves; they certainly aren't Caucasian. Anyway, I suppose there should be the same percentage of the colored race in films as in society. But it can't always be that way. There isn't necessarily going to be 10 percent of the grips or sound men who are black, because more than likely, 10 percent haven't trained themselves for that type of work.
This Playboy interview contained one other quote that is frequently shared in meme form: