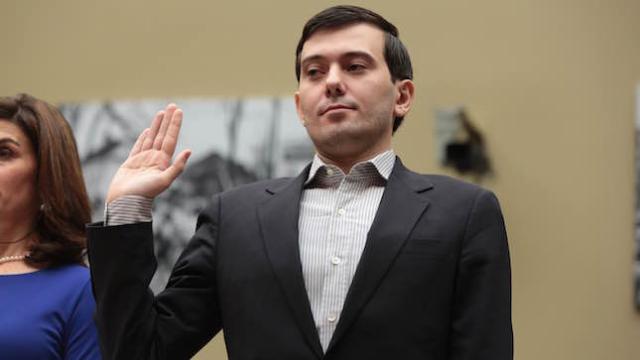 There's a significant amount of debate about whether the much hated "Pharma Bro" Martin Shkreli is a Jew. His Wikipedia page says he's Albanian/Croat and was raised a Catholic.
He's the guy who achieved fame (or infamy) for jacking up the price of a pharmaceutical drug by some enormous percentage.
In September 2015, Shkreli received widespread criticism when Turing obtained the manufacturing license for the antiparasitic drug Daraprim and raised its price by a factor of 56 (from US$13.5 to US$750 per pill), leading him to be referred to as "the most hated man in America" and "pharma bro".[10][11][12][13][14][15]

In December 2015, Shkreli was arrested by the FBI after being indicted on federal charges of securities fraud. He subsequently resigned as CEO of Turing Pharmaceuticals and was replaced by the company's board chairman, Ron Tilles.[16][17][18] Shkreli was convicted of two counts of securities fraud and one count of conspiring to commit securities fraud in August 2017.[2]
Shkreli is in the news now because of some silliness about wanting a hair from Hillary Clinton. Why he wanted a witch's hair isn't clear to me.
Martin Shkreli is heading to jail.

A federal judge Wednesday revoked the former pharmaceutical exec's bail after he offered $5,000 to anyone who could grab a strand of Hillary Clinton's hair.

Judge Kiyo Matsumoto said Shkreli, who was convicted of fraud in August and is awaiting sentencing, has "demonstrated that he has posed a real danger."

In a Facebook post last week, Shkreli promoted a conspiracy about the Clinton Foundation and said he would pay any person who could procure a lock of hair from the former presidential candidate.
Prosecutors said the post reflected "an escalating pattern of threats and harassment," adding that it had triggered an investigation by the Secret Service that required "a significant expenditure of resources."

In a hearing in Brooklyn federal court, Judge Matsumoto said she was particularly concerned that he had "doubled down" on his challenge for someone to grab Clinton's hair. Shkreli said he required a hair with a follicle while urging his social media followers not to hurt anyone.

She said his behavior indicates he is "an ongoing risk to the community."

Until Wednesday, Shkreli remained free on $5 million bail. His sentencing is set for January 16.

Shkreli, 34, has called the post "satire."
Here, he denies being a Jew:
CNBC offers and in-depth look at the legal principles involved in jailing Shkreli over his desire to see Hillary Clinton in prison.