KATIE QUACKENBUSH. ASPIRING COUNTRY SINGER. SHOOTER.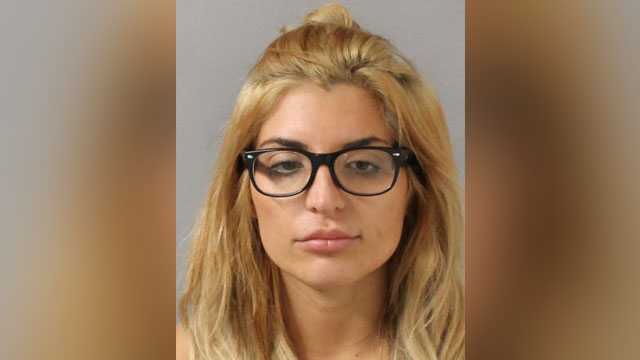 Quackenbush is a Dutch name. The Dutch are a generally peaceful people. Katie was not so peaceful on the night of August 26. That's when she shot a homeless man.
Katie Quackenbush may claim to feel that the man she shot was threatening, but did she try to get away from him? Police are saying that she lost her temper and blazed away at the old fellow, who is currently hospitalized.
Katie has been arrested twice before on assault charges. Her Twitter allegedly included nude and explicit promotional photos of her before it was taken down.
Whatever her ethnic background (which I suspect is Jewish), she's bad news.
NASHVILLE, Tenn. —
A Nashville woman is accused of shooting a homeless man who asked her to move her Porsche SUV.

Katie Quackenbush, 26, is charged with attempted murder, according to The Tennessean.

According to the Metro Nashville Police, Quackenbush critically wounded 54-year-old Gerald Melton on Aug. 26. He remains in the hospital.

Police say Melton was trying to sleep on a sidewalk around 3 a.m. when the exhaust fumes and loud music from Quackenbush's SUV disturbed him.

When he asked the young woman to move the vehicle, an argument ensued and Quackenbush got out of the SUV with a weapon.

Police say she shot the man twice and fled the scene.

Jesse Quackenbush, Katie's father, has a different account of what happened.

He told the Tennessean that his daughter and her friend were being accosted by Melton, claiming the man made explicit and sexist remarks toward the two. He also claimed Melton threatened to kill the women.

According to the father, Quackenbush then grabbed her gun and got out of her SUV to escort her friend to her vehicle.

Melton allegedly began walking toward the woman, Jesse said, when his daughter told him she had a gun and fired two warning shots.

He claims she had no idea Melton had been hit by the gunfire.

Quackenbush's bond was set at $25,000. She is scheduled to appear in court Oct. 6.
A bond of $25,000 strikes me as extremely low in an attempted murder case. Earlier today I posted a piece on Jose Jimenez who is being held on $250,000 bond for assault on a police officer. All lives are supposed to matter, but it seems that the lives of cops are worth more in the eyes of the law than the lives of civilians.
KATIE QUACKENBUSH. CHECK OUT THE ARM TATS.

Katie is a single mother (is there any other kind today). Here she is with her son.
More detailed information about the alleged attempted murder can be read at Heavy. Using her stage name of Katie Layne, she appears in these promo videos about the girls she supplies to events.