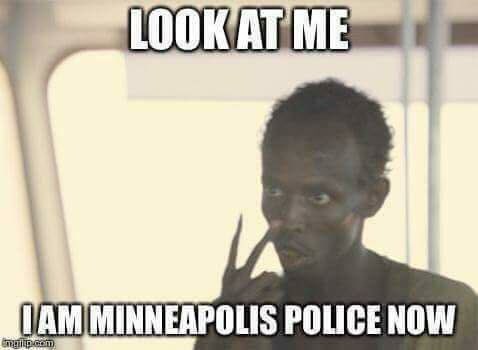 Common sense won a small victory in Minneapolis yesterday. There's still a lot of work to do to clean out the Affirmative Action incompetents who infest the city.
With Chief Janee Harteau having resigned now, will she have the guts to tell the truth about the ISIS Negro who murdered Justine Damond? The FBI needs to question her intensely and drag the truth out of her. And they need to question Mohammed Noor, who refuses to say one damn word about the murder he committed.
The Minneapolis police chief has resigned following the fatal shooting of an Australian woman by a police officer.

Chief Janee Harteau stepped down Friday, just a day after making her first remarks on the death of 40-year-old Justine Damond. Damond was shot Saturday night by an officer responding to her 911 call about a possible sexual assault in the alley behind her house.
A statement from the city says Harteau quit at the request of Mayor Betsy Hodges.
Mayor Betsy Hodges needs to go too. She can blame Harteau, but she's the one preaching inclusion and diversity.
Harteau was out of the city in the days after the shooting. She said Thursday she had been on personal time and was in touch with her command staff.
The chief and Hodges had recently clashed over Harteau's appointment of an inspector in a critical precinct. Text messages between the two showed Hodges was angry over lack of notice about the appointment.