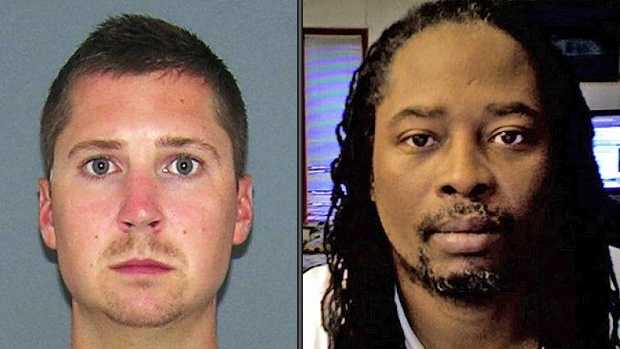 The family of dead Negro criminal Sam DuBose tried to escape Officer Ray Tensing during a traffic stop. Tensing, being dragged by DuBose's car, fired at the man mashing down hard on the accelerator.
The DuBose family long ago accepted a $5.3 million settlement in payment for the life of the worthless Negro parasite.
In the intervening time period, Tensing endured two murder trials, with a hung jury each time. The feds are still looking to indict him for a federal crime, but the state of Ohio has given up trying to prosecute a white cop doing his job.
CINCINNATI (AP) —
A white police officer who fatally shot an unarmed black motorist during a Cincinnati traffic stop won't face a third murder trial, Hamilton County prosecutor Joe Deters announced Tuesday while saying he's asking federal authorities to consider possible civil rights charges.

Deters said he's dropping the case against Ray Tensing, 27, on the eve of the two-year anniversary of the death of Sam DuBose, 43. Two previous juries couldn't reach a unanimous agreement on murder and voluntary manslaughter charges against the former University of Cincinnati officer.

"After two trials and probably a million dollars, the best lawyers I could come up with were unsuccessful at conviction. I have come to the conclusion we cannot win this case on these facts," Deters said. "We did everything we could to secure a conviction. We left nothing on the table and its incredibly disappointing professionally. It's disappointing personally."

Deters said he discussed the matter with multiple jurors, both black and white, and they said there will never be a conviction in this case.

Tensing's attorney said Deters made the right decision because jurors he talked to after the second trial all said they felt there would "never be a unanimous decision" reached in the case.

"The system worked exactly as it's designed to work," Mathews said. "We tried it with two separate juries, and neither one could come to a unanimous decision, and that's our justice system working."
—
Tensing shot DuBose in the head after pulling him over for a missing front license plate on July 19, 2015. The officer, since fired, testified he feared he was going to be killed. The shooting is among cases across the nation that have called attention to how police deal with blacks. It also highlighted the challenges prosecutors face in getting jurors to convict police officers for shooting when they say they are under threat.

Tensing testified in his own defense at both trials and said he feared he could be dragged or run over as DuBose tried to drive away.

"I meant to stop the threat," he told jurors in his second trial. "I didn't shoot to kill him. I didn't shoot to wound him. I shot to stop his actions."

DuBose's family and civil rights groups wanted a third trial. DuBose's family earlier called for a federal investigation and wasn't satisfied by Deters' announcement the case will be reviewed.

"They should have done both (third trial and review)," said DuBose's sister, Terina Allen. She said DuBose was "no threat" to Tensing. She pledged to hound Tensing "the rest of his life."

U.S. Attorney Benjamin Glassman said authorities will review evidence from the state court trials to assess whether there are possible federal civil rights offenses that might warrant prosecution.

Deters said Glassman's office contacted his office after the second hung jury. He said case information has been turned over to the federal authorities.

"I'm hopeful that the U.S. attorney's office will see fit to proceed in this matter," Deters said.

Federal authorities recently announced they had ended an investigation without charges in a 2014 police shooting of a black man in a Wal-Mart store in Beavercreek, Ohio.

DuBose had significant amounts of marijuana and cash on him, and Mathews contends he was desperate to get away from police because he knew he would be headed to jail.

An expert hired by prosecutors said his frame-by-frame analysis of the former officer's body camera video showed Tensing was not being dragged by the car.

To convict Tensing of murder, jurors had to find he purposely killed DuBose. The charge carries a possible sentence of 15 years to life in prison.

The voluntary manslaughter charge means killing during sudden passion or a fit of rage. That carries a possible sentence of three to 11 years with conviction.

Mathews earlier requested that Hamilton County Judge Leslie Ghiz acquit Tensing after the two mistrials. She scheduled a July 24 meeting on the case.

The university fired Tensing after he was indicted. It restructured its public safety department and made other policing reforms. The university reached a $5.3 million settlement with DuBose's family, including free undergraduate tuition for DuBose's 13 children.
DuBose's sister says she's going to haunt Tensing for the rest of his life? Ha. She'll run through her share of the $5 million and come back for more. That sum of money buys a lot of hair weaves, marijuana, junk food, and fake nails.