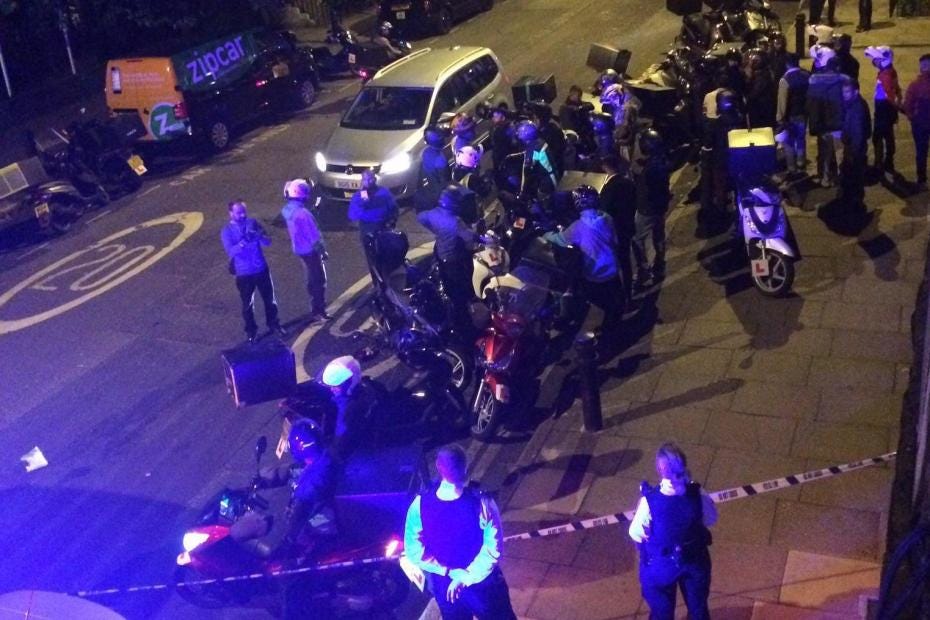 Who could it be? Everyone knows that acid attacks are one of the preferred methods of terror employed by Muslims.
London (CNN)Five men were attacked with acid in London on Thursday night with one man suffering life-changing facial injuries in what police are treating as linked assaults.

The five attacks, which were reported to police over a 70-minute period, are the latest in a spike of incidents using corrosive liquids as weapons in robberies and gang-related violence in the British capital.

Police said at least four of the five attacks involved two males on a moped, and in at least two cases the attackers stole mopeds belonging to their victims. Another incident involved a robbery.

A 16-year-old boy has been arrested on suspicion of grievous bodily harm and robbery, and is currently in custody at an east London police station. Police are appealing for witnesses to come forward.

Four of the attacks happened in London's eastern borough of Hackney, and one other in Islington in the city's north. All five victims were taken to hospital.
Attacks on the rise
According to a report released by the Metropolitan Police Service in March, acid attacks are on the rise in London. In 2014, there were 166 filed incidents, rising to 261 in 2015, and 454 in 2016. Police have told CNN that trend has continued this year.

Acid attacks in London are largely concentrated in the city's east. London's police chief Cressida Dick explained that it was not happening across all boroughs.

"But we are concerned because the numbers appear to be going up. We will arrest people. We will enforce the law as we can. We are working very closely with the Home Office to try to see whether there's any changes in the law required," she told LBC Radio.
The Independent is reporting that Teresa May is contemplating changes in the law in light of today's horrific news.
Theresa May has hinted at the introduction of new legislation to combat a spate of acid attacks after last night's "horrific" rampage in London.

It comes after two men on mopeds carried out five acid attacks during a spree across the capital which lasted less than 90 minutes, according to the Metropolitan Police.

Asked about the assaults and whether a change in sentencing guidelines was needed, the Prime Minister's spokeswoman said Ms May viewed the acid attack as "horrific".