COSMO DINARDO. HELD ON $5 MILLION BAIL.

A story out of Pennsylvania about four young men missing since last week took a tragic turn early Thursday morning when police announced that a body had been recovered from a mass grave.
I expect that over the next 24 hours that we'll learn that all four missing young fellows will be accounted for, found decaying under the earth in a hastily constructed burial ground.
Police have yet to articulate a theory of the crime. Cosmo Dinardo, pictured above, is being held on unrelated charges, with bail set at $5 million. One of his ex-teachers describes him as a "model citizen."
We have our work cut out for us to try to get a handle on how and why a model citizen may have committed four murders. Various reports say that he was involved in trying to sell one of the victim's cars to a friend for $500. Killing four kids around your own age to profit by $500 makes no sense in any world that most of us are familiar with.
UPDATE: The Daily Mail reports that the suspect in this case is a drug dealer who has bragged about killing others before.
Authorities say they've found multiple human remains in their search for four missing young Pennsylvania men and they can now identify one of them.

Bucks County District Attorney Matthew Weintraub said early Thursday morning that one victim has been identified as 19-year-old Dean Finocchiaro.
Weintraub says they found all the remains in a 12.5-foot-deep common grave on a sprawling farm in suburban Philadelphia.

Finocchiaro, 22-year-old Mark Sturgis, 21-year-old Tom Meo and 19-year-old Jimi Tar Patrick have been missing since last week.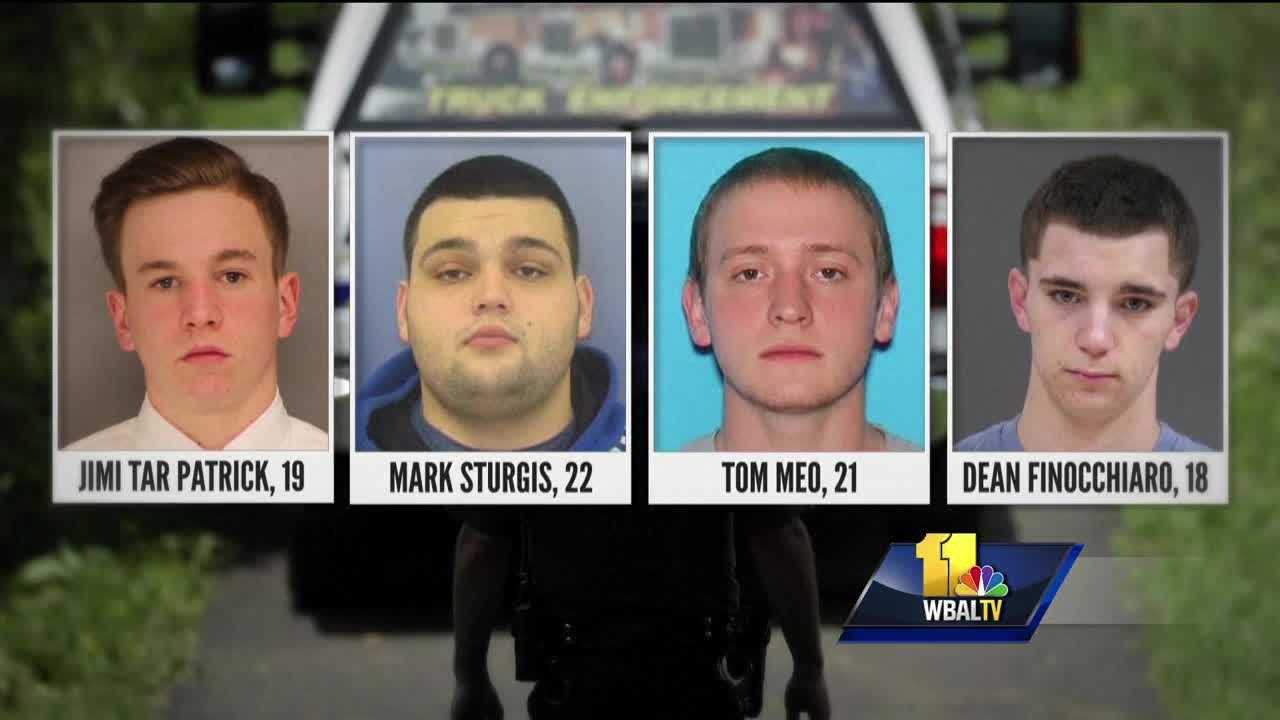 On Wednesday, authorities arrested the son of the property's owners, 20-year-old Cosmo DiNardo, on charges he tried to sell one of the missing men's cars a day after he was last seen. He's being held on $5 million bail.
ABC is giving this horrific story in-depth coverage. Here's another ABC story on the homicide:
Weintraub did not mention the three other missing men, but added, "there are additional human remains inside that grave. So this painstaking process will go on. We're not done yet. This is a homicide, make no mistake about it. We just don't know how many homicides, we have yet to know the answer to that questions."

Weintraub said, "I can't comment on the type of homicide that it is at this point, but I am comfortable classifying it as a homicide."

He reiterated that the investigation is two-pronged: "We're still investigating the evidence, the investigation as you all know has taken two tracks –- recovery on one side and ascertaining what actually occurred on the other side, and we're still avidly pursuing both of those avenues at this time."

Cadaver dogs led investigators to the grave, he said. "We had cadaver dogs, and I don't understand the science behind it, but those dogs could smell these poor boys twelve-and-a-half feet below the ground.
And When asked what the condition of the remains are, he said, "I don't want to comment on that but you can draw some logical conclusions — they were found inside a twelve-and-a-half foot deep hole that we had to excavate."
Weintraub concluded the press conference, saying, "And I want to let you know that we reiterated over and over again, and it goes to say one more time to the families, that we're strong, and we're going to remain strong, and we're going to see this investigation to the end, and we are going to bring each and every one of these lost boys home to their families, one way or another and we will not rest until we do that."