BAKARI HENDERSON. MUH DIK DID HIM IN.

An American Nagger has learned the hard way that Greeks and Eastern Europeans won't put up with "muh dik" aimed at white women. In Texas, his home base, miscegenation is widely accepted. Muh Nagger's Facebook is filled with photos of him with white chicks he's been "kooning around with."
Bakari Henderson, the American tourist beaten to death, is being praised by the media as a business genius and an all-around super-Nigga. The media story is that he's the greatest human being who ever lived.
They are playing this tale of muh dik gone wild as a horrible example of the tragic loss of a great young Nagger who would have ruled the world, if only.
A 22-year-old American college graduate was beaten to death on the Greek island of Zakynthos on Friday, local media reported.

Bakari Henderson, 22, who recently graduated from the University of Arizona, was drinking at a bar with friends before being approached by a man who instigated a brawl.

Bar employees consequently asked the men to leave the bar when several other people, including bar employees, took the fight onto the street, ANA-MPA reported.

A total of eight individuals, including a 32-year-old Serbian and a 34-year-old Greek national, have been arrested in connection with the incident.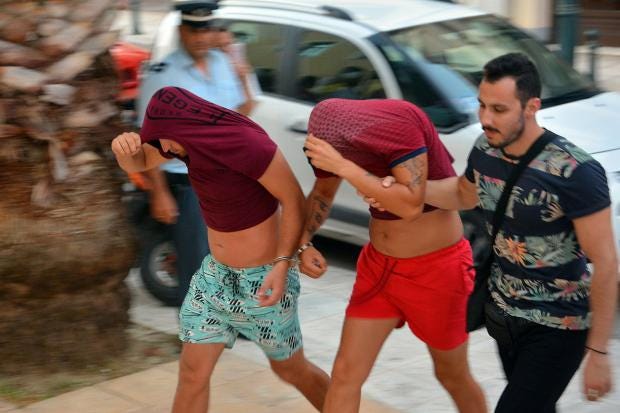 "Greek police in Zakynthos notified the US Embassy of the death of a US citizen in the early morning hours of Friday," the US State Department said in a statement. "We are in communication with authorities and providing consular assistance to the deceased citizen's family."

"We offer our sincerest condolences to family and friends, and out of respect for the family during this difficult time, we have no further comment," it continued.

Henderson was in Zakynthos working on a photo shoot to launch a clothing line at the time of the incident, his family confirmed in a statement.

"Bakari loved spending time with family and friends, traveling, and meeting new people. He was a big thinker and enjoyed coming up with new business ventures. Bakari was an inspiration to all he met. He loved life and lived it to the fullest," his family told CNN affiliate KXAN in a statement.

A number of politicians, including Sen. Jeff Flake (R-AZ) paid tribute to Henderson, who previously worked as an intern at the Texas legislature.

Meanwhile, Sen. Martha McSally (R-AZ) said in a statement: "My thoughts and prayers are with the family and loved ones of Bakari Henderson, whose life was senselessly and brutally cut short this weekend. The loss of our recent University of Arizona graduate is truly tragic and shocking, and I offer my deepest condolences to all who knew him."

Zakynthos, a small island on the west coast of mainland Greece, is a popular destination for tourists around the world, known for its stunning cliffside beaches and sea caves.
Security cam video:
TV news report:
Another TV news report:
From the Breitbart comments section:
Other reports say that he was harassing women and was highly agitated because they wouldn't have anything to do with him and he started calling them racists. When he went too far and groped a woman that set off the chain reaction leading to his death. In other words, he was engaging in obnoxious thug behavior, thought he could get away with it and found out the hard way that he couldn't. Report was in a British newspaper.
A black woman gives her perspective of Blacks "swirling" (f*cking) white people, who she calls Caucasoid devils. This is a far more interesting video than you might think. This black woman hates white people. She also disapproves of Niggas who swirl.
Bakaki was down with the swirl. He ran into some folks who weren't.