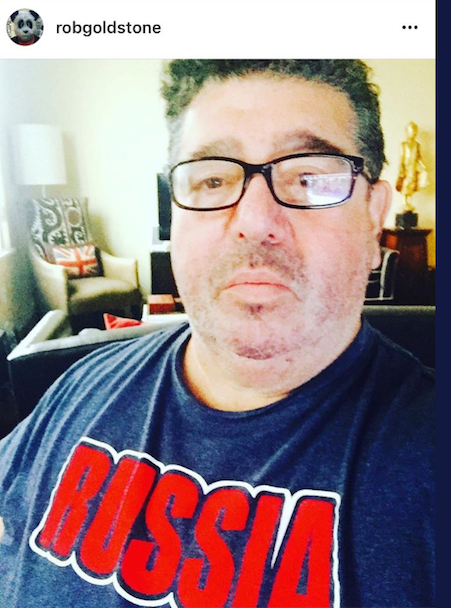 Apparently, Donald Trump, Jr. was not Jew wise.
I'm going to put his email exchange with Rob Goldstone in another post. Suffice it to say that the (((Deep State))) is making all sorts of wild claims through their media co-conspirators at the New York Times, Washington Post, CNN, and so forth. The wildest of these claims is that the Trump family is guilty of treason, which would of course carry the possibility of the death penalty.
I'm counting at around a dozen articles today asking who the hell Jew Goldstone is. In a nutshell, like many of his tribe, he's a hustler looking to hustle somebody and get rich doing it. I fail to see that he produces anything of value, yet he travels in the highest circles of global society.
A music publicist who represents the son of a wealthy Azerbaijan-Russian developer and is friendly with the Trump family claimed credit Sunday for setting up the meeting between Donald Trump Jr. and a Russian lawyer last June at Trump Tower.

Rob Goldstone, the publicist, told The Washington Post that he arranged the meeting between Trump Jr. and Natalia Veselnitskaya at the request of a Russian client, who he subsequently said was Russian pop star Emin Agalarov. He said he attended the meeting along with Veselnitskaya, and a photo from his Facebook page suggests he was at Trump Tower that day.

Veselnitskaya is known for waging a harsh campaign against the 2012 Magnitsky Act, which blacklisted Russians suspected of human-rights abuses, and has ties to the Kremlin. She is married to a former deputy transportation minister of the Moscow region, and her clients have included Russian state-owned businesses.

Goldstone, who is originally from Manchester, England, manages Emin Agalarov — the son of the wealthy Azerbaijani-Russian developer Aras Agalarov, who brought President Donald Trump's Miss Universe pageant to Moscow in 2013.

Aras is named in the dossier compiled by former British spy Christopher Steele detailing the Trump campaign's alleged ties to Moscow, and served as a liaison between Trump and Putin when Trump was in Moscow, according to the Washington Post.

A photo on Goldstone's Instagram page shows Emin with Trump at his Trump Doral golf club in April. That, and at least one photo of Trump and Goldstone seated at the same table in 2013, indicate his relationship with the Trump family goes beyond the president's eldest son. He is also friends with Lara Trump, the wife of Trump's son Eric, on Facebook.
Photos on a Russian-language blog post that announced the deal between Aras and Trump to bring the Miss Universe pageant to Moscow show Goldstone seated at the table along with Aras's son, Emin, at Trump International Hotel Las Vegas in June 2013.
Goldstone did not return Business Insider's request for comment. But he told The Post that Veselnitskaya wanted to ask Trump Jr. if his father would consider addressing the Russian adoption issue if he were elected president.

Trump Jr. originally said the focus of the meeting was Russian adoption in a statement to the New York Times, which subsequently reported that he took the meeting because he had been promised potentially damaging information on then-presumptive Democratic nominee Hillary Clinton.

The adoption issue was likely just a pretext, however, for a broader discussion of the Magnitsky Act — a bill passed in 2012 that authorizes the president to deny visas to, and freeze the assets of, Russians believed to have been complicit in Russian tax lawyer Sergei Magnitsky's death. Magnitsky uncovered a $230 million tax fraud scheme in 2008 that implicated Russian President Vladimir Putin and became one of the biggest corruption scandals of his presidency.

Magnitsky was later thrown in jail and died in custody, and an independent human-rights commission found he had been illegally arrested and beaten. The Kremlin maintains that Magnitsky died of a heart attack.

The meeting between Trump Jr. and Veselnitskaya was also attended by Trump's son-in-law, Jared Kushner, and then-campaign chairman Paul Manafort. But Goldstone has managed Emin Agalarov since at least 2013, and his photos show that he travels frequently to Russia.

He posted a photo on his Instagram page shortly after Trump won the election wearing a shirt that said: "Russia."
The most important question is whether Goldstone was trying to set up the Trumps or whether he was just out to make a few shekels. I suspect the latter. Any plot to ensnare Donald Jr. and put the Trump campaign into hot water would need more than a single meeting with a Russian woman who really had nothing to offer.
Here's more details on the career of hustler Goldston from Vanity Fair:
Goldstone, who arranged the June 9, 2016 meeting with Donny and Russian attorney Natalia Veselnitskaya, was born in Manchester, England. According to the bio on his company's website, he started his career as a journalist and in 1986, "relocated to Sydney after being chosen by Michael Jackson to accompany him exclusively on his 1999 Australian tour." From there, Goldstone founded Crawford Goldstone Publicity and represented artists touring Australia, among others, Cyndi Lauper, Julio Iglesias, James Taylor, Tracy Chapman, BB King, UB40, Marianne Faithful, U2, and Poison. Today, he runs public relations firm Oui 2 Entertainment, where one of his clients is Russian pop star Emin Agalarov.

According to the B.B.C., Agalarov's father is Aras Agalarov, a real estate developer based in Moscow, who was Trump's business partner in bringing the Miss Universe competition there in 2013 (Goldstone was a judge for the pageant last year). Per the B.B.C., Aras Agalarov also worked with Trump to bring a Trump Tower to Moscow, though the project didn't pan out.

In other fun Goldstone/Trump ties, the president had a role, alongside Miss Universe contestants, in an Emin video in 2013 that we insist you take a moment to watch. Later that year, per the Guardian, Trump tweeted to Agalarov, "I had a great weekend with you and your family. You have done a FANTASTIC job. TRUMP TOWER-MOSCOW is next. EMIN was WOW!"

Goldstone has reportedly made at least 19 trips to Russia since 2013 and in one Instagram post, according to the Guardian "described Moscow as his second home." Incidentally, per reporters Jon Swaine and David Smith, Goldstone's social media posts also suggest that he was in Moscow just 10 days before the meeting with Don Jr., and subsequently "returned to spend most of that July in Russia and Azerbaijan."
The facts may be real, but the mixing of hysterical opinion by the MSM is fake news. When I was a professor, I met with around 50 to 100 students, facuty, and staff a day, either in my office or theirs. I would not want to be held accountable for the acts of those people. I'm certain that each day the Trump family members were meeting with dozens of people, including many foreigners.
I've met with Russians in my faculty office. They were students from Russia.
Oy vey! Looks like I committed treason!