AUTUM GARRETT, AGE 22. SHOT DEAD AT A WOMEN'S GET TOGETHER.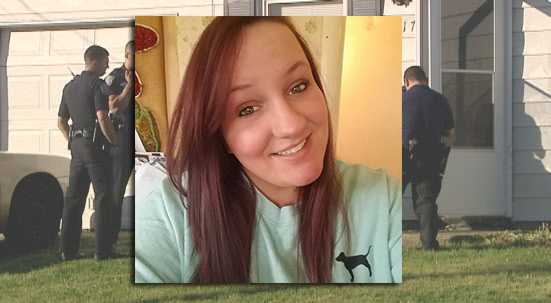 Police have revealed no details about the hoodie-wearing gunmen who recklessly shot up a house full of women and children in Cincinnati, Ohio yesterday.
The neighborhood in which the shootings occurred appears to be working class, as seen in the photo below, which shows one of the victims on crutches after being shot in the leg.
One woman was killed and eight other people, including three children, were injured late Saturday after two men wearing all black opened fire at a gender reveal party in Ohio, officials said.

One of those injured was the pregnant woman who was giving the party.

A gender reveal party is where friends and family gather to announce the sex of the baby. The unidentified woman told Fox 19 that she lost her child, a boy, after being shot in the leg.
Officers responded to the home in Colerain Township, outside Cincinnati around 11:30 p.m., said police spokesman Jim Love. He told Fox 19 that five adults and three children were all watching television in the living room when the men began shooting handguns.

"They were all there for a very positive reason when somebody opened fire," Love told FOX 19.

At a news conference Sunday, Colerain Township Police Chief Mark Denney said that none of the eight people wounded appeared to have life-threatening injuries, including the children, who are ages 8, 6 and 2.

The 22-year-old has been identified as Autum Garrett, of Huntington, Ind.

Denney said the two gunmen who fled on foot haven't been identified or arrested. He wouldn't discuss details of the investigation into the shootings.

There were no indications of a forced entry by the gunmen, who entered the house through the front door, Denney said. He said it's unclear why the victims were shot.

"We don't know if they were targeted, or this was intended for someone else," Denney said.

Colerain Township called in the Cincinnati Police Department to process the crime scene, which included a search of the home after police obtained a warrant.
Did someone owe one of the shooters money for drugs? In general, when the shooters are white they are identified as such by police, but when they're black, race remains out of the picture.
Whoever the shooters, opening fire on children watching TV is a despicable thing to do. Both shooters should face the death penalty for premeditated murder and attempted murder.