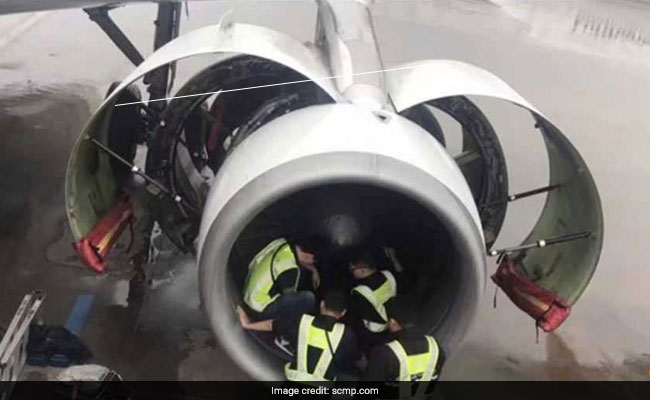 The experts tell us that the Chinese on average are smarter than white people.
An IQ test should not be the only criteria for American immigration policy, although it would be better than what we have now.
The woman in this story out of China was just doing what her culture requires her to do. Chinese culture tells Chinese immigrants into America to eat dogs and cats, gamble, etc. We don't need them.
A flight from Shanghai to Guangzhou was delayed after an elderly woman passenger was suspected of throwing coins into the plane's engine to ensure "good luck", mainland media reported.

China Southern Airlines Flight 380 was held up at the Shanghai Pudong International Airport after an elderly woman passenger caused a disruption, according to the airlines official WeChat account. An investigation into the incident is under way.

Passengers boarding the flight reportedly saw an elderly woman throwing coins at the engine for "blessings" from the middle of the boarding staircase and alerted the crew.

Ground staff said the woman, who appeared to be about 80 and had limited mobility, was accompanied by her husband, daughter and son-in-law.

After maintenance crew inspected the aircraft, they found nine coins in one engine.

The captain was quoted as saying the metal, if sucked up by the engine, could have caused serious damage, including failure.

The flight was later given a green light and took off at 5.52pm, more than five hours late. It is scheduled to arrive in Guangzhou at 8.14pm.

China Southern Airlines told reporters that passengers were reminded to comply with civil aviation laws and regulations, which prohibit behaviour that could jeopardise the safety of the flight.

Mainland air travellers have been responsible for several safety incidents in recent years, including opening emergency doors and assaulting cabin crew. Beijing has responded by creating a tourist black list, with offenders banned from travel.
That plane could have crashed with no one the wiser as the cause if others had not seen her throwing the coins into the engine.
Be alert when traveling with Chinese passengers.