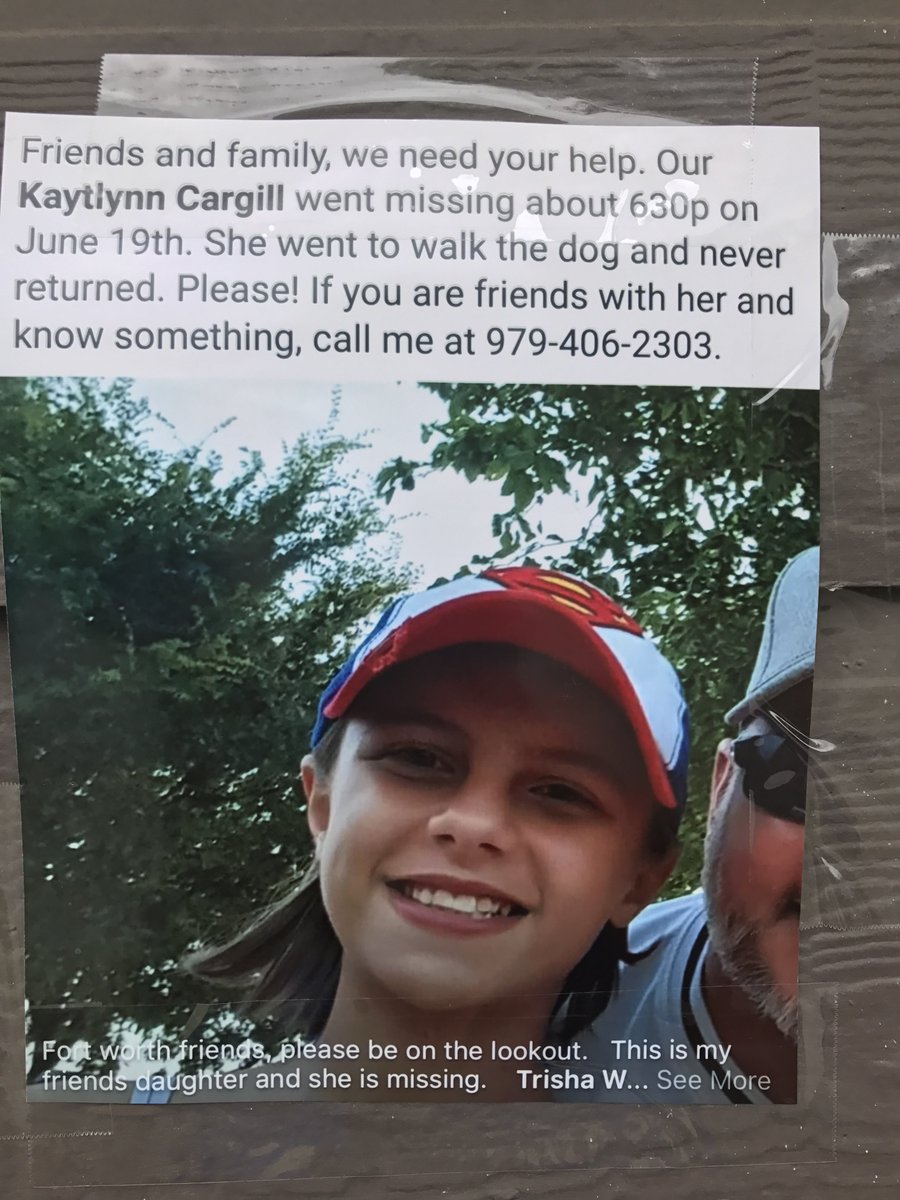 When I saw the story on Tuesday that Texas teen Kaytlynn Cargill had gone missing, but that her dog that she had been walking was tied to a fence, I feared the worst.
Fourteen year olds like Kaytlynn don't go off and leave their dogs alone where they can be harmed or stolen.
Still, the police kept saying that she was a suspected runaway and that they were not treating her disappearance as foul play.
It turns out the police made a big mistake and I was sadly right.
The nightmare of every parent came true for Kaytlynn's mother. None of the stories I've seen mention her father, which is also sad.
It's too early to speculate with any authority, but that part of Texas where the girl lived is full of illegal aliens, many of whom are sexual deviants.
Whoever, the killer is, he must be found.
BEDFORD, TEXAS – The Tarrant County Medical Examiner has confirmed a body found in an Arlington landfill is 14-year-old Kaytlynn Cargill, who was reported missing Monday night.

In a Facebook post, the Bedford Police Department announced earlier this week that Cargill disappeared while walking her dog near the Oak Creek Apartments.

A body was discovered Wednesday afternoon by a worker at the landfill about five miles from Cargill's house. The medical examiner confirmed it was the young girl but hasn't yet ruled on a cause of death.

Police said in a brief statement late Thursday they are working the girl's case hard.

"We will pursue every lead, leave no stone unturned and bring the person or persons responsible for Kaytlynn's death to justice," said Lt. Kirk Roberts

There are missing flyers for #KaytlynnCargill EVERYWHERE. Stopped for quick sustenance at Einsteins & they're here, too. #findkaytlynn #wfaa pic.twitter.com/b4qZ4pU0ls— Lauren Zakalik (@wfaalauren) June 22, 2017

During their search for the teen, police canvassed the teen's neighborhood and flyers were posted around the town. According to the flyers, a friend said she saw Kaytlynn tie her dog's leash to a fence and asked friends to watch the dog but never returned.
This missing person poster was distributed all over town.
"I didn't hear any yells, and it happened right behind my balcony," said neighbor Zach McDaniel. "I heard no yells, no helps, no nothing."

Initially, police said there was no reason to suspect foul play in the disappearance. There also was no issuance of an Amber Alert, although very strict conditions must exist for that to happen, according to state law.

Thursday night, more than 100 friends and classmates gathered at Central Junior High, where she was a seventh grader. Friends say she was a vibrant young teen that loved band.

A GoFundMe has been set up for the family.

Authorities have asked anyone with information pertaining to the death of Cargill to call the Bedford Police Department at 817-952-2440 or contact the Tarrant County Crime Stoppers at 817-469-TIPS.

Police said they were increasing patrols in and around the girl's Oak Creek Apartments.
Heavy offers insights into the life and death of Kautlynn.
Kaytlynn's dog was discovered unharmed tied up in a nearby dog park, according to The Star Telegram.

Police had been canvassing the neighborhood looking for any clues about the missing teen.

All of the posts on the teen's Facebook page are of animals, and her profile picture was of a dog.

Another woman wrote on Facebook before Kaytlynn was found, "Please keep eye out in Texas for Kaytlynn Cargill…. She dresses like a 'tom boy' most days, often seen wearing a baseball cap very sweet young lady! If you have ANY information, please reach out to me or the contact number in this post below…. Please lord keep her safe until she comes home."