OTTO WARMBIER ON TRIAL IN COMMUNIST NORK.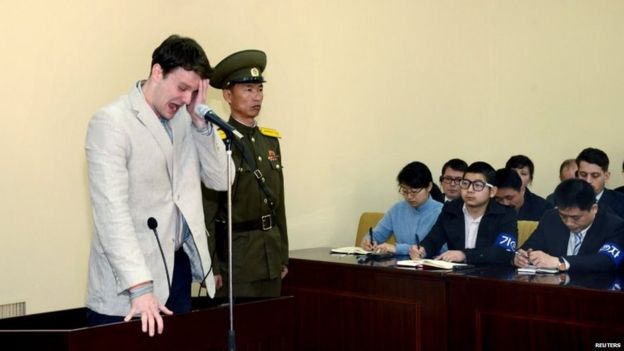 Otto Warmbier, the Jewish college student who was serving time in a North Korean prison for anti-state activities, has died a week after his release was negotiated by former NBA star Dennis Rodman.
Warmbier, who arrived in the United States in a brain damaged state, never recovered his mental faculties before dying today.
To Americans, Warmbier's alleged crime, attempted theft of state property (a poster extolling North Korean life), seemed like a minor prank. As is often the case with Americans arrested overseas, the locals had a different opinion. Warmbier was serving a 15 year sentence when released and flown to America.
Otto Warmbier, the American student who was imprisoned in North Korea for more than 17 months and was returned home to Ohio last week, has died, his family said Monday.

"It is our sad duty to report that our son, Otto Warmbier, has completed his journey home," his family said in part in a statement. "Surrounded by his loving family, Otto died today at 2:20 p.m."

Doctors from the University of Cincinnati Medical Center said last week that Warmbier, 22, was suffering from injuries related to cardiopulmonary arrest and was in a state of unresponsive wakefulness. Scans showed extensive loss in all regions of Warmbier's brain, doctors said.

Warmbier, a University of Virginia student, was medically evacuated from North Korea and flown to Cincinnati late last Tuesday. He was then transported to the University of Cincinnati Medical Center.

On Monday, the family paid tribute to Warmbier in their emotional statement.

"It would be easy at a moment like this to focus on all that we lost — future time that won't be spent with a warm, engaging, brilliant young man whose curiosity and enthusiasm for life knew no bounds," the family's statement continues. "But we choose to focus on the time we were given to be with this remarkable person. You can tell from the outpouring of emotion from the communities that he touched — Wyoming, Ohio, and the University of Virginia to name just two — that the love for Otto went well beyond his immediate family."

The statement also thanked "the wonderful professionals at the University of Cincinnati Medical Center who did everything they could for Otto."

"When Otto returned to Cincinnati late on June 13th he was unable to speak, unable to see and unable to react to verbal commands. He looked very uncomfortable — almost anguished. Although we would never hear his voice again, within a day the countenance of his face changed — he was at peace. He was home and we believe he could sense that."

Warmbier's passing prompted an outpouring of support.

In a statement, Sen. Rob Portman, R-Ohio, called Warmbier a "promising young man."

"He was kind, generous and accomplished," Portman said. "He had all the talent you could ever ask for and a bright future ahead of him. His passing today is a loss for Ohio and for all of us. Jane and I are lifting up the Warmbier family in our prayers at this difficult time, and we are deeply saddened by the tragic loss of this remarkable young Ohioan."

Ohio Gov. John Kasich offered his prayers to the family in a statement posted on Twitter.
University of Virginia President Teresa A. Sullivan said Warmbier will be "missed by all those who knew and loved him."

"It is with great sadness that we learned of Otto's passing this afternoon. Our thoughts and prayers continue to be with his family and friends during what has been an incredibly difficult time."
You can decide for yourself your takeaway from this story. A universal frame for it might be the dangers of traveling in foreign countries, especially those countries that punish criminal acts harshly.
The family has claimed that Otto was brutalized by the Norks, thus causing his vegetative state and death. However, the one or two reports I read that included statements by his doctors in the States denied that there were any signs of brutality inflicted on Otto. FYI, the headline on Drudge right now reads "American Tortured in North Korea Dies."
Opinions are divided about Warmbier, as these memes show: