Watch yourself in the men's room at Target, guys. That fellow in the next stall making those moaning sounds may be Ari Nagel. If you see a Negress waiting just outside the bathroom door being handed a cup of something, you can bet it's super dad Nagel.
Nagel might be a little off. His desire to create a new super human species, which could be called the Jewnig or the NigJew, is part of the Jew's brave new world he has planned for us. It's megalomania.
Just think, at the rate Nagel is going, an entire army of Jewnigs will probably be ruling the world in 20 or 30 years.
A SUPER RACE IS COMING. GET READY.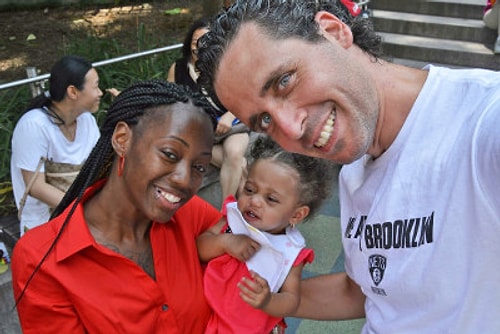 This Father's Day, he's still the most in-demand dad in town.

A year after The Post revealed that CUNY math professor Ari Nagel had fathered 23 kids — some conceived the old-fashioned way, others involving sperm handoffs at public spots such as the Atlantic Center Target in Downtown Brooklyn — he's back. Nagel, 41, has donated his supersperm to even more women, resulting in four kids born since last Father's Day. And eight other ladies, from Florida to Maryland to The Bronx, are currently pregnant because of him.

In fact, wannabe mommies from all over the globe have reached out to Nagel after seeing his story in The Post: He's had inquiries from Turkey, Nigeria, South Africa and even China.

The Sperminator's summer is jam-packed with trips timed to ovulation schedules. He's flying to Israel this week to meet a woman who will have Nagel freeze his sperm at a clinic in case her first attempt at pregnancy is unsuccessful. After that, he's off to Vietnam. "This crippled woman's story really hit home," he said of a 30-something left in a wheelchair after a debilitating motorcycle accident a few years ago. "She said, 'It's all I ever wanted.' You just have a vibe that she'd be an amazing mom." Plus, it will diversify his portfolio: "I don't have an Asian baby yet." In mid-July, a hopeful from Taiwan is flying in to New York to see if Nagel can make her dreams come true.

In every case, the women are covering the cost of the flights. But, as always, Nagel charges nothing for his sperm.

"It's a lot of fun [traveling], actually. Of course, no one's ovulating in Hawaii — it's Toledo, Ohio, and Flint, Michigan," he said, insisting he loves helping strangers.

"Creating a life and saving a life are my proudest moments. I donated my bone marrow twice and I never got to meet the recipients, I have no idea who it was," he said. "[Fathering children] is a lot more fulfilling. It's an honor to be chosen."

As The Post reported last year, the Sperminator often uses public restrooms — Target, Starbucks — for procuring samples: "Once a location is chosen, Nagel will go into the bathroom, pleasure himself while watching porn on his iPhone . . . and ejaculate into an Instead Softcup, a type of menstrual cup. He then delivers the specimen to the woman, who goes into the ladies' restroom and inserts it into her cervix."

Nagel insists there's no shame in his game. "There's homeless people in that Target bathroom all the time. What I'm doing is the least of their problems. You have people showering [in the sinks] there," he said. "They should give us some free diapers for all this free press," he said.

Pregnant Bronx mom Paige Moxey "met him in the Target," she said. The 30-year-old health-care worker, married to wife Jasmine Belle, is due in February.
Good grief! That last paragraph says that the Sperminator is actually donating sperm to lesbians.
My God, what decent man would want his blood kin to be raised by two carpet munching, taco bumping mommies.
For that matter, what decent man would want children by these porkers below?
Shouldn't what Nagel is doing be illegal? If the law won't act directly, the best we can hope for is that a family court orders Nagel to pay child support to all his sassy black female moms.
Hitting a Jew in the shekels is the most painful thing I can imagine happening to a member of the tribe. Unless a judge ordered him to live with his Nubian princesses.