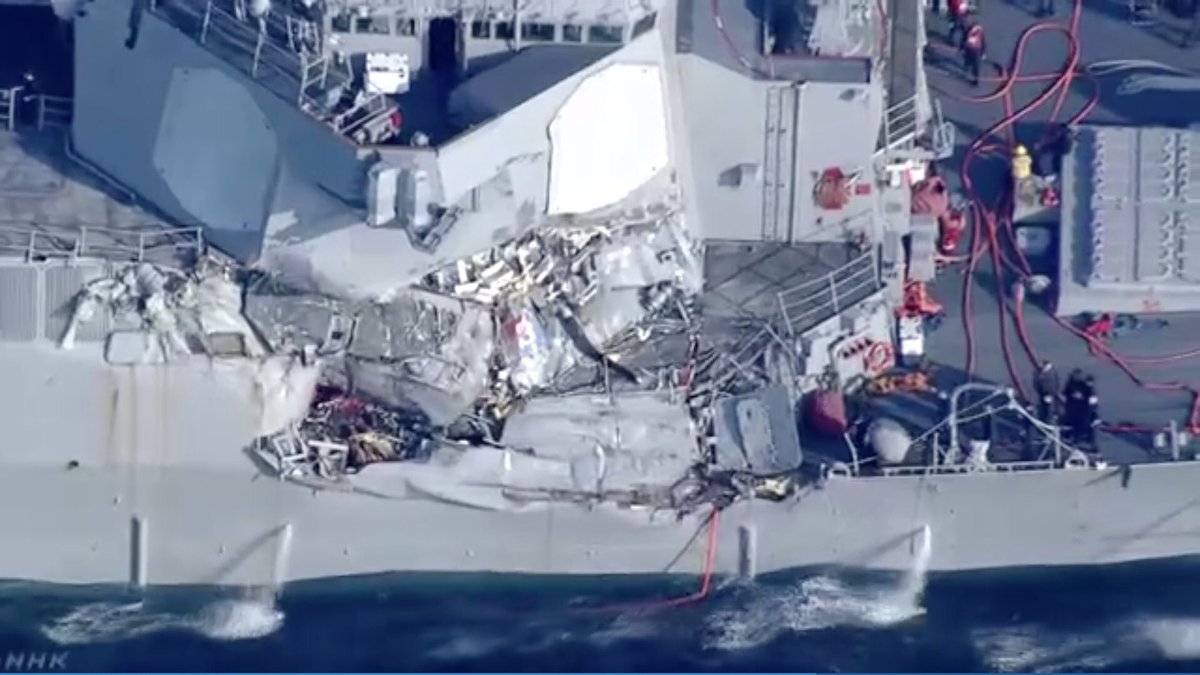 The U.S. Navy's USS Fitzgerald has collided with a Japanese merchant vessel, CBS News national security correspondent David Martin reports.

The Japanese Coast Guard is on the scene and providing assistance at the request of the U.S. Navy. The USS Fitzgerald is under her own power, although her propulsion is limited, according to the U.S. 7th Fleet. The USS Dewey, medical assistance and two Navy tugs are also being dispatched as quickly as possible. Naval aircraft are also being readied. The collusion was serious, but the extent of the damage and personnel injuries are being determined.

The collision occurred at 2:30 a.m. local time on June 17, about 56 nautical miles off of Yokosuka, Japan, according to the Navy.

Live footage shot from a helicopter Saturday morning by Japanese broadcaster NHK showed heavy damage to the mid-right side of the Navy ship, which appeared to be stationary in the water. People were standing on various parts of the deck.
The USS Fitzgerald, an Arleigh Burke-class guided missile destroyer commissioned in 1995, is based in Yokosuka, according to the Navy. Its crew includes roughly 23 officers, 24 chief petty officers and 291 enlisted members of the Navy.

Japan and U.S. relations strengthened in 2015 through the release of revised guidelines, which provide new and expanded forms of security-related cooperation, according to the State Department. Japan provides bases as well as financial and material support to U.S. forces to maintain stability in the region.

This is a developing story.
This is the ACX Crystal, the containership that collided with the Fitzgerald.
Short youtube video showing damage to Fitzgerald:
Live coverage below by Right Side Broadcasting. How long this will stream live is unclear.