A rabble-rousing Mexican illegal has been freed without bail to roam the streets of America, while stirring up Mexicans against the idea of borders and citizenship.
Background from Heavy
Rueda's mother was swept up in a large drug bust, according to The Los Angeles Times.

Teresa Vidal-Jaime was picked up by federal authorities "after a massive drug bust at a Boyle Heights apartment complex where she lives," the Times reported.

During the raid, "her husband was arrested for drug possession and investigators seized more than 30 pounds of cocaine and $600,000 in cash, according to the U.S. Border Patrol," the Times reported.
Wow! That's some family that Rueda comes from.
But Vidal-Jaime's daughter, Claudia Rueda, organized protests for her mother, "calling it an unlawful raid that swept up an innocent woman in a criminal probe," according to the newspaper.

The University Times reported that Claudia Rueda "was in a Monday evening class when she heard about the raid, and immediately returned home. When Rueda arrived at the scene, she says she was subject to intimidation and both agencies did not present a warrant to her."

The newspaper reported that ICE responded, "Border Patrol says that Vidal gave them permission to continue conducting their investigation in the apartment. In an investigation that started on the road that afternoon, agents tracked a car, suspecting that the men inside the vehicle were involved in cross-border smuggling. They ended up at the apartment complex where the men started to unload drugs from the vehicle. After immediately arresting the men, Border Patrol, with the consent of Vidal, entered the apartment which lead to the discovery of the currency in a duffel bag. Border Patrol agents then arrested Vidal upon finding out about her immigration status."
The Heavy piece goes on to describe how her fellow Mexican radicals think she's a fighter for justice. Blah, blah, blah.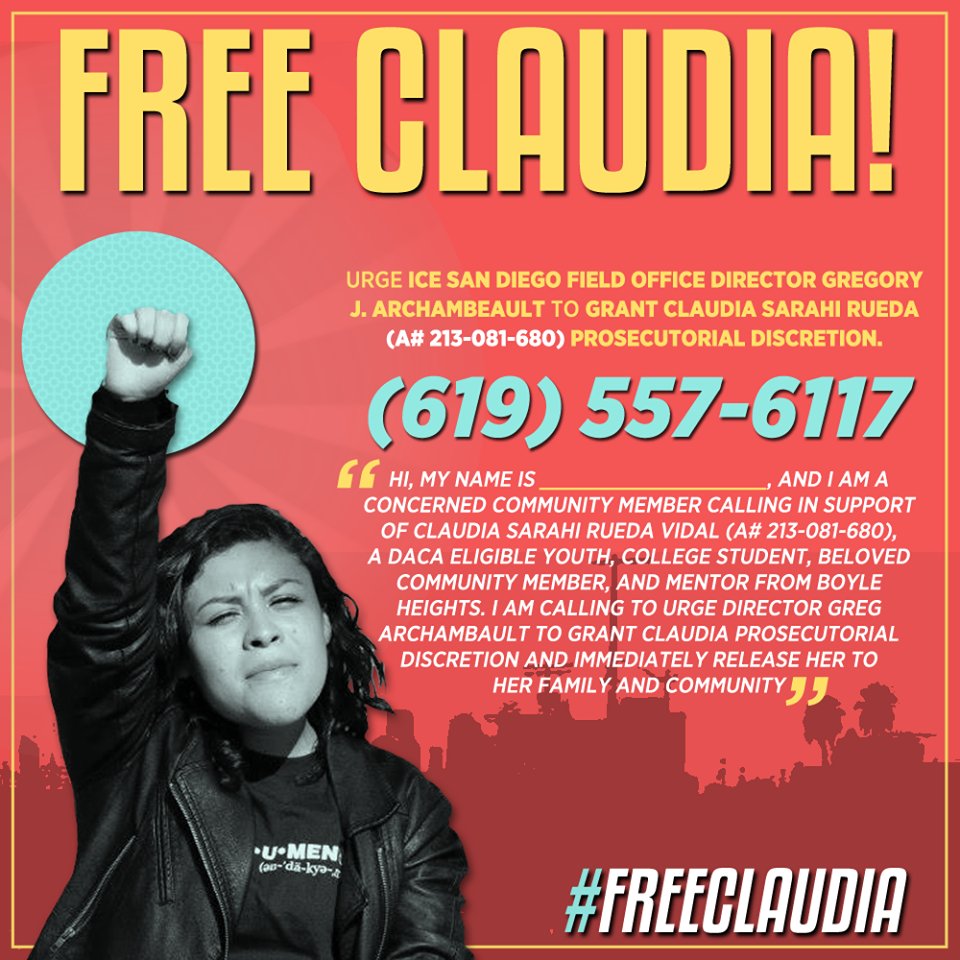 The Associated Press reports how a federal immigration judge freed her without bail, while mocking the government's case against Rueda.
SAN DIEGO (AP) — A Mexican woman was released from custody Friday while the U.S. government seeks to deport her after a judge rejected arguments she should wear a monitoring device because she was arrested twice while demonstrating in support of people in the country illegally.

Claudia Rueda, 22, plans to apply for Deferred Action for Childhood Arrivals, a program started in 2012 under President Barack Obama that shields immigrants who came to the U.S. as young children from being deported. Her case has drawn attention because she has no criminal record and is an immigration activist.

The immigration judge, Annie S. Garcy, said holding Rueda without bond was "unduly severe" and allowed her to be released on her own recognizance. She noted Ruedas' academic and other achievements and was incredulous when a government attorney asked that Rueda be required to wear a monitoring device.

"Wow, an ankle bracelet? Really?" said Garcy, who is on temporary assignment from Newark, New Jersey, under an administration effort to give higher priority to cases along the U.S. border with Mexico.
The government attorney, Matthew Hanson, responded that Rueda was arrested twice, once for trespassing and once for disorderly conduct.

Her attorney, Monika Langarica, said those arrests occurred during peaceful demonstrations to support people in the country illegally. She was charged in only one case and it was dismissed.

Rueda, a student at California State University, Los Angeles, was arrested on immigration charges May 18 outside a relative's Los Angeles home in connection with what the U.S. Border Patrol said was a drug smuggling investigation.

Her mother, Teresa Vidal-Jaime, was arrested on immigration violations in April in connection with the same investigation and later released from custody. Neither Rueda nor her mother was arrested on drug charges.

U.S. Immigration and Customs Enforcement said it would comply with the order to release Rueda and will consider any additional requests by her attorney.

Langarica submitted legal arguments in support of Rueda that included letters from Los Angeles Mayor Eric Garcetti and U.S. Rep. Karen Bass, a Los Angeles Democrat.
There's no photo and very little information about Judge Annie S. Garcy on the Internet. I did find this reprimand by the 3rd Circuit of Judge Garcy for ruling against an illegal immigrant.
Judge Garcy apparently believes that she is a law unto herself. She should be removed from the bench for her arbitrary and capricious rulings.
One more thing. Her name sounds black to me. If she is black, that would explain a lot.